Book Review: Lacashire Turf Wars - A Football History
Want to learn about your Lancashire football history? Look no further...
Image Via: Pitch Publishing.
In the early goings, football up North was a relative unknown. Over the next 150 years, though, the sport would grow from strength-to-strength with Lancashire at the very heart. Steve Tongue's Lancashire Turf Wars gives you the rundown on every iconic moment from as early as the 1870s.
Title: Lancashire Turf Wars, A Football History
Author: Steve Tongue
Publisher: Pitch Publishing
Published: 29th September, 2018
Price: £12.99, online at Pitch Publishing.
The story begins in 'Cottonopolis'. The North was more associated with rugby in those days, while football was already going strong down South a decade-or-so earlier. Tongue tells the stunning story about how the beautiful game became popular over time, and make no mistake about it, there were some road bumps along the way.
There were name-changes galore, as Newton Heath eventually became Manchester United, while their fierce rivals, Manchester City, were formerly known as St. Marks way back when. Immediately, you can tell that Tongue has poured his heart and soul into this excellent read, purely from the sheer amount of research, knowledge and story-telling from the late 1800s as Lancashire emerged as a footballing powerhouse.
As a relative youngster who absolutely adores their football history, I was being taught something new with every page turned. From learning about Darwen winning the inaugural Lancashire Cup, to discovering Bury FC's successes in the late 1800s to early 1900s, with trophies aplenty and football scandals galore along the way. The footballing story was slowly but surely building into the crescendo that we all know and love today.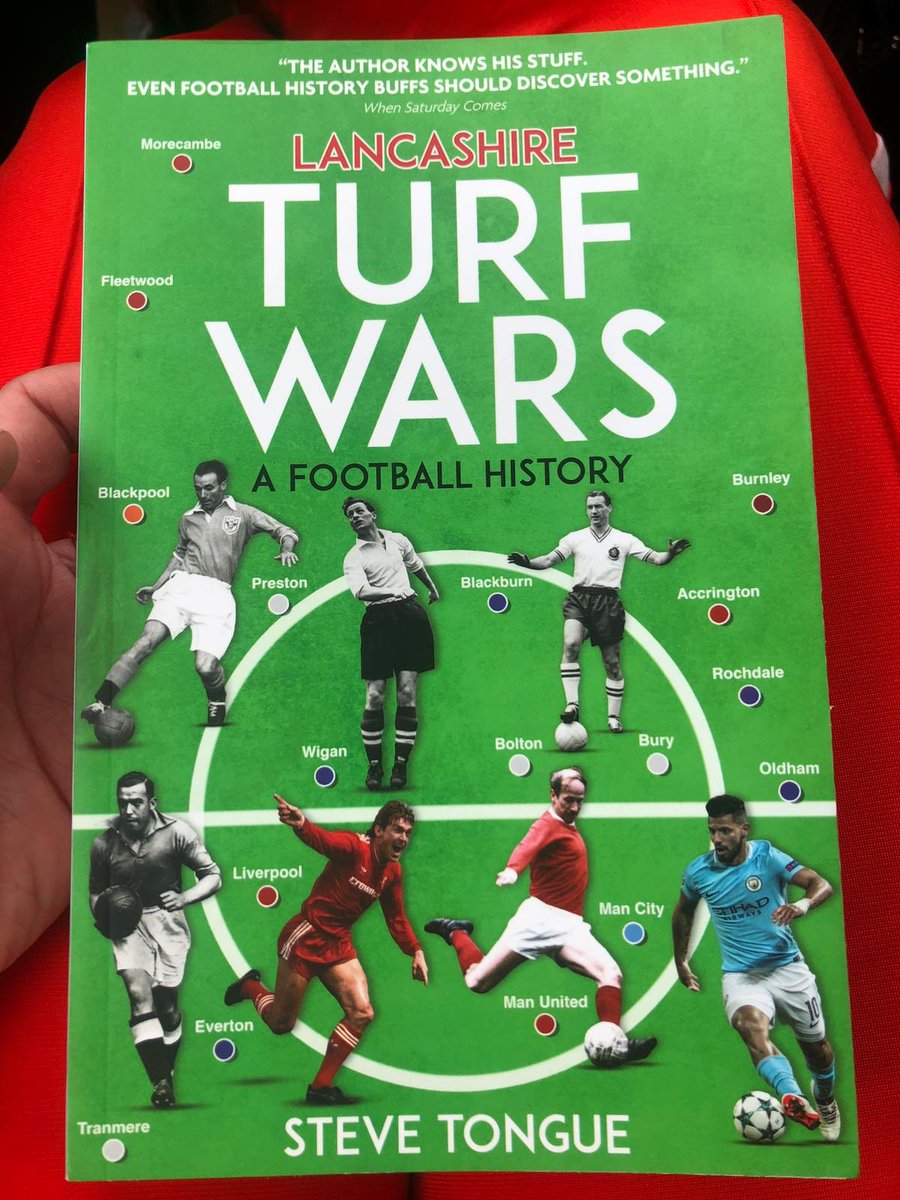 As you continue on, getting closer to the modern-day, you find yourself becoming more familiar with what's happening. Who can forget Manchester United under Sir Matt Busby's tutelage? The Red Devils would, quite fittingly, go on to win their first European Cup some ten years after the Munich air crash; a brilliant tribute to the Busby Babes.
Into the mid-to-late 1900s, Tongue's extensive knowledge continues, even discussing the ever-popular women's team which again, had its own troubles as male ruffians and several crowd invasions led to abandonment and match postponements galore. Yes, you guessed it, alcohol was probably involved...
As football was on the rise in the 1970s, ironically, goalscoring was at an all-time low. During this period, you'll probably know that Merseyside, namely Liverpool, was the dominant force. For that, they owe a great deal to the likes of Bill Shankly and Bob Paisley, while fierce rivals United were on the decline (albeit only temporarily as we'd discover when the great Sir Alex Ferguson burst onto the scene).
Around that time, hooliganism in the beautiful game was at an all-time high. From the horrors of Heysel and Hillsborough, the sport became more associated with violence than us avid supporters would like to admit. Thankfully, though, football in 2018 is no longer a bloodsport; in this country at least...
Rather aptly, Tongue finishes off the story with a chapter titled 'For Richer, For Poorer'. United was still the dominant Lancastrian team in the early 2000s, who weren't short of a few quid at that time, make no mistake about it. Then came the real money influx. Owners, stretching from far and wide wanted a slice of the pie. The biggest benefactors, without doubt, are Manchester City. Credit where it's due, though, they've spent wisely and rejuvenated the Eastlands area. On the flip side, you have iconic clubs like Oldham struggling to stay afloat, as the money constraints continually tighten its vice-like grip.
Tongue's look back through history, right through to 2018 tells the proud story of the iconic red rose as it grew into the footballing superpower that we associate it with today. Don't feel left out, Southerners, you'll be pleased to know there's also 'Turf Wars: A history of London Football' to sink your teeth into as well...