Book Review: Ron Atkinson: The Manager
The memoirs of one of the most well-known British football managers over the last thirty years were recently released. Titled Ron Atkinson: The Manager, the book describes in detail Big Ron's career as a player, manager, and television pundit.

Title: Ron Atkinson: The Manager
Author: Ron Atkinson in collaboration with Tim Rich
Publisher: deCoubertin Books Ltd
Publication Date: 15/09/2016
Price : £15.99 , available online at Amazon and from all good bookshops
An image of Ron Atkinson fills the front cover of the book. It grabs the audience's attention, just like Big Ron did throughout his career in football. He dedicated most of his life to the game; over 25 years of that time was spent as a manager, so the title of this book is apt: Ron Atkinson: The Manager. The blurbs on the back of the book are from two of Ron's former players: Paul McGrath and Norman Whiteside. They describe their former manager as being jovial and wise-cracking, as well as ruthless and serious, and above all, a passionate football man.

Atkinson went on to become a popular football pundit and his opinions were heard by millions of people throughout the world, which makes finding out more about the man an alluring prospect. He also developed an affectionate relationship with a number of clubs, including the eight English sides he managed; supporters of these clubs can gain a further insight into Ron's life by reading this book. Ron Atkinson: The Manager, contains moments of success, disappointment, and an act of controversy. So this book appeals to everyone who loves football.

There are three main reasons why this book came about: the original idea from the publishers deCoubertin Books Ltd, the memories supplied by Atkinson himself, and the help of a sports journalist to put everything together. Tim Rich has extensive knowledge of sports writing after ten years working for national newspapers: the Guardian, the Independent, and the Daily Telegraph. He's an accomplished writer who's previously won awards for journalism, so the writing of this book was in excellent hands.

In Ron Atkinson: The Manager, there are 21 chapters, each one recounts a different period in Atkinson's life. The book begins by describing his memories as a 15-year-old at Wolverhampton Wanderers, watching Honved take to the pitch, with a team which included the great Ferenc Puskas. From there, the book continues with the story in chronological order, introducing pictures halfway through, until we reach the last chapter, which begins by focusing on today's game. After 187 pages, Big Ron's 60 years of football memories have been thoroughly covered and dissected.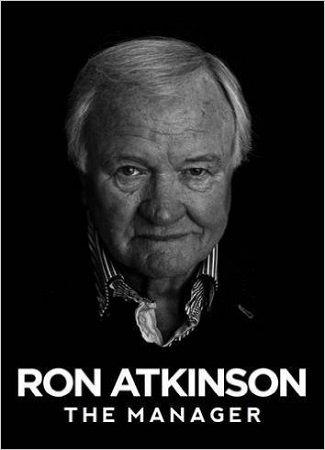 Win our signed copy of Ron Atkinson: The Manager.
Just follow and RT to be in with a chance.
Winner will be notified by DM on 4/11/2016
https://t.co/ye5QoXyVex
It all began in 1956, when as a 17-year-old Atkinson was signed by Aston Villa. He then went on to have a fairly successful 12-year playing career with Oxford United, where he became club captain. Atkinson's managerial journey began in 1974 as player-manager of Kettering Town before moving on to Cambridge United. Four years later, Atkinson earned his first big managerial breakthrough at West Bromwich Albion and he went on to have a successful four years with the club in the top division. Next up came Big Ron's biggest role in football when he was appointed as manager of Manchester United.

While at Man United, Atkinson guided the club to two FA Cups, but his time at Old Trafford came to an end in 1986. He returned to West Brom and he then made a brief appearance in Spanish football with Atletico Madrid. Big Ron then came back to England with Sheffield Wednesday, where he won the League cup in 1991. He added another League Cup in 1994, this time while Aston Villa manager. From the mid-nineties, Atkinson managed three struggling Premier League teams; Coventry City, Sheffield Wednesday for a second time, and Nottingham Forest. After 28-years in management, Ron's managerial career came to an end in May 1999.

Atkinson has led an eventful life centred around football and he's witnessed everything the game has to offer. This book includes countless stories that evoke many of his emotions: exuberance after important victories, excitement during times of success, disappointment after devastating losses, despair during periods of difficulty, and lastly, regret surrounding a racist comment he made live on air. Big Ron also provides insightful opinions regarding former players and managers - Bryan Robson, Paolo Di Canio, Brian Clough and Alex Ferguson are all mentioned in the book.

Ron Atkinson: The Manager is a must-read for anyone who wants to know more about the events in the life of a British football icon. It's an interesting and fascinating book. The reader gains first-hand insight into Atkinson's long-lasting football career. It consists of all the important games, clubs, and players that he was associated with during his time in football. The book is Big Ron's story from beginning to end, told in great detail using entertaining anecdotes, and expressed with unreserved honesty.

______________________________________________________________________

Win a signed copy of the book, just make sure you are following our Twitter account and retweet the tweet below!