Brazil, Argentina renew rivalry in Copa America semi-final
While Barcelona try to sell their Brazilian star because he hasn't found enough chemistry with their Argentine legend, Philippe Coutinho enjoys a standout Copa America and Lionel Messi continues to suffer from major tournament sickness.
The 2019 Copa America hasn't quite lived up to expectations. It finds itself sharing the spotlight with the Women's World Cup, AFCON and Concacaf Gold Cup. Normally, a semifinal match between Argentina and Brazil would kick the competition to the curb. On this Tuesday, however, all eyes are glued on France for the clash between the USWNT and the Lionesses. A few insomniacs may stay up until the wee hours, however.
A glut of factors opposes this Copa America. Terrible field conditions at several centres, expensive tickets and uninteresting matchups. Teams underwhelmed in the group stage, Even favourites Brazil struggled, booed in a couple of matches on their own turf. Argentina barely escaped early elimination.
A showdown between these two arch-rivals should make up for the lost time. The South American Superclásico, this fixture is older than Copa America itself. Yet the tension, strife and animosity is evergreen. More than 64,000 fans will cheer at the Mineirão Stadium in Belo Horizonte.
Brazil started well, thrashing Bolivia 3-0, then switched off in a dour stalemate with Venezuela before putting five past Peru. In on again, off again fashion, the Selecao needed penalties to reach the last four after failing to break down Paraguay.
In the absence of injured talisman Neymar, Gremio winger Everton Soares picked up the baton and impressed in patches along with Philippe Coutinho and Roberto Firmino. The former pair each have two goals, the Liverpool number nine two assists. Unfortunately, their inability to make any meaningful impact against Venezuela or Paraguay showed how much the hosts miss their ex-skipper. In the quarter-final, Brazil had 71% possession, 26 shots and a man advantage before the hour mark but failed to capitalise.
Argentina's campaign began with a flat, uninspiring loss to Colombia. La Albiceleste then shared the spoils with Paraguay before dispatching Qatar two-nil. Four points were enough to earn them a knock-out berth as runner-up. They were the only team to score during the goal-shy quarterfinal, another 2-0 win, this time over Venezuela. The other three matches all went to penalties.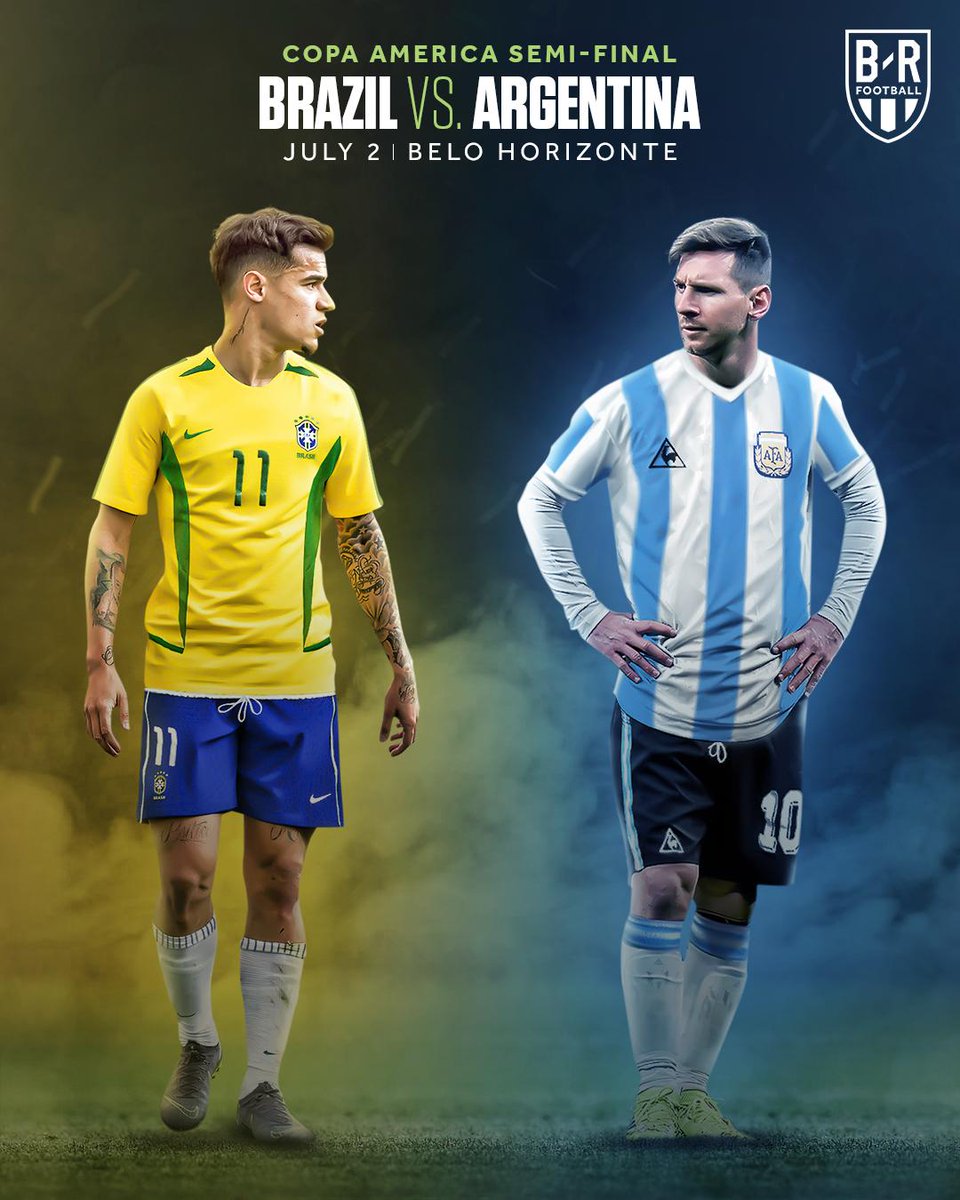 Ironically, while Argentina improved with every game, Lionel Messi's influence dwindled. The Barcelona skipper is yet to peak at this year's tournament, scoring only once in four games, from the penalty spot against Paraguay. Manager Lionel Scaloni must be nervous, knowing how Messi handled previous semifinal pressure.
Thrice he guided Argentina through to the title match only to stumble at the last hurdle. Messi was among the goals when his country defeated Peru 3-0 12 years ago. He was involved in four strikes when La Albiceleste thrashed Paraguay 6-1 in 2015. At the Centenario, he buried two himself against the USA.
Even if the five-time Ballon d'Or winner fails to show up, Lautaro Martinez looks like he'll get the job done. The Inter man scored in successive matches while playing alongside Messi and Sergio Aguero.
Brazil remain favourites, though. How can they not? They've never lost a competitive game at home against Argentina with eight wins in ten meetings. They're unbeaten in the last seven, including friendlies. That said, the Selecao last reached this stage when they hoisted the trophy in 2007. Yes, they beat Argentina in that final. Although it's taken a few decades, the last four times they reached the semis, Brazil advanced to the final.
To do so again, however, they must conquer past demons. The match takes place in the stadium where the hosts were humiliated in another semifinal, 7-1 courtesy of Germany in the 2014 World Cup. Not enough time has passed to heal that gaping wound.
Argentina were finalists in four of the last five editions only to be beaten each time.
That's a lot of bad news for both sides. The good news is someone has to win. The question is whether it's worth staying up to watch?