Bundesliga Game Week 2 - Wrap Up
Game Week 2 is over and done with and there have been some big surprises. Mark Dannell is here with the wrap-up.
Schalke 04 vs FC Bayern München - 0:2
 It was much harder than anticipated for Bayern and they needed 2 strikes in the final 10 minutes to see off Schalke. Robert Lewandowski and Joshua Kimmich were the players to seal the result, but in truth it was harsh on Schalke who were much improved from their lackluster opening day defeat at Frankfurt.
The first real chance fell to Lewandowski but he uncharacteristically side footed wide. From then on it was nearly all Schalke, Goretzka headed over and Huntelaar should have done better after fine work from Konoplyanka.
In the second half Huntelaar rattled the bar, replays showing Neuer got a decisive fingertip on the ball for a fine save. Embolo and Meyer came on for the Royal Blues to try and make the breakthrough but ultimately they were caught by the 1-2 sucker punch to suffer another defeat.
Prediction – Away Win: Spot on!
SC Freiburg vs Borussia Mönchengladbach - 3:1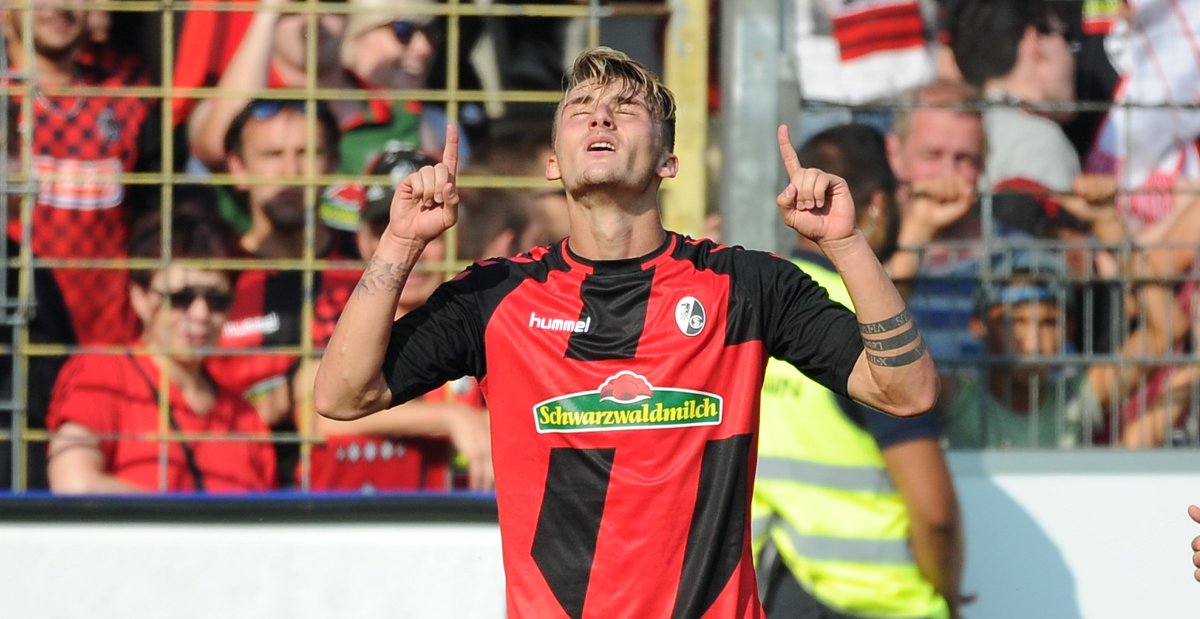 Fuming with Mönchengladbach. It wasn't that they cost me the accumulator bet as Frankfurt also downed tools, but they are just so much better than Freiburg and rolled over despite taking the lead through a sublime strike by Thorgan Hazard.

Freiburg deserved their 3 points, no doubt about it. They harassed BMG throughout and the Champions League side appeared shocked by the tenacity of the hosts. A double from Maximilian Philipp and a late addition by Nils Peterson added a gloss to the scoreline. Perhaps the Freiburg lads read my season preview writing them off before a ball was kicked, as on the basis of these 2 displays they will have a fighting chance of staying up.

Prediction – Away Win: Wrong.


Bayer 04 Leverkusen vs Hamburger SV - 3:1


Bobby Wood did indeed score again but it wasn't enough for Hambug as they were downed by an 11 minute hat trick from Joel Pohjanpalo. Leverkusen did leave it remarkably late as they huffed and puffed at Hamburg without looking likely to score. Javier Hernandez was somewhat out of sorts, no doubt due to his injury lay off at it needed the introduction of the Finnish hit man to turn the tide.

The first half was utterly unremarkable, the only talking point of note was Bellarabi having to go off in the opening 5 minutes with a suspected groin strain. Wood opened the scoring with his 2nd shot on target in the Bundesliga and he now has 2 goals. If he can keep that up he will be a contender for the top scorer. Pohjanpalo repeated that feat, and indeed he goes level with Lewandowski at the top of the charts on 4.

Prediction – Home Win: Spot On!


FC Ingolstadt 04 vs Hertha BSC - 0:2


I did not expect this result. Goals at the beginning of the first half from Ibisevic and the end of the 2nd from Schieber secured a very professional 3 points for the capital club. Haraguchi assisted both goals and was excellent throughout.

Ingolstadt really only had one chance but Rune Jarstein made a point blank save from Lezcano and that was about that. Hertha join Bayern at the top of the table for now!

Prediction – Draw: Wrong.


SV Darmstadt 98 vs Eintracht Frankfurt - 1:0


Back to the norm from Frankfurt, when will I ever learn? In truth they dominated the game without being able to make a lot of chances, Hrgota was foiled in the first half and then in the 2nd Huszti went for goal instead of passing to the unmarked Alexander Meier.

Darmstadt duly broke away and stole all three points through Sandro Sirigu in the final minute of the game. Undeserved but they won't care a jot.

Prediction – Away Win: Wrong


VfL Wolfsburg vs 1. FC Köln - 0:0


Mario Gomez made his debut but was unable to really get into the game as Köln had the better chances in this entertaining draw. Wolfsburg started on the front foot and had the first decent chance, Daniel Didavi's shot was blocked. At the other end "The Billy Goats" started to exert some pressure but came up against an excellent performance from Koen Casteels who has wrenched away the goalkeepers jersey from Diego Benaglio. In the first half alone he saved from Osaka, Bittencourt and Risse.

In the second 2 more saves from Risse were added to Casteel's tally before Wolfsburg exerted some pressure through Draxler and Henrique. Köln were not to be denied though and a point was probably a fair result.

Prediction – Home Win: Wrong.


RB Leipzig vs Borussia Dortmund - 1:0


Playing a 4-4-2 worked a treat for Leipzig as they upset the apple cart big time in the Saturday evening kick off. Dortmund were starved of space in the final third as the 2 rigid banks of 4 worked very efficiently to cut the fancy attacking play of Dortmund to shreds.

Mario Götze was back in a Dortmund jersey for the first time this season but it was 3 new arrivals for Leipzig who impressed the most. Timo Werner was a constant nuisance on the counter attack, his searing pace will be giving defenders all over the Bundesliga sleepless nights, while Oliver Burke arrived in the 2nd half and set up Naby Keita for the 89th minute winner.

It was a fantastic performance by Leipzig, on this evidence they could even push for the European slots.

Prediction – Away Win: Wrong.


Werder Bremen vs FC Augsburg - 1:2


Ok it wasn't a snooze fest. It was also far too hot for Braten and Knödel. Despite Serge Gnabry's bright and inventive debut Werder succumbed to their 3rd loss in as many competitive games this season, even after taking the lead on the stroke of half-time. A visibly frustrated Gnabry said after the game that Werder gifted the game to Augsburg and it is hard to argue with that assessment, the penalty despatched by Aron Johannsson being scant reward for a good display in the first half.

As so often with Werder, panic set in as soon as Augsburg showed some intent, Gouwleeuw netted from a corner shortly after half-time and Stafylidis crashed in a great free kick to secure the points. For the visitors Daniel Baier was excellent in central midfield, providing a solid platform for the 2nd half attacks.

Prediction – Home Win: Wrong.


Mainz 05 vs 1899 TSG Hoffenheim - 4:4


What is it with Hoffenheim and thrilling Sunday evening draw's? Seemingly dead and buried at half-time to a rampant Mainz leading 4:1 they came storming out of the traps and equalized in the final 10 minutes.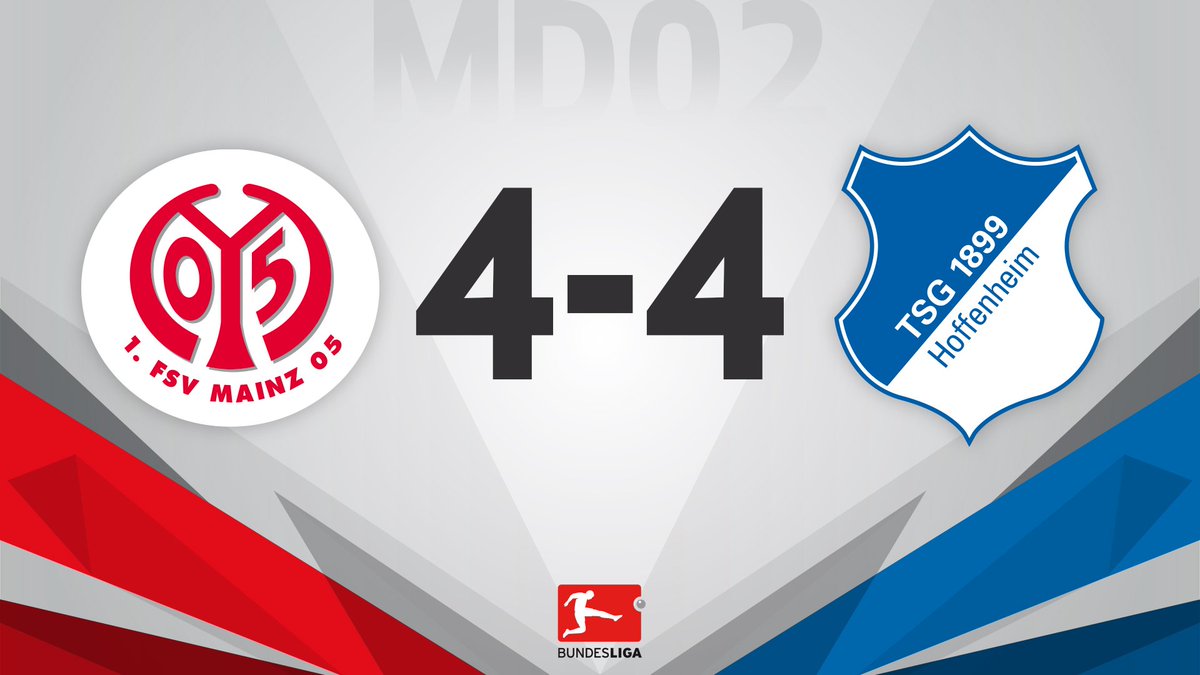 At half-time no one could have predicted the carnage to come, Mainz were very impressive, leading 2-0 inside 23 minutes with 2 goals from De Blasis, and that became 4-1 at the break with further goals from Cordoba and Ötztunali, wrapped around one for Sandro Wagner. The pattern continued after the break as Mainz maintained  control of the game but a clear red card for Bussmann just before the hour mark swung the momentum towards Hoffenheim and they took full advantage.
Mark Uth had arrived in the first half and he grabbed 2 goals inside 3 minutes before Szalai secured the point for the Sinsheimer team. I enjoyed this immensely!
Prediction – Home Win: Wrong



After last weeks generally good round of tipping back down to earth with a bang. Just goes to show that the Bundesliga is up there as one of the most unpredictable leagues in the world (unless its Bayern). A ridiculous 2/9 effort this week, average 4/9.



Betting was not much better. BMG and Frankfurt let me down on the accumulator while Werder do not appear to be able to punch their way out of a wet paper bag. Account balance -20€.



Team of the Weekend: RB Leipzig . A quite wonderful performance, tactically spot on to halt Dortmund in their tracks and nicking a late winner just put the icing on the cake.



Player of the Weekend: What an impact from Joel Pohjanpalo. A sensational hat trick to secure the win for Leverkusen and join Lewandowski at the top of the scoring charts. Mark Uth (Hoffenheim), Maximillian Philipp (Freiburg) and Haraguchi (Hertha) can all feel a little hard done by this week.



Here is the table after week 2: