Bundesliga Season 2016/17 Preview - Part 2
We continue our look at the upcoming season in the Bundesliga. Our German football expert Mark will be dealing with the clubs in the order they finished last season with the two newcomers first.
Please be aware that transfers are correct at the time of article submission. As there are so many I will only be dealing with the key in's and out's at each club. Also feel free to laugh at my predictions!
Welcome to the second part of a three-part guide to the new Bundesliga season, you can
read part-one here
.
FC Augsburg – 2015/16: 12th
Dirk Schuster has taken over from Markus Weinzierl who thinks he can make a fist of the basket case at Schalke. Other than that not much has changed in Augsburg. Alfred Finnbogason has made his very successful loan deal permanent and Takashi Usami has arrived from Japan to play on the left wing. Augsburg must surely now invest in their defence however as Klavan has gone to Liverpool and Hong to make his fortune in the Chinese Super League. Youngster Marvin Friedrich from Schalke will surely fill one of the spots but they need at least one more.

Another season of tooling around the lower reaches of the Bundesliga beckons but ultimately surviving. Augsburg will fill my 15th spot.


FC Ingolstadt 04 – 2015/16: 11th


Another team with a management change over the summer as Markus Kauczinski takes the reins. Their major transfer business seems to have been convincing the excellent Moritz Hartmann to sign a new deal through to 2018. In terms of in's and out's there hasn't been a lot to talk about and this has the smell of a club being unsure whether to stick or twist on an admittedly excellent debut season in the Bundesliga. I'll go for them to slide backwards and finish 14th.


Hamburger SV – 2015/16: 10th


The Bundesliga's most frustrating club have spent an awful lot of money on some exciting young forward talent in Filip Kostic, Bobby Wood and most excitingly Alen Halilovic from Barcelona! There is no doubt a buyback clause in that last deal but it is quite the coup for "The Red Shorts".

However, Hamburg had problems at both ends of the pitch last season and have done absolutely nothing about their defence. Hopefully, Bruno Labbadia has been working hard on the training pitch or all the attacking talent in the world is not going to save him from poor performance this season. Gaining a place on last year is realistic but that will not be enough to save him I think. 9th.


1. FC Köln – 2015/16: 9th


Köln had a brilliant season back in the top flight and it is looking increasingly likely that they will be starting the season still possessing their brightest two talents in Jonas Hector who shone at Euro 2016 and Timo Horn. That will be a huge boost. A decent fee was paid out for Sehrou Guirassy who scored a few goals in Ligue 2 last year, while Marco Höger has been recruited from Schalke to fill the gap left by the big money transfer of Yannick Gerhardt to Wolfsburg.

Another comfortable season beckons for Köln and a 10th place finish should be on the cards.


VfL Wolfsburg – 2015/16: 8th


I am still wondering how Dieter Hecking is still in charge. Regular readers of the column last year will probably be shaking their heads too but here we are. The Headline grabbing transfer of Andre Schurrle to Dortmund came a bit out of the blue but the money has been used well. Incoming Jeffrey Bruma will replace the Naldo shaped hole in centre defence while Yannick Gerhardt is a good buy from Köln. It is, however, the free transfer of Daniel Didavi from Stuttgart which could be the best business on the incoming side.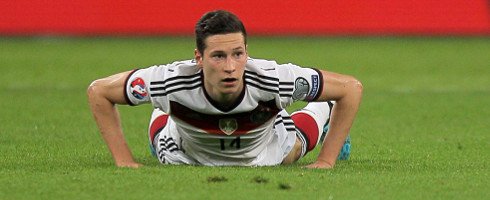 It also remains to be seen if Julian Draxler will follow Schurrle and Max Kruse away from the club. Draxler last week stated he wants out but Wolfsburg so far seem likely to refuse all bids. Would be a shame for Draxler to waste a season with no European football, he really is a wonderful talent. As we all know, player power usually wins out so I will say he goes and Wolfsburg improve only one place to 7th. Hecking to be sacked finally.
Hertha BSC – 2015/16: 7th
After somehow contriving to throw away a Champions league qualifying slot with a horrible run at the end of last season it has now been a very quiet summer for Hertha. Ondrej Duda is a good signing to reinforce the attack midfield options and Ibisevic made his loan move permanent. There has not been much in the out column either so Pai Dardai will face the challenge of ensuring his charges don't make the same mistakes as last time.
Failing to get further in the Europa League qualifying will ease the fixture list, and barring a repeat collapse I think they can go one better and grab the 6th spot, this time out.
My predicted table so far:



6th Hertha



7th Wolfsburg



8th



9th Hamburg



10th Köln



11th Werder



12th RB Leipzig



13th Hoffenheim



14th Ingolstadt



15th Augsburg



16th Frankfurt



17th Darmstadt



18th Freiburg



I'll be back with part 3 shortly.