Can Arsenal end Chelsea-Manchester City WSL duopoly?
Arsenal are in pole position to win the FA Women's Super League.
Petr Cech isn't renowned for a lavish lifestyle. Not the most vocal or jovial, he is simply a nice footballer. No surprise he expressed that by treating the Arsenal ladies' team to dinner in London. Cech had promised to entertain the players should they maintain their solid start and reach the Super League Cup final. Mission accomplished. Arsenal could end the campaign winning an unprecedented double. Unai Emery's team could do with such spur at this critical time.
England's most-decorated team, Arsenal was relegated to the back seat as Chelsea and Manchester City take turns to rule the division. In the last three years, both clubs exchanged the WSL title. It's either the Blues was champion or runner-up. Same as City. On each occasion, the Gunners were third. That trend is under threat, however.
Although second with 36 points, Joe Montemurro's women are only two points behind leaders City albeit with two games in hand. A victory in both would plunge the North Londoners to the log's summit. After that unforgettable night out with Cech, the ladies will be motivated to remain there.
Arsenal has been imperious, drastically transformed into a fluid attacking side by Montemurro. They are excellent at pressing, either winning the ball higher up the pitch or forcing teams to play longer passes. The flexibility around the squad is an added advantage for the Aussie mercenary.
For instance, Lisa Evans play as a full-back as well as a winger. Katie McCabe could comfortably slot wide, at full-back or inside as a midfielder. Aside from her basic role as holding midfielder, Danielle van de Donk is adept as either a winger or a number 10.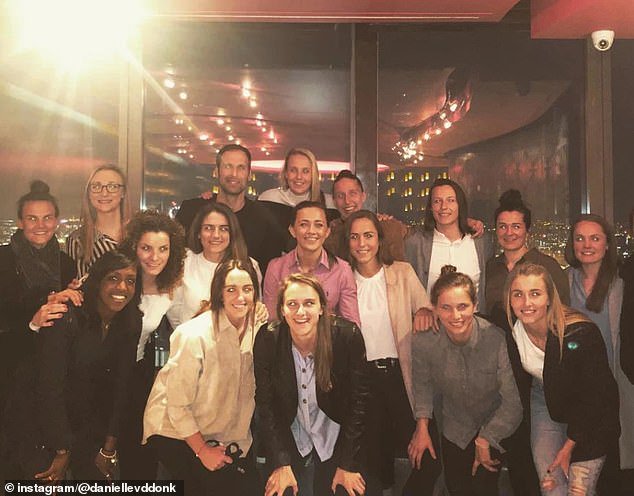 Petr Cech is a nice guy
He takes out Arsenal women's team for dinner ahead of cup final to mark impressive season so far and foots the bill for the 16-strong party.
They will face Man City in the final on Saturday, with the chance to lift some mid-season silverware. #
GoodLuck
https://t.co/WjRU4h2AH3
Arsenal utilises quick, short passes, starting at the back. They created WSL history by winning their opening nine matches, amassing 42 goals and conceding five. After City ended that streak in December, they've lost once. The Gunners, however, maintained the goalscoring form with 11 more – the most in the division.
Such an emphasis on attacking, it is remarkable that Arsenal has only shipped in 12 goals - same with Chelsea albeit one more than City. The Gunners have outstanding players all across the pitch. Most notably, Vivianne Miedema.
Miedema is enjoying a record-breaking campaign. The striker scored both of Arsenal's third against Yeovil Town on Wednesday night at Meadow Park, taking her tally to 26, with 15 of those coming in the Super League, already making her the top scorer in a single WSL campaign. What has been important to Miedema run of goals has been her fitness – she's played in every single game, which is in stark contrast to last year when she was hampered by a calf injury.
The Dutch International, a Feyenoord fan, models her game after idol Robin van Persie. Like the ex-Arsenal skipper, she is the archetypical number with great movement in behind. Miedema is the focal point of Arsenal's play. Whenever she makes runs in behind, her teammates play quick through balls. But she creates space for runs to be made in behind from the wide players when she's not in motion.
Arsenal has the chance to retain their league cup trophy against City on Saturday. Montemurro, however, would sacrifice that for a first WSL title in six years - the sort of parting present Cech would have wished from Emery's team.