Can AZ Alkmaar challenge Ajax?
A blend of youth and experience gives Alkmaar the squad balance to stay with the Eredivisie champions.
Like many top European leagues, the Eredivisie is largely dominated by a handful of teams. Success breeds success and in the Netherlands, it is Ajax and PSV Eindhoven who hold a monopoly on the title. Still, Holland's top-flight isn't quite as bad as Scotland where the Old Firm stands like giants among pygmies, their dominance utterly ironclad. In Holland, Other teams do occasionally break the duo's grip on power, with Feyenoord a frequent contender, and in 2009-10, FC Twente pulled off a Leicester-esque surprise title win.
Then there's AZ Alkmaar, The Hague based club won the Eredivisie twice, once in 1980-81 and again in 2008-09. Compared to current league leaders Ajax, with their haul of 34 championships, their record looks positively minuscule. But the Cheeseheads are playing well, amidst a fine run of form which has included six consecutive league wins. The cherry on the cake was a 4-0 thrashing of PSV. Now occupying second place, AZ have the perfect chance to buck the odds and add a third title to their collection.
Ajax currently sits atop the table three points clear of Alkmaar. But they are by no means invincible. On Friday they lost their first game of the season; a 2-0 at home to fourth-placed Willem II. It was a game in which the away side undermined Ajax's normally dominant attacking set up, sitting back and soaking up pressure, then applying an aggressive high press at perfectly timed intervals, closing them down in key positions. Similarly, Ajax were exposed at the back by speedy counter-attacks, catching a lax and outnumbered defence off guard and allowing Willem II the win. The points Ajax dropped in this game are crucial to AZ, who are playing catch up. Perhaps more importantly, they offer a blueprint on how the supposedly all-powerful champions can be beaten.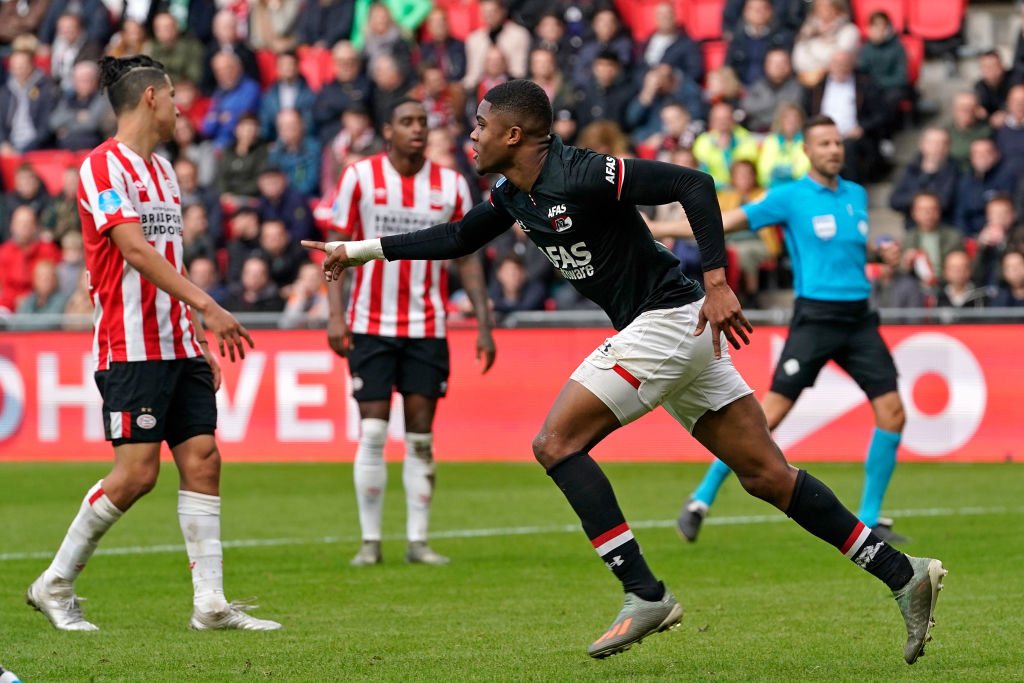 Milan have started gathering information about AZ Alkmaar 18-year-old forward Myron Boadu. He scored 10 goals and made 9 assists in all competitions this season. He plays as a centre forward but can also play as a left winger. His contract ends in June 2023 [@cmdotcom]
https://t.co/aSd6cMkS6f
AZ finished 4th last season. A solid campaign, but nothing special. They were barely a blip in the rear-view mirror of Ajax and PSV. And the summer did not see any huge transfers. Yukinari Sugawara arriving on loan from Nagoya Grampus and Jordy Clasie joining on a free transfer from Southampton were the only additions. Hardly headline-grabbing acquisitions, but both players slotted in perfectly to the team, bringing vital efficiency and energy into the midfield engine room. The pair gave AZ 's squad the extra push they need to make a serious title challenge. And this attention to detail in specific areas gives Alkmaar exactly what they need to continue their challenge.
Alkmaar also has one of Europe's most underrated young talents on the books in the form of striker Myron Boadu. After 15 league games, the 18-year-old had bagged the same number of goals, finding the back of the net once every 83 minutes on average. A player like that is hard to find, and Boadu will no doubt leave for a bigger club in the near future. But for now, AZ are benefitting from the fruits of their youth squad, mixing their young talent in with more experienced heads with fantastic results.
If Alkmaar can learn from Willem II and play to their strengths, adopting a highly organised style of play with a focus on positioning and teamwork, they can win those crucial games against the big guns of the league...
Whether current manager Arne Slot is the man to bring the side their first title in more than ten years remains to be seen. The young coach is in his first season in the hot seat, having been appointed in July after a spell as assistant and coaching positions at PEC Zwolle and Cambuur. But if he can see it through, he'll have established himself as one of Europe's most exciting young manager, and the title could be the first of many he wins as manager...