Can AZ Alkmaar's youngsters fire them to the league title?
AZ's on fire this season. Can they catch Ajax?
Background image: Richard Matthews, CC BY 2.0
Every season, smaller clubs who play exciting football try to push their way into the establishment. AS Monaco won Ligue 1 and reached the Champions League semifinal three seasons ago. Ajax made their run last term. In 2019/20, RB Salzburg and Atalanta make the big boys sit up and take notice. Domestically, Leicester, Getafe and Lazio hope to book their places in Europe for next season.
In the Netherlands, PSV Eindhoven and Ajax dominate. Combined, the pair claim eight of the last nine Eredivisie titles. Only Feyenoord interrupted their duopoly. This season, Ajax top the table with 53 points but it's not PSV nipping at their heels. Instead, AZ Alkmaar look to make their mark.
The club's youngsters deserve all the praise. Goalkeeper Marco Bizot, 28, is the oldest player in a squad who average 23.5 years. The Cheeseheads follow a simple game plan, playing possession-based football, keeping the ball on the ground with play short passes building indirect attacks. Manager Arne Slot sets his team in a 4-3-3 with a classic balanced-flank attack where the left-back pushes high and the right-back becomes the third defender so that the centre-halves can shift to the left to cover the vacated space. Without the ball, AZ maintain a high defensive line and press relentlessly
Up front, Myron Boadu, Calvin Stengs, and Oussama Idrissi give defenders nightmares. A typical inverted winger on the left, Idrissa loves to cut inside onto his stronger right foot. He possesses searing pace and deft dribbling skills. His decision-making is even better. The 23-year-old Morrocan's 12 goals helped him to five Eredivisie Man of the Match awards this term. He claims 16 in all competitions.
In league play, Boadu does his teammate one better in the goal department, three overall. Quick and agile, the 19-year-old exploits space with ease. The duo combine for six goals, the most by any Eredivisie partnership.
Stengs is a more defensive-minded winger which isn't to say he doesn't involve himself in the attack. The 21-year-old records double digits in goals [10] and assists [11].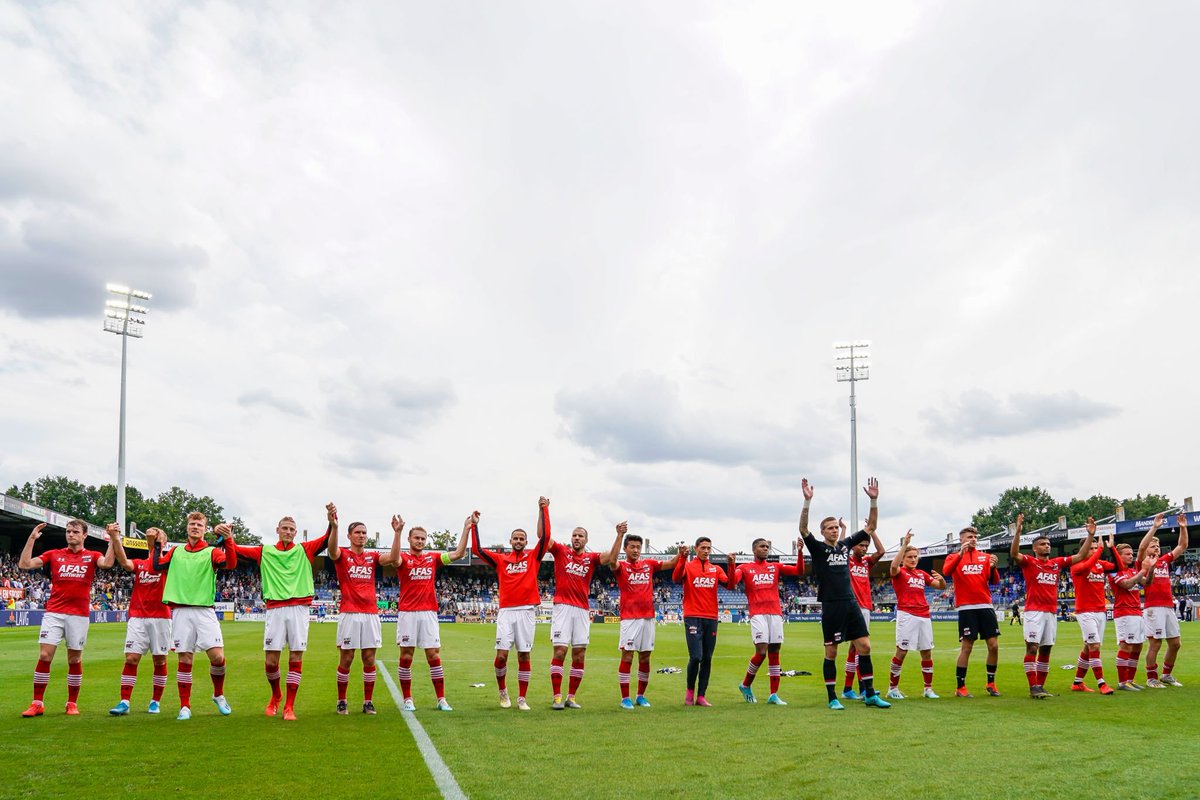 AZ Alkmaar's goalscorers in September:
⚽ Koopmeiners
⚽ Idrissi
⚽ Boadu
⚽ Boadu
⚽ Idrissi
⚽ Koopmeiners
⚽ Stengs
⚽ Boadu
⚽ Koopmeiners
⚽ Boadu
⚽ Stengs
⚽ Idrissi
⚽ Koopmeiners
⚽ Stengs
Average age: 21 years old.
https://t.co/WfU5csQZvj
AZ win most games in the middle of the pitch where Teun Koopmeiners, Fredrik Midtsjo, and Dani de Wit take charge. De Wit supports the forwards, pinging short passes into dangerous areas. Thoroughly press-resistant; he regularly suckers opponents into closing him down then finding a teammate running into the gap created.
Koopmeiners and Midtsjo shield the backline with steel and swagger. Midtsjo's positioning rarely gives attackers an opportunity to progress. Among Dutch football's best d-mids, he is Slot's on-pitch lieutenant.
Koopmeiners excels with the ball and without. Ravenous in hunting down opponents to win possession, he is the change-up artist in AZ's attack, knowing just when to forego the tiki-taka and unleash accurate long-range balls over a pressing defence. When it comes to the scoring party, he believes it's better late than never. His unexpected supporting runs result in eight league goals to date.
Goalkeeper Bizot isn't the only veteran at the back. Ron Vlaar, Stijn Wuytens and Jonas Svensson bring a good measure of experience to the rearguard even though 20-year-old Owen Wijndal is a revelation. The young left-back recalls Marcelo at Real Madrid, a brilliant crosser, always pushing high and delivering the ball into dangerous areas. Wijndal's seven assists for AZ promise a great future but he still tracks back to make sure his mates aren't exposed.
Slot deserves high praise for inculcating the style that gets the best from his players' attacking strengths. With 12 games remaining in the campaign, AZ are only six points off Ajax's pace in second. An unexpected 2-0 defeat to Twente Enschede last week was a major setback but there is time to recover.
It won't be easy. Alkmaar must run the table to put all the pressure on the champions. With Ajax and PSV coming to the AFAS Stadium, their destiny is at least partially in their hands. Feyenoord and fifth-placed Willem II will test them on the road. The KNVB Cup requires their attention as well.
On the bright side, Ajax endures something of an injury crisis. Centre-back Perr Schuurs recently returned to training but Quincy Promes [hamstring] and Joel Veltman [knee] are expected to be sidelined until April. Right-back Noussair Mazraoui is ruled out until March, David Neres until April.
The sides meet on 1st March. If AZ lose, the title race is off. But if they win, the gap between cuts in half. Game on.
Like other small clubs who rise up, there is no tomorrow. The likes of Boadu, Idrissi, Wijndal and Koopmeiners rank among Europe's hottest prospects. They're already on wealthier clubs' shortlists. Win or lose, AZ will likely sink back into obscurity but it's always better to have something to look back on rather than wondering what might have been.