Can Daniel Maldini make a difference for Milan this season?
Paolo Maldini's 18-year-old son made his Rossoneri debut last weekend. How important can he be for Stefano Pioli's side in this Serie A campaign?
27 May 2007. Paolo Maldini's AC Milan are back home from lifting the Champions League trophy two days prior. Clarence Seedorf takes part in an event in which he plays a game against fifteen small children. He tiptoes past almost all the kids with some fancy footwork, but then a five-year-old boy makes a slide challenge and cleanly takes the ball off him.
The boy is Daniel Maldini, son of Paolo and grandson of Cesare; another European Cup-winning captain for Milan. Skip forward almost thirteen years, and Daniel Maldini makes his debut for Milan's senior side after impressing as an attacking midfielder in their youth teams. With the team in 8th place in Serie A, looking to return to former glories, could yet another Maldini be the one to take the top?
Daniel Maldini has been incredibly impressive for the Rossoneri's under-19 side side this term, contributing to ten goals in just nine Primavera 2a appearances (six goals, and four assists), averaging a goal every 91 minutes. The 18-year-old also has two goals and an assist in three Coppa Primavera appearances - prompting his call-up to the first team. This isn't just a player who has been handed an early call-up due to his name. The Italian's high-profile first-team debut was based on merit from his striking form in Milan's second side. If Maldini remains with the first team this season and translates that form into senior football, he could propel Stefano Pioli's side towards the Serie A summit.
Pioli has predominantly preferred a 4-4-2 system with this Milan side. In his own words, Maldini defines himself as 'an attacking midfielder or second striker'. With Milan having several options upfront through Ante Rebić, Rafael Leão, and of course Zlatan Ibrahimović, Maldini may have to look for opportunities in midfield this term. He replaced right midfielder Samu Castillejo for his debut last weekend and has experience of playing on either wing for the youth sides. In reality, Maldini has the ability to challenge for a place in pretty much any of the advanced positions on the field.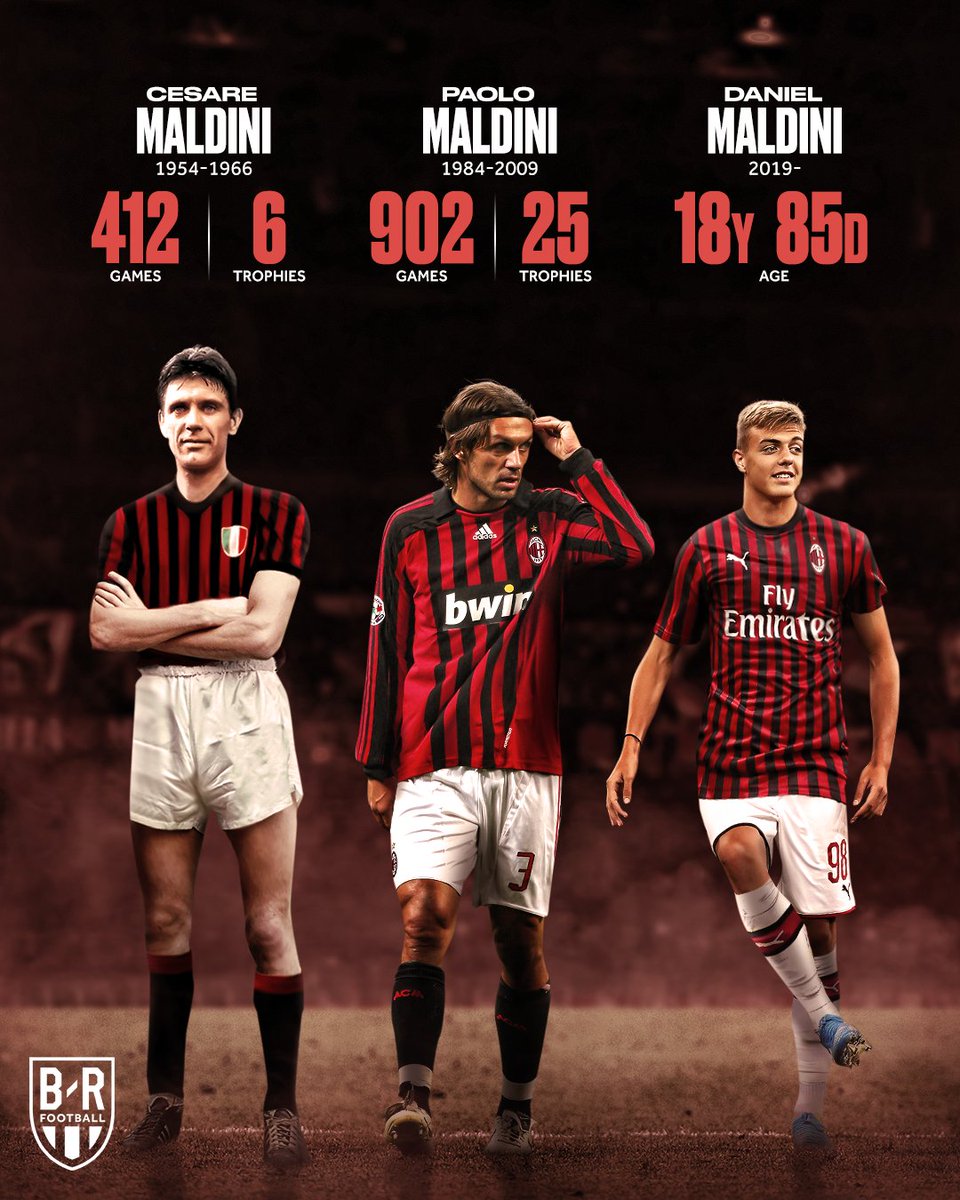 18-year-old Daniel Maldini has made his AC Milan debut.
He's the third generation of Maldinis to play for the club after Cesare and Paolo. 🔴⚫
https://t.co/F9x3jrIP8K
However, whether that ability is best nurtured for longer in the Milanese Primavera is a key argument. Maldini's development shouldn't be rushed because of his name, and although he has made his senior debut, it doesn't necessarily mean he will now immediately become a first-team player.
He has been named on the bench for Milan twice before in Serie A this season. The next logical step is surely to train with the first team on a permanent basis, learning from them before making a full breakthrough into Pioli's side. Consistency was an issue during the player's youth, admitted Milan's Youth Co-ordinator Filippo Galli to Corriere Della Sera:
"When he was younger, Daniel lacked a bit of consistency in his game and his efforts, but he has worked on it a lot to get to where he is today."
With just nine Primavera 2a appearances to his name this season, this argument is for him to continue his form in that league for the rest of the campaign before introducing him to full first-team training next term.
Galli describes Daniel Maldini as 'a talented player who anticipates the game and sees it before all the others.' Just like he did at five years old with a prime Clarence Seedorf dribbling at him. Even if it is not this go around, watch out for the latest Maldini on Milan's block in the future, as he quite clearly has a big one.