Can Borussia Dortmund's new system bring short-term success?
Dortmund's new approach is proving a nightmare for opponents.
Borussia Dortmund witnessed their season falling apart in late November. Poor results mingled with defensive errors put Lucien Favre's job under threat. Then he found his own eureka moment. Rather than sticking with the attacking approach, he tweaked his side to remain comfortable enough at the back and take away the burden from their attackers.
Alas, the three-man defence meant Dortmund saw the light of day. At first, the revolving 3-4-3 formation didn't work as intended. Individual mistakes and the lack of a proper partner for Axel Witsel saw them overexposed to pressure. But the new year came bearing gifts. With the introduction of scoring machine Erling Haaland and midfield engine Emre Can, Favre's new blueprint has taken proper shape. The Norwegian scores for fun. However, his heroics have taken away spotlight from the others influencing their turnaround.
Lukasz Piszczek has found a new role. The 34-year-old doesn't have the legs to play as an energetic wing-back anymore. He does, however, possess the experience to hold down the fort in a three-man backline. Despite not matching the statistical contributions of other defenders, his positional sense and passing range allow Mats Hummels necessary breathing room.
Can's brought the bite the Dortmund midfield required. Weeks after joining, he urged his side to operate the "dirty way". He's taken charge, rattling opponents with crunching challenges. After just four league appearances, he now averages 1.3 fouls per game [WhoScored] behind just three players.
Although his handiwork in helping the Black & Yellows cope defensively has been immense, as he also averages 4 tackles, 1.7 interceptions per 90 while also moving things forward with an 87.2% passing accuracy. His hard-working presence aids Witsel to control things better.
Things are still occasionally topsy-turvy, but two clean-sheets in their last three indicates they're finding their feet in this system. Its ripple effect has also maximised their attacking potential. Haaland's been handed a free role, but those behind are also being encouraged to open their wings.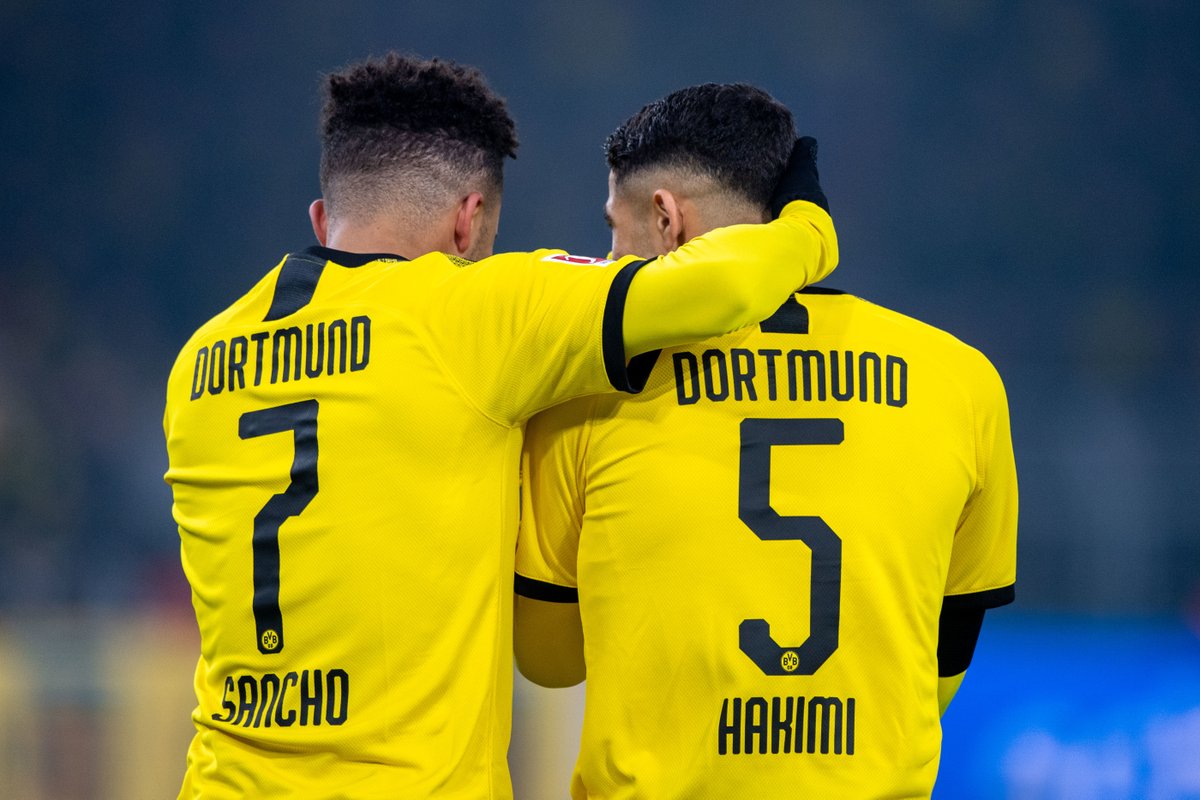 Jadon Sancho
🅰️🅰️🅰️🅰️🅰️🅰️🅰️🅰️🅰️🅰️
🅰️🅰️🅰️🅰️🅰️
Achraf Hakimi:
🅰️🅰️🅰️🅰️🅰️🅰️🅰️🅰️🅰️🅰️
Borussia Dortmund are the first team to have two players reach 10 assists in Europe's top five leagues.
https://t.co/hsu1qLAHaG
Achraf Hakimi and Raphael Guerrero are more focused on bursting forward than aiding their defenders. The former has racked up four assists in the last five games while the latter three goals in six. They're both encouraged to stretch defences and use their incisiveness to wriggle into promising areas. Doing that, possessing cunning scorers like Haaland or Jadon Sancho make it easier to find the decisive passes. After the winter break, BVB has scored 28 goals in 8 games [all competitions], more than any other Bundesliga side.
Favre's headaches will return soon when Marco Reus and Julian Brandt make themselves available. Moving the former Bayer Leverkusen back into centre-midfield disrupts the set-up. The BVB captain is, however, guaranteed a place upon regaining full fitness. With Sancho having already formed a devastating partnership with Haaland, Reus would amplify their swagger with his decisiveness. He is, after all, the Black & Yellows' second-highest scorer this season with 11 league goals.
Once the injured players are available, Favre can shuffle his pack. Rotating the squad will ensure players remain fresh heading into the final stretch. However, only mental fortitude can usher Dortmund over the finish line before their competitors. The Black and Yellows now have a system capable of succeeding against formidable opponents. The result against PSG stands an example. They also have genuine game-changers to keep their style attractive.
Can Dortmund go all the way into winning silverware? Bayern Munich holds the mental edge in the Bundesliga title race. PSG sit as favourites in their Champions League second-leg encounter. They've already knocked out from the DFB Pokal. The odds are stacked, yet a blistering 2020 suggests BVB will fight till their last breath to finish their season with a bang.