Can Eden Hazard's return boost Real Madrid?
Can Hazard provide Real Madrid with separation in La Liga title race?
Eden Hazard shot to fame at Stamford Bridge in Chelsea's blue kit following a summer switch from Lille in 2012. Two Premier and Europa League titles an FA Cup, EFL Cup and numerous individual accolades made it an astute career choice. It's never enough, though. In his final seasons with Chelsea, it became common knowledge the Belgian longed to play for Real Madrid. Finally, it happened. Thus far, however, astute isn't the word to describe his latest move. With injuries, poor form and a struggle to settle into Zinedine Zidane's system, the Santiago Bernabeu hasn't been a bed of roses.
To date, the Belgium international logs eight La Liga matches and five Champions League games for the Merengues, with a goal and four assists. He missed the campaign's first three games with a hamstring problem, then another fifteen matches with a hairline fracture in his foot, including the Supercopa de Espana and all of Real's Copa del Rey matches thus far. While fitness and small sample size [984 minutes] while adjusting to a new club play a part, directly involving oneself in a goal every 197 minutes is the minimum acceptable standard for a forward. Hazard's bar is set much higher. Over his seven-year Chelsea career, he contributed a goal or assist every 13 minutes on average.
Zinedine Zidane managed to keep Real firing even without the real Eden Hazard. Los Blancos edge Barcelona by three points in the Liga table after 22 rounds. While both sides were knocked out of the Copa this past week, it remains an all hands on deck situation. Zizou can use an in-form Hazard to put some distance between the capital side and their Catalan rivals.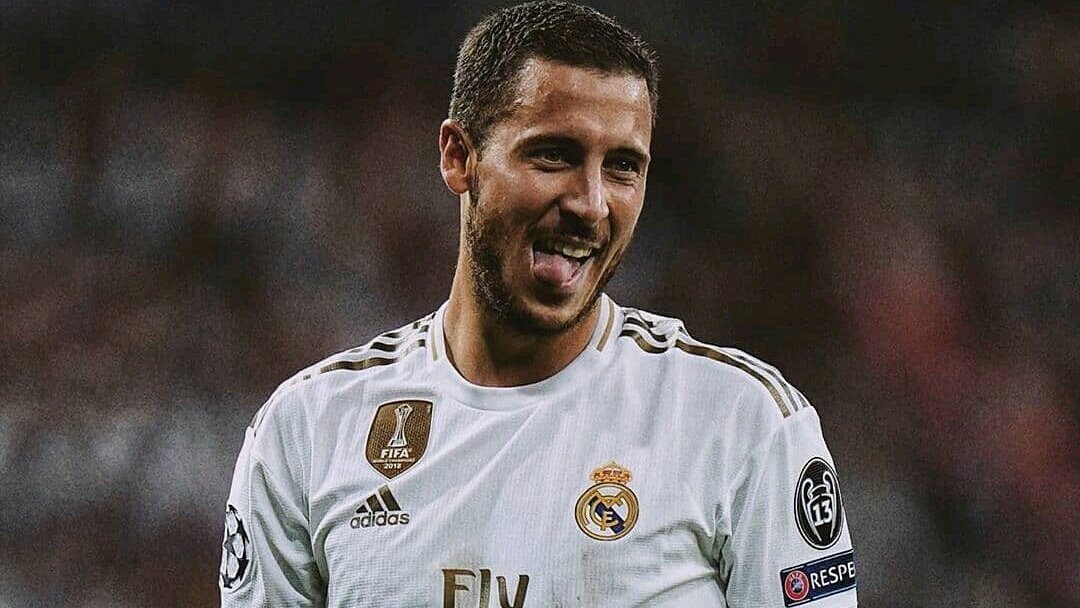 Real Madrid are top of LaLiga, through to the Copa Del Rey Quarter-finals, Champions League Round of 16 and Super Cup Champions without much of an impact from the main man Eden Hazard. He's now finally back.. super excited to see him add more danger and creativity to the attack.
https://t.co/LqFTsk372a
Zidane's strategy as he rebuilds his squad is primarily defensive. Real rather than Atletico Madrid boss La Liga's goals conceded chart, surrendering 13 in 22 games. Hazard's one-time Chelsea teammate struggled in his first season and a bit at the Bernabeu as well but now leads the Primera Division with 11 clean sheets in 19 matches. The French boss would love to see a Belgian frustrating opponents in both boxes, though. He doesn't want to wait until next season for Hazard to come good.
Manchester City awaits Real in the Champions League Round of 16. The Cityzens Premier League crown is already lost with Liverpool 22 points in front with 13 matches remaining. Pep Guardiola's side can throw all their weight and energy into the European arena. Zidane can't rely on his defence to hold off the Sky Blues over two legs. He needs goals. He needs Hazard.
Unlike City, the Spanish giants cannot focus solely on the Champions League. The return leg in El Clasico falls between the two matches against Manchester City. Barcelona began the New Year in a funk. They sacked Ernesto Valverde but Quique Setien hasn't found traction, especially away from the Nou Camp, losing to Athletic Bilbao at San Mames in the Copa and Valencia at Mestalla in La Liga.
On the other hand, Barca Sporting Director Eric Abidal's comment that the squad laid down tools under Ernesto Valverde drew unprecedented public ire from Lionel Messi. The club captained challenged his former teammate to name names or pipe down. Club president Josep Maria Bartomeu mediated a social media ceasefire between the pair but left-back Jordi Alba had already backed Messi with strong words of his own. An angry, motivated Blaugrana squad invading the Bernabeu isn't to be taken lightly. Having his own deadly dervish to throw into the fray would lift Zidane's confidence.
Eden Hazard still has a long way to go in the Spanish capital. Yet to prove he's worth the €100 million he commanded last summer and bearing the weight of the No.7 shirt dropped by Cristiano Ronaldo, he must come through. Happily, there is no time like the present.