Can Eintracht Frankfurt's Front-Three Help Them Sustain A Bundesliga Title Charge?
Life's been good for Eintracht Frankfurt post-Niko Kovac. Replacing the successful Croatian with the less-experienced Adi Hutter sparked questions from fans. However, the former BSC Young Boys manager took little time to establish a fluid, fast-paced style. The result? Non-stop goals.
Frankfurt wouldn't be in the position they are right now if not for their front three's excellent work. Twenty-year-old Luka Jovic, on loan from Benfica, and Frenchman Sebastien Haller are the breakout stars under Hutter's experimental system. World Cup finalist Ante Rebic, a pivotal figure for their success last season, has let his juniors run riot.
The Jovic-Haller-Rebic trio scarcely play together because Hutter graduated with honours from the Claudio Ranieri School of Tinkering. Nonetheless, they've contributed towards 23of Die Adler's 29 goals in 12 matches. If you ignore that they're rarely on the pitch at the same time, they're arguably the Bundesliga's best-attacking trio, offering stiff competition to Paco Alcacer, Marco Reus and Jadon Sancho of league-leaders Borussia Dortmund.
Their excellent work's helped Hutter bring Frankfurt a joyful life after Niko Kovac. The three have taken to their new coach like teenaged daughters to One Direction. Hutter continues to shuffle his tactical playlist, however. At times he sets up with a three-man defence. On other occasions, he'll pack his midfield like an M&S on Black Friday.
One constant is the freedom he gives his attackers to roam forward without any pressure to track back. Without constraint, the trio operate with confidence to make certain Kovac's departure isn't the end of their world. However, Hutter's Eagles needs to maintain their consistency to support their three stars as the season wears on.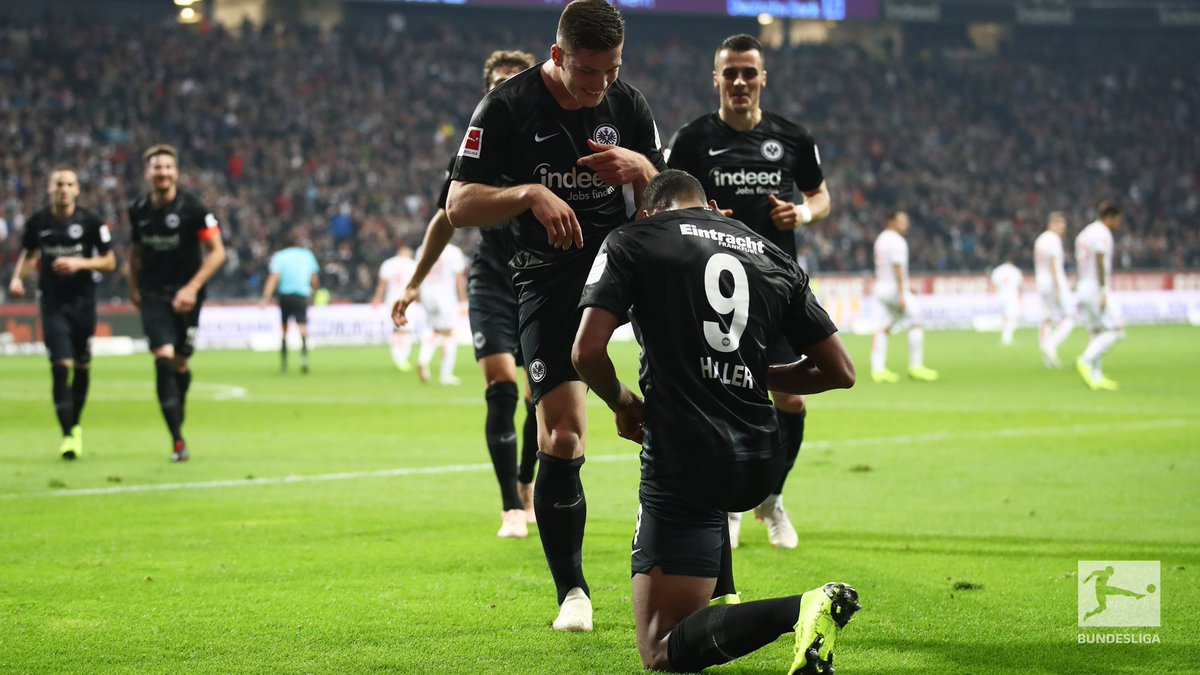 Frankfurt initially took time to adapt to Hutter's system. The new boss had a nervy start, losing three from his first five games. He's since communicated what he wants to his players. Following their disastrous start, the Eagles won five of six while averaging better than 3 goals per game.
Eintracht own their Europa League group, having won their opening four matches. They defeated Italian giants Lazio and last season's runners-up Marseille comprehensively. Frankfurt banked progression to the knockout rounds early, scoring 11 goals, five from the Jovic-Haller partnership.
The rest of the XI working for the forwards is key to the squad's success. The players on the flanks have been instrumental in creating opportunities. Filip Kostic and Danny da Costa especially contribute key assists as well as timely goals.
Pace out wide stretches defences, creating space for Jovic and Haller to fill in the penalty area. Jovic shares the Bundesliga lead with nine goals. He raked in five as Eintracht battered new-boys Fortuna Dusseldorf. It's hard to believe it's the Serbian's first season in the German top flight. He's done it all, scoring worldies, clinical strikes, and deft headers, too.
While Jovic's the more predatory figure in the box, Haller's movement and trickery fool many a defender. He slips into clever positions, surprising his markers and creating chances for his team. The Frenchman's scoring touch is promising. He has nine on the campaign, as well, joining Jovic and BVB's Alcacer. Haller's also assisted six times, taking over Rebic's influential role in the squad in his sophomore season.
Rebic took his time to get going after a gruelling World Cup campaign with Croatia. He's scored five times while playing a withdrawn role. He's easing things in midfield, using his intelligence to thread through creative passes. Frankfurt's star trio may not start every game together, yet the impressive bond they've created is tough to break.
Sometimes their coordinated movement appears telepathic. Jovic and Haller's partnership's been especially proficient. The two have linked together in the final third smoothly, often interchanging positions, making clever runs to expose defenders. Frankfurt's attacking system doesn't require anyone to be restricted to a position, making it next to impossible for defences to maintain a tight marking system.
That said, Hutter can improve his side's defending. They've only attained three clean-sheets in the Bundesliga and are vulnerable to a vibrant opposition's attack. As the saying goes, "scoring wins games, defending titles."
Frankfurt's bursting attack is winning matches but their rearguard isn't the most stable. If Hutter can improve the back end without isolating his three forwards, Eintracht will be better equipped for the long haul and more likely to hold onto their current Champions League place. The Jovic-Haller-Rebic combo has overwhelmed almost every opponent they've faced this season. If that's the sign of things to come, Adi Hutter's hungry raptors may find their eyrie at the peak of the Bundesliga.