Can Getafe pull off a Champions League qualification surprise?
Getafe could surprise everyone by qualifying for Champions League or Europa League at season's end
After a slow start, Barcelona has maintained top spot in La Liga as the rest of the teams following from behind. Beating arch-rivals Real Madrid at the Santiago Bernabeu on Saturday solidified that position as the Blaugrana all but secured the league title with 12 matches left to play. Second-placed Atletico Madrid followed up with a 2-0 victory away at Real Sociedad. That keeps the side's slim hopes of toppling Ernesto Valverde's men alive. Apart from the duo, who have maintained some consistency so far in the campaign, the other top teams have been blowing hot and cold. Enter Getafe.
Every season usually has a surprise package. Nuno Espirito-Santo is turning heads with Wolverhampton Wanderers in the Premier as he pushes for a European place at the end of the season. Gian Piero Gasperini is doing same with Atalanta in Serie A. No one expected Lille to be the first of the rest in Ligue 1 after Paris Saint-Germain this campaign.
As for La Liga, Getafe has emerged as the unlikely candidates this term. The latest 2-1 victory away at Real Betis confirmed the side's determination to take full advantage of the failure of some of the league's big guns to live up to expectations.
Sevilla topped the league table at some point this season, but since being knocked off their perch, Pablo Machin's men have struggled to keep up with the pace. A recent 2-1 loss to bottom club Huesca was enough to set the alarm bells ringing. With results like that there is a genuine concern the side may fall short of securing Champions League football at the end of the campaign. Other supposed contenders like Valencia and Villareal have been even more disappointing.
Ousted out of the Champions League this season at the very first huddle, Marcelino's side has been a shadow of the team that took La Liga by storm last season. Los Che has struggled to win games this time around drawing a massive 15; the most in the division. Winning just seven league games in 26 is certainly not Champions League form. As for Villarreal, the Yellow Submarines are neck-deep in relegation waters.
The vacated fourth and fifth positions are now occupied by unexpected sides. But Getafe and Alaves don't care one bit. Instead, the two sides are determined to make as much of their new-found opportunity as they can by picking up points both home and away. The only question is how far can they keep up the apparent good fortune?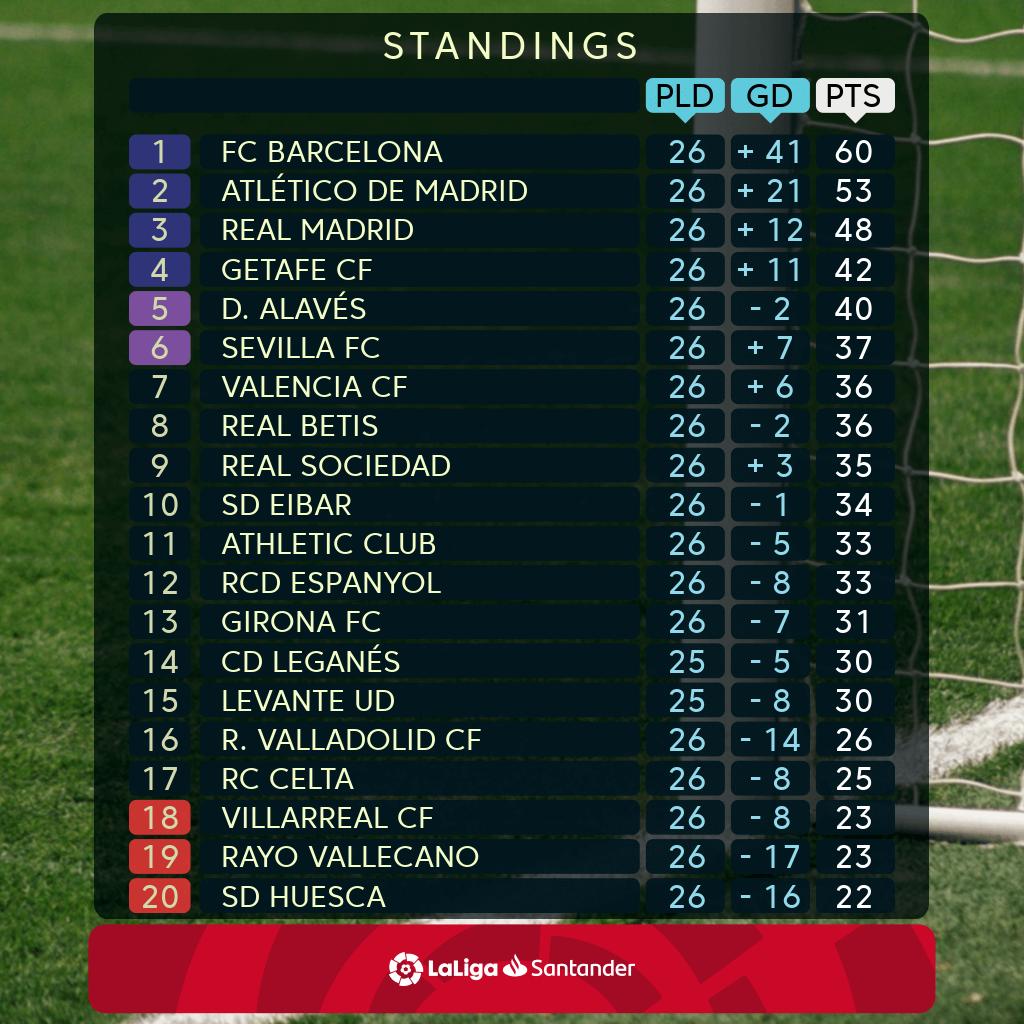 Sides like Valencia and Sevilla may have struggled until recently but they can spring back as the season begins to wind down. The gap between Getafe and the two sides is just five and six points respectively. Two bad results from the Azulones is all it would take to lose their position.
That's especially so considering the fact that they will face both of Valencia and Sevilla in the coming weeks. Add to that Real Madrid and Barcelona. Doubts begin to emerge concerning the team's chances of securing a place in the Champions League group stage next season.
But even if that were to happen, Pepe Bordalas' side would most likely play in Europe. Europa League qualification would still be an outstanding achievement for a club that has been used to struggling for survival in the last few years. Bottom line is the team has already over-achieved so far.
Relegated from the Spanish top flight in the 2015/16 campaign, the Madrid-based side came back with a bang to finish eighth last term. As if that wasn't amazing enough for a club with very limited resources, the team is on the verge of playing continental football. The club faithful must be pinching themselves to be sure this is for real.
For a squad that consists of players that will be considered scraps by some top European sides, (such as metropolitan area neighbours Real and Atletico Madrid) the team is punching far above its weight. Players like 30-year-old Jaime Mata and 36-year-old Jorge Molina were picked up on free transfers after leaving Real Valladolid and Real Betis respectively. Both lead the scoring charts for the club this season with 11 and 10 strikes apiece plus a chunk of assists.
Others like Angel Rodriguez and 34-year-old Mathieu Flamini were also picked up on free transfers after leaving Real Zaragoza and Crystal Palace.
Some hundreds of thousands and a few million spent here and there like the €2.5 million for Togolese defender Djene complete the squad. But manager Bordalas has been able to weave these players into a solid team that is downing big guns. This is gradually building up to a story that could be told for years to come. But we will wait to see how it all unfolds at the end of the season.