Can Hashtag United clinch back-to-back promotions?
Welcome to the club that stepped out of the virtual world into yours.
Background image: Pete Linforth
Across non-league football, a host of clubs divide opinion. The main culprits are new owners who splash the cash with little concern for the club's traditions or long-term health. Hashtag United are not such a club but they remain controversial.

Formed by YouTube star Spencer Owen, they were already a monster brand before they entered the pyramid. Since moving from the virtual football world to the brick and mortar, the fledgeling club moves from strength to strength.
Off the pitch
Their brand continues to grow thanks to a huge fanbase which is built around more than what happens on a Saturday afternoon. With a huge eSports FIFA following across social media, they can reach out to more people than any competitor can even dream. In 2019, the club received 24.1 million YouTube hits, eighth among all clubs in the UK and I do mean all. Better [or worse, depending on your viewpoint] they only stand to approve.
The club offers numerous incentives to get young fans through the doors and good crowds for their current level. Media is where they excel, however. The content they provide on and off matchdays easily surpasses standard fare. Hashtag are here to stay.
On the pitch
They do the business between the white lines as well. Last season was their first competitive venture in the pyramid but they were able to win the Eastern Counties League Division One South and secure promotion from the tenth tier. Playing in the Essex Senior League, this year, they're looking to move up again.
Victory on Wednesday night at home to fourth place Hadley lifted them into second in a three-way race for the title and promotion. Hashtag are one point behind Saffron Walden Town with two games in hand on the league leaders.
I did say it was a three-way race, though. Third place Walthamstow hold games in hand on both Hashtag and Hadley. Winning those matches would put them top.
Walthamstow and Hadley are both on Hashtag's remaining fixture list, giving Spencer Owen's upstarts an opportunity to shape their own destiny. A second promotion brings them within four levels of the Football League.
Jay Devereux took over as manager for their first campaign and remains in the hot seat. His squad mixes holdovers from the squad that competed below the pyramid and more experienced players.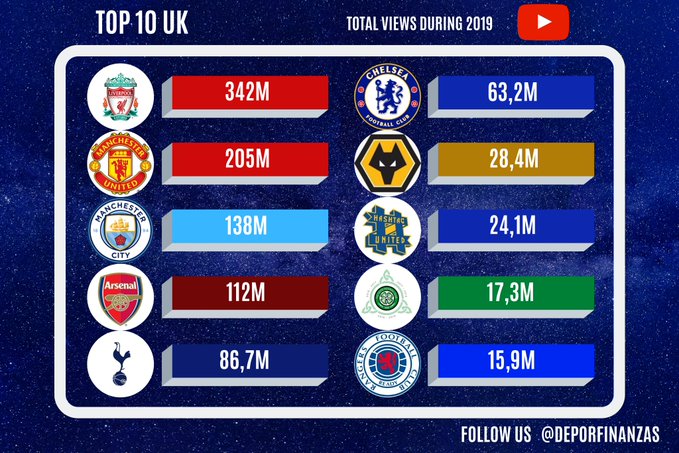 📲🚩🇬🇧 TOP 10 UK football clubs ranked by total views on #
youtube
during 2019!
1.@LFC🏴󠁧󠁢󠁥󠁮󠁧󠁿
2.@ManUtd 🏴󠁧󠁢󠁥󠁮󠁧󠁿
3.@ManCity🏴󠁧󠁢󠁥󠁮󠁧󠁿
4.@Arsenal🏴󠁧󠁢󠁥󠁮󠁧󠁿
5.@SpursOfficial 🏴󠁧󠁢󠁥󠁮󠁧󠁿
6.@ChelseaFC🏴󠁧󠁢󠁥󠁮󠁧󠁿
7.@Wolves 🏴󠁧󠁢󠁥󠁮󠁧󠁿
8.@hashtagutd🏴󠁧󠁢󠁥󠁮󠁧󠁿
9.@CelticFC 🏴󠁧󠁢󠁳󠁣󠁴󠁿
10.@RangersFC🏴󠁧󠁢󠁳󠁣󠁴󠁿
https://t.co/DjUA400B0X
The future
In the grand scheme of things, Hashtag are headed in one direction whether they achieve promotion this term or not. Devereaux calls 2019 "the perfect start to their non-league journey" in a documentary interview on the club's YouTube channel.
Owen is building a team like no other in the country. Due to its nature, criticism will always follow. However, this is a time of change in football. Traditional sides like Bury struggle to survive. Innovative clubs like Hashtag should be embraced for impacting the game positively. A large selection of their fans are the younger generation which older clubs struggle to attract. Technology is the way to engage them and Hashtag understands.

The club is already established in non-league. How far they can rise is the question. If you want to know more about them, they're easy to find. Just key #HashtagUnited into your favourite search engine and prepare to be entertained.