Can Renard, Ziyech take Morocco to AFCON glory?
Hakim Ziyech will be vital as Herve Renard hopes to lead Morocco to his third AFCON title
Morocco's burning desire for a second Africa Cup of Nations (AFCON) trophy lingers in Egypt. The Atlas Lions last achieved success in 1976. Optimism is high this time. Two-time winner Herve Renard could conjure his usual magic. Hakim Ziyech will be crucial for the rites.
Morocco makes the short trip to Egypt as outsiders. Senegal is favourites. Aliou Cisse flaunts the strongest squad on paper. Currently ranked top, the Lions of Terenga are under immense pressure. The West Africans fell short of expectations in previous editions. A runner-up finish in 2002 is their best ever finish.
The anxiety level isn't any different for the Pharaohs despite enjoying the lion's share success. The AFCON trophy is something of a birthright. Last time the North Africans hosted in 2006, the title remained there. With Mohamed Salah on a red-hot form, an exciting crop to work with and fiery supporters chanting, you'd expect a smooth sail.
But then, there's Algeria, Tunisia and Morocco - neighbours which will enjoy similar confines of North Africa with little effort to adapt to the conditions. Owing to the proximity, these nations could benefit from robust travelling support too. Of the trio, though, Morocco is better placed for an upset.
Odds on their success may appear generous, but the Atlas Lions seem the best prepared and equipped. Morocco is rich in depth with a perfect blend of youth and experience. They realistically boast two options for every position even if there's a drop-off in quality in some areas.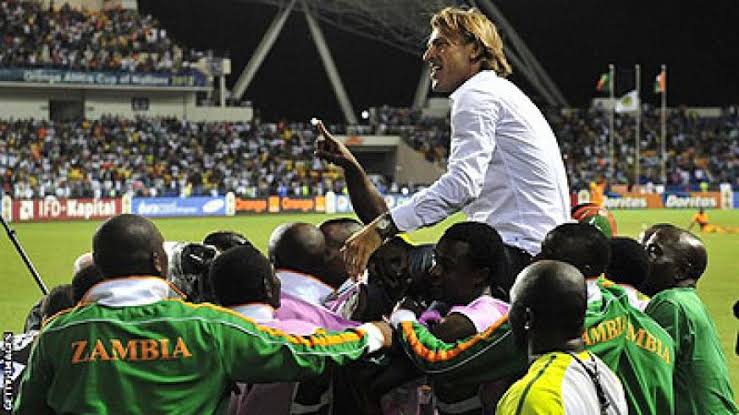 Herve Renard is the only manager to win the AFCON title with two different nations (Zambia - 2012 and Ivory Coast - 2015)
Can he make it THREE in Egypt with the Moroccans?
#Soccerzela
https://t.co/Np0C92ATS4
Morocco has waited 43 years (and counting) to double their solitary AFCON title. Since then, they finished as runners-up and second-runners up on one occasion apiece, reaching the semi-final on two other occasions. The only other relative success earned by Morocco was a pair of CHAN trophies in 2014 and 2018 – a competition for locally-based players.
The hope of the nation rests on Renard. A French national, the 50-year-old found solace on the mother continent, previously leading Zambia and Ivory Coast to podium finishes in 2012 and 2015 respectively. No manager achieved this feat in the competition's history.
Crisp and well-tailored, he is recognised for his attire - always the same shirt. The Aix-Les-Bains native's tactical artistry and calmness have seen him become one of the most successful and sought-after coaches on the continent.
Renard was the nemesis of those who once adored him. His Zambia side defeated the Elephants in the 2012 final. He repeated that feat against the Ivorians, this time with Morocco at the 2017 tournament. After ending their 2018 World Cup dreams, he faces the West Africans again in the 2019 group stage. South Africa and Namibia complete the tricky Group D.
Morocco looked unstoppable.... Until their last three games, all ending in defeat, against minnows Gabon and Zambia. Before then, there had only been two losses, to Iran and Portugal, in Morocco's previous 27.
Renard's fluid, high-intensity pressing, makes his team very attractive. The Frenchman's loyalty to a small group of 15 players made Morocco very organised. In the forefront is Ajax playmaker Hakim Ziyech.
The 26-year-old proved last season that he could be the talisman on the biggest stage. An irreplaceable starter for Erik ten Hag's team, the Moroccan was crucial for Ajax en route to a domestic double and a Champions League semi-final. Ziyech contributed over 30 goals, six in Europe. His dribbling skills and ball control, combined with distinguished intelligence makes him a key figure.
Renard and Ziyech would attain demigod status should Morocco end their AFCON blackout. Expect a backlash in the case the reverse happens.