Can Luka Jovic start taking his chances?
Both top signings are yet to come good for Real Madrid. Most believe Eden Hazard only needs to be fit but Luka Jovic needs to start scoring.
Virtually every young footballer dreams of playing for top clubs in UEFA's big five, the Premier League, La Liga, Serie A, Bundesliga and Ligue 1. That's where the money and fame lie. Even for those who do sign with the Manchester City, Paris Saint-Germain and Real Madrids of the world, it doesn't always work out. Take Luka Jovic.
Scoring a combined 27 goals [17 Bundesliga, 10 Europa League] with Eintracht Frankfurt last season aroused Real Madrid's interest. Les Merengues acted quickly to sign the Serbian, paying the Bundesliga outfit €60 million in early June. Pundits quickly tabbed him as Cristiano Ronaldo's replacement. In his first season at the Santiago Bernabeu, the Portuguese scored 29 times in La Liga, 43 overall. To date, Jovic's contribution to the cause amounts to two goals and two assists in 23 appearances totalling 764 minutes, or 33 minutes per cap. Forget Ronaldo; Jovic hasn't been able to replace Karim Benzema.
Jovic is only 22. Ronaldo joined the Spanish giants when he was two years older. Coming from Manchester United with his first Ballon d'Or in hand, more was expected from CR7. Still.
Karim Benzema is ten years Jovic's senior. One can't expect too many more seasons from the Frenchman. The plan all along was to ease the young star into the limelight. Regardless, his early performance remains a concern. Players often need time to settle and adjust to different teammates and leagues but Madridistas want to see their young stars push the veterans. Jovic directly involving himself in a goal every 191 minutes isn't even a tap on the shoulder when Benzema contributes 18 goals and 9 assists at a rate of one every 93 minutes.
On the other hand, Eden Hazard endures similar struggles at the Bernabeu. The Chelsea legend battles form and fitness in his first La Liga campaign. Jovic can't be singled out for criticism. He can be criticised, however.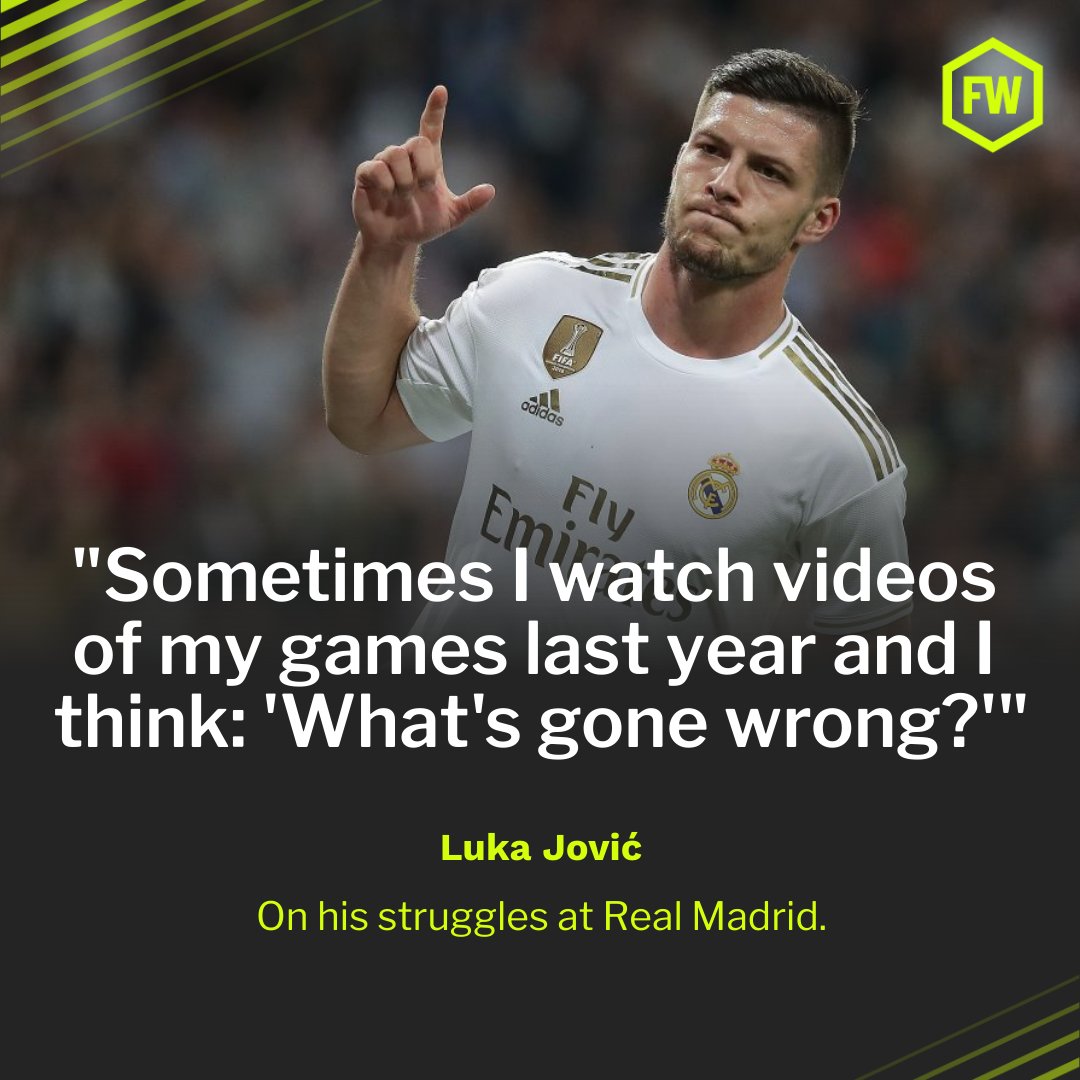 Luka Jović has averaged 0.23 goals per 90 for Real Madrid in LaLiga this season.
At the corresponding stage last season, he was scoring 1.03 league goals per game for Eintracht Frankfurt.
#RealMadrid
#Jovic
https://t.co/TrRTR4yYts
He can also be praised. Jovic came in for Benzema against Osasuna this past week. While the match was a straightforward 4-1 romp for Los Blancos, the Serb's 90+2-minute volley stole the show. Football is a what-have-you-done-for-me-lately business and the young man finally provided an answer. Of course, the question will be posed again and again and again. Jovic must continue to answer by building momentum from the Osasuna strike.
He might be more consistent with a steady run of games, even coming on repeatedly at the hour mark. Yet, he can't blame the manager's selection unless he influences it. If he is given ten minutes to show his value, he must use that time effectively. That is life as a young footballer.
Benzema is in top form at the moment and Zidane has long trusted his compatriot. Real Madrid top the table as well. Expecting the manager to tinker with the lineup under those conditions is silly. There may come an opportunity for Zizou to play the two together, however, to see what comes of it. Benzema's nine assists suggest he can work with a partner.
At the very least, Jovic finding his best form can push Benzema to greater heights. A few more goals and we may see more of the 20-minute cameos for the youngster and fewer lasting less than ten minutes.