Can Manchester City break their Anfield jinx?
Not in the best form and lacking depth, Manchester City's trip to Anfield will be doubly difficult.
Manchester City travel to Anfield hoping to cut their deficit to three points. History isn't backing them. City have failed to register a win at Anfield for 16 years and the League leaders have made their home a fortress. Crystal Palace were the last team to beat the Reds at home. In April 2017.
What does that matter? Not at all if you believe what Fernandinho and Kevin de Bruyne tell any reporter who will listen. Perhaps they're right. What can players and managers do about history except learn in an effort to keep it from repeating? That's what Pep Guardiola desires from his side even if more recent events also work against the Sky Blues. So, let's put all the 'title decider', 'best modern rivalry in English football' hullabaloo aside for a moment and talk about things that will actually matter during the weekend's top-of-the-table clash.
The City boss confirmed Ederson isn't fit to start the game. Having already lost their most influential defender, Aymeric Laporte, to a long-term injury, new signing Rodri is also on the trainer's table. So too David Silva, Oleksandr Zinchenko and Leroy Sane. In a nutshell, the Citizens journey to Merseyside with a depleted squad. Not the best news when you're the side that needs all three points.
Meanwhile, fewer injury concerns trouble Jurgen Klopp although other worries afflict Liverpool. The Reds leave the rest of the league in their wake but it's not smooth sailing.
Their frontline struggles, especially Roberto Firmino and Mo Salah. Although they are joint-second in fewest goals conceded, Liverpool claim only two clean sheets in the league. Neither came at home. It's not due to Alisson's injury. The Merseysiders conceded in every game after the Brazilian returned.
There is a problem Klopp is much happier to face. The German's preferred midfield comprises Fabinho, Georgino Wijnaldum and Jordan Henderson but Alex Oxlade-Chamberlain's recent performances cannot be overlooked. His work relieves pressure on the misfiring forwards. On the other hand, constantly joining the attack exposes Liverpool to the counter. Klopp must choose whether to respect City or take the match to them.
Anfield isn't an entirely dark tunnel for the Sky Blues. There are glimmers of light but is there enough to see them through?
Manchester United remain the only blemish on the Reds' ledger but six of the Merseysiders' victories came by a one-goal margin. Teams who defend deep and narrow trouble them. Dante will issue a ski report for Hades before Guardiola parks the bus but even if Pep was of a mind, he's a bit light to play five at the back. He must find another way to nullify Trent Alexander-Arnold and Andy Robertson. Klopp's fullbacks continue to maraud opposing defences. Their forward thinking combined with Oxlade-Chamberlain's exposes the backline. The Catalan must devise a way to minimise their threat and exploit the space behind. Easier said than done.
The reigning champions display more obvious weaknesses, largely through their injury crisis. They must bring their strengths to bear. De Bruyne is the key that can unlock Liverpool's defence. The Belgian already boasts nine assists from his new position on the right side of a midfield three. Any team would be worried about facing Raheem Sterling and Sergio Aguero loves scoring against the big six.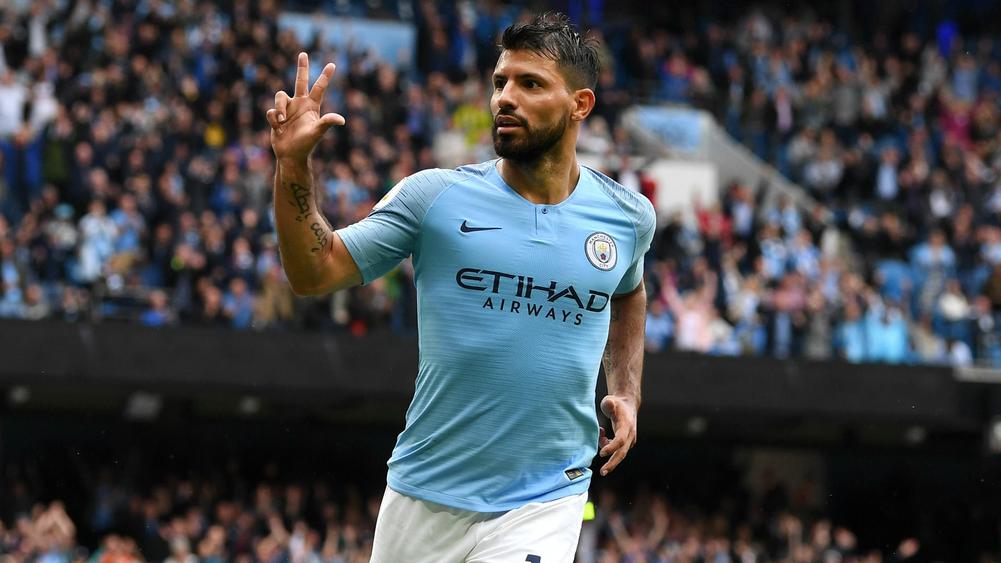 #
LIVMCI
talk 💬
In 67 matches against 'the big six', Aguero has scored 44 goals from 241 shots with a conversion rate of 18.3%.
Danger man.
#beINPL
https://t.co/EQMoAxWY4H
Guardiola's men are shapeshifters. They interchange seamlessly. Pep doesn't only demand they control possession but the open spaces as well. Expect Fernandinho to continue filling in at centre-back but Rodri's absence leaves him without a natural d-mid. Ilkay Gundogan is just a bit too eager for the part. He isn't always in the right space at the right time
Even with a full-strength squad as City manager, Guardiola failed to work any magic in Liverpool's backyard. He certainly needs to pull a rabbit out of his skull cap to break City's jinx at Anfield today.