Can Maurizio Sarri take Juventus to the promised land?
At Juventus, Maurizio Sarri has a chance to take his career to the next level
The football world never ceases to amaze. How quickly things change.
Ten months ago, Maurizio Sarri moved to Chelsea, signing a three-year contract. Curiosity abounded as to how he would fare at Stamford Bridge. He had never won a trophy in his managerial career. How long before sack-happy Chelsea add his head to their mantle?
Only it never happened. Instead, Sarri came in, transformed how Chelsea play, sent fans over the moon as the club matched Liverpool and Manchester City for undefeated pace into November. A fair few still respected him when the project crashed to Earth with inconsistent performances. Then, in the face of criticism, he won the Europa League without any urgency, having already finished in the top four. Best, the triumph denied London rivals Arsenal a return to the competition. Then, just when he had Stamford Bridge supporters in his corner, Sarri turned his back on the club for the biggest club in his native land, Juventus.
The Italian gaffer was jeered several times along the way and the club hierarchy let it play out, failing to come to his support and demonstrate solidarity. No one wants to work in a toxic environment. It's perfectly understandable that he began to weigh his options. If he's going to be whistled and booed, why not at Juventus in front of an Italian crowd he fully understands and who won't mind if he lights up a cigarette while they rant away?
When questions were put to him about his future at the Bridge, Sarri told reporters he would meet with the board at season's end to come to a consensus. In essence, he threw Chelsea's wait-and-see attitude back in their face.
Compare that to Pep Guardiola's response when earlier reports emerged that he was set to leave Manchester City for Juventus. The Catalan-born manager dismissed such reports immediately, vigorously, insisting he was going nowhere and stressing his commitment to his contract. After all, Manchester City was committed to him. They brought his most trusted colleagues from Barcelona years in advance, planning and anticipating his appointment. Had Chelsea shown any level of belief approaching that in the Italian, he might still be at Stamford Bridge.
Instead, a move to Juventus was an offer too tempting to resist and understandably so.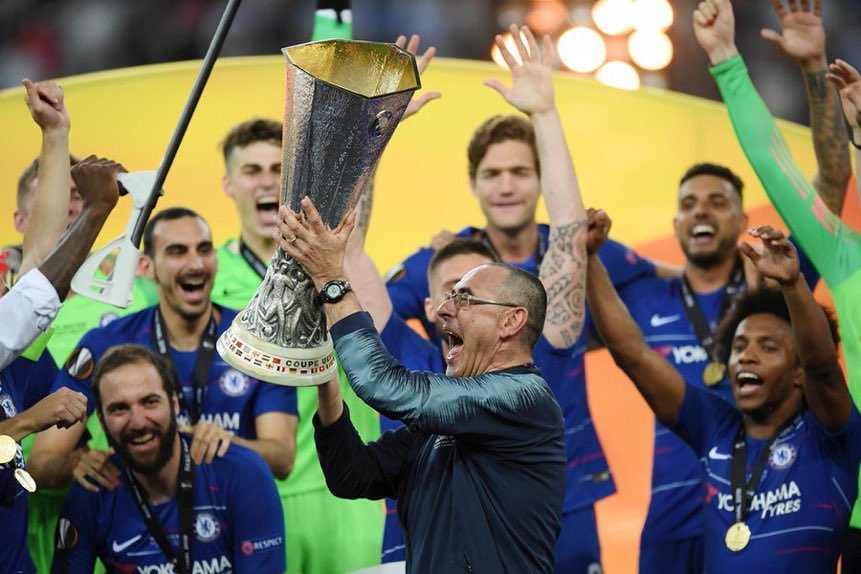 Thanks for everything Maurizio Sarri, I backed you since the beginning and its a shame to see you go, you were the right man to take Chelsea forward. Glad to see you earn your first trophy with Chelsea.
Farewell Don Sarri.
https://t.co/jXJ2cr6J0e
For one thing, Juventus is better positioned for success than Chelsea. The Bianconeri dominate Lega Calcio, winning eight Scudettos in succession, along with a handful of Coppa d'Italia. Chelsea must contend with the likes of both Manchester clubs, Liverpool, Arsenal and Tottenham in search of domestic honours. Winning the domestic double is a regular occurrence in Turin these days.
Qualifying for the Champions League has become a very difficult task in England. The Old Lady strolls into it like her favourite boutique every season.
Admittedly, she struggles once she's through the door. Massimiliano Allegri took the club forward from where he met it. After Antonio Conte's three consecutive league titles, Allegri added five more in as many years. But despite bringing in Cristiano Ronaldo last term to make a push for continental silverware, the team fell flat against surprise package Ajax, losing 2-1 at home to exit the Champions League at the quarter-final stage.
It was time for a change. Allegri's departure at the end of the season opened the door for a new beginning. Sarri brought about two new beginnings in his top-flight career, one each at Napoli and Chelsea. So, why not him?
Having won the Europa League, he's now proven he can win on the continent. For a man who has spent most of his coaching career in Italy, heading back home to manage the biggest side in the country is not only an irresistible career move, it's the logical one.
All that taken into account, Sarri comes with questions. His distinct style of football caught the eye while he was at Napoli. But he always came up short as far as winning silverware was concerned. Juventus reigned supreme time and again. That's not surprising as the Bianconeri boast the best players in the league by far. In fact, they took Gonzalo Higuain away from Sarri when the former banker began to pose too serious a threat.
Now his profile appears on the other side of the coin, however. Juventus gives him the chance to be the bully rather than the underdog. Does the mentality suit him? He is a former banker.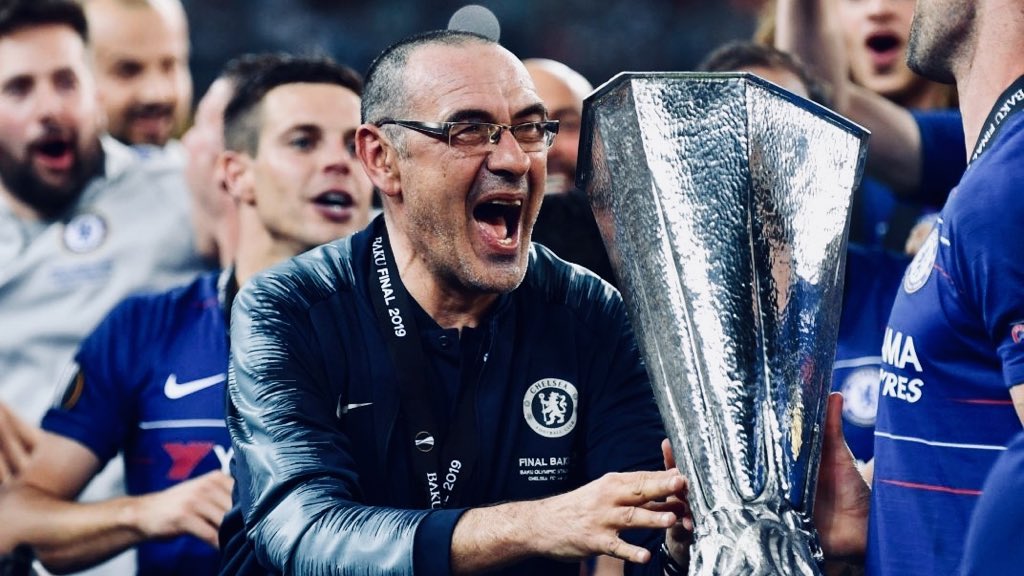 Maurizio Sarri Appreciation:
Hired late, had to change a station wagon to a Ferrari overnight, dealt w/ fans who wanted him gone from the get-go, dealt w/ some media who were very unfair on him, dealt w/ a looming sacking... achieved CL qualification & won a European trophy.
👏🏼
https://t.co/kcuMGNpOjx
The problem is whether his tactics and management style will suit the zebras. Teaching an old dog new tricks is not exactly the easiest thing in the world and, in Serie A, Juve is the oldest dog of them all.
The 60-year-old took Jorginho along with him from Napoli to London to implement his playing style in England. That became a point of controversy, eliciting severe criticism from several quarters concerning the team's setup. It's questionable whether he can take the midfielder along with him again. With a transfer ban on new signings, Chelsea will be crazy to let such an important player leave, especially so when talisman Eden Hazard already left the club for Real Madrid.
On the other hand, will the new boss, expected to be Frank Lampard, consider Jorginho such a valuable asset? That remains to be seen.
Sarri's time at Chelsea also spelt the end to club careers for certain players, such as captain Gary Cahill, Victor Moses and Danny Drinkwater. At the same time, he demonstrated a reluctance to give young players a chance in the team. Andreas Christensen returned to the bench after Sarri's arrival. Callum Hudson-Odoi was forced on him due to injuries but the youngster still earned an England start ahead of a Premier League one.
Juventus' old guard includes captain Giorgio Chiellini, his centre-back partner Leonardo Bonucci and the injury-prone German midfielder Sami Khedira. In addition, there are fresh faces, sensational winger Moise Keane and promising defender Daniele Rugani chief among them. Their futures could be delayed if Sarri doesn't look at his English travails as lessons to be learned.
Combining his style and the resources now available to him, Sarri should be able to deliver the big one to the Italian giants if he keeps his cool. Unfortunately, the opposite may just be the case. Anyone who saw him nearly walk out of Wembley Stadium following the "misunderstanding" with Chelsea No.1 Kepa Arrizabalaga understands. Any unrest in the dressing room could ruin everything. Sarri was quoted in the English press as not knowing "how to motivate" his players.
There are two possible outcomes. Either, it will all go swimmingly for the new man or everything will capsize. At Juventus, unfortunately, there is no middle ground.