Can Henrik Mkhitaryan make a successful Arsenal return?
Can the midfield Armenian continue his rich vein of form if he leaves the Eternal City?
Background image: Arsenal MJH
Luck hasn't been in Henrikh Mkhitaryan's corner. After producing spectacular performances at Borussia Dortmund, his fitness crumbled under Premier League intensity. Jose Mourinho's confrontational man-management at Manchester United didn't help his case. Neither did the philosophical shifts at Arsenal.
Injuries played a big part in his Albion misery. Arsenal decided a cultural change might be in order. Loaning him to AS Roma appeared to do the trick. He scored on his debut before assisting in a key away win over Lecce. Unfortunately, his personal injury bug travelled as well as the coronavirus. After missing two months thanks to a torn abductor muscle, he returned to score twice in five league games before a thigh injury shelved him for a further six matches in all competitions. Paulo Fonseca's side dropped points in three of those and were eliminated from the Coppa d'Italia by Juventus.
When the Armenian international returned last month, he picked up where he left off, pumping in three goals and two assists in four Serie A games and another assist in the two legs against Gent in the Europa League. The Giallorossi sit three points off the Champions League places. With the influential Nicolo Zaniolo ruled out for the season and Lorenzo Pellegrini sidelined again, Mkhitaryan becomes responsible for inspiring Roma's attacking brilliance.
Despite his frequent absence, the 31-year-old remains among I Lupi's most prolific attackers. Only striker Edin Dzeko surpasses his 0.39 expected goals per 90 [Understat]. Only Dzeko [8], Pellegrini [11] and left-back Aleksandr Kolarov [5] boast more assists than Mkhi's four with the Arsenal loanee playing 860 minutes fewer than his Italian midfield partner and 16-1700 less than the Bosnian and Serb.
Mkhitaryan drives the Giallorossi forward, creating clear-cut chances with his incisive delivery. His sudden bursts of pace and trickery in possession keep defenders guessing. The Armenian creates chemistry with the rest of the attackers, most notably Dzeko, Pellegrini, Kolarov and Cengiz Under. Further injuries and a global pandemic aside, nothing appears capable of stopping him.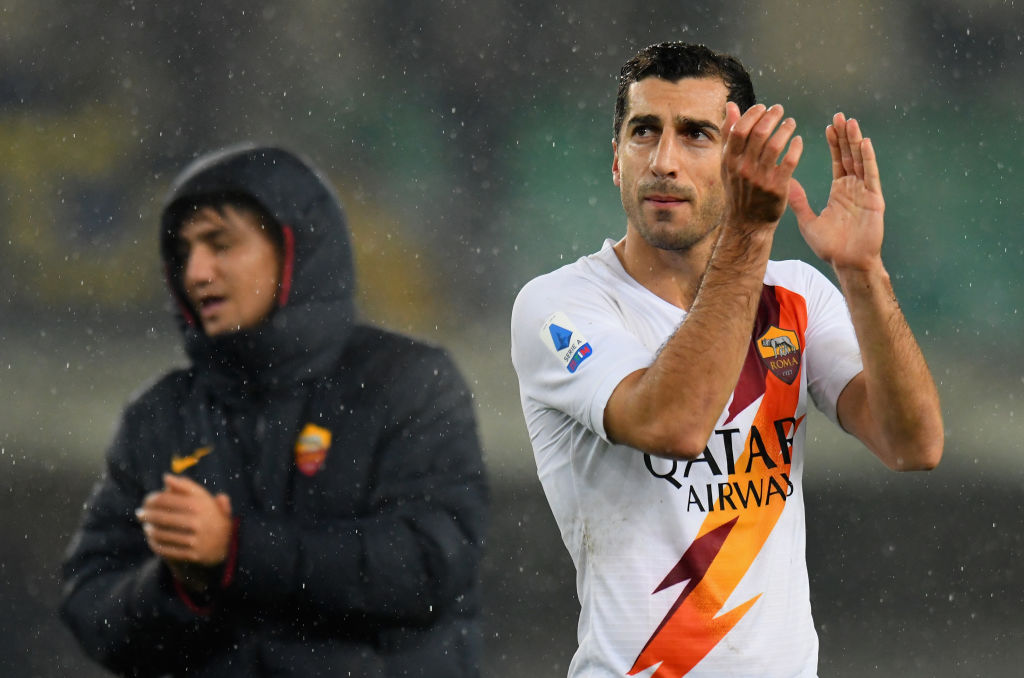 Henrikh Mkhitaryan has now had a direct hand in 10 goals for Roma across the league and Europa League in just 1024 minutes of action
https://t.co/QmxAwfDzTg
Crucially, he must maintain form to attract Mikel Arteta's attention. The Spaniard clearly lacks a proper playmaker with Mesut Ozil seemingly past his sell-by date. Among Arsenal playmakers, only record-signing Nicolas Pepe pips his goal contributions with four strikes and six assists, but the French-born Ivorian international logs more minutes. Competitive levels in Serie A and the Premier League factor in but Mkhitaryan remains more productive than the Gunners' underperforming creative heads.
If he stays fit, the 31-year-old can churn out a storm for Arteta's side next season. The Spaniard licenses his players to express themselves. Mkhitaryan thrives when allowed to roam free, breaking open rigid defences and slicing out opportunities for his team-mates.
Roma doesn't hold an option to make his deal permanent. Arsenal weren't trying to offload such obvious talent. While not a long-term option, standing on the wrong side of 30, the Gunners can't help but notice Santi Cazorla's 12 goals and six assists for Villarreal. Another midfield maestro at the Emirates, Cazorla went through his own nightmarish injury crisis and, shown the door, now navigates the Yellow Submarine through La Liga waters with style and panache at 35.
If he returns to North London, Mkhitaryan needn't worry about Arteta throwing him under the bus. His only concerns will be fitness and consistency. Assuming he continues to conquer his demons at the Stadio Olimpico, there's no reason the Armenian can't make an impact with Arsenal in 2020/21.