Can Nantes outshoot Ligue 1's big guns?
Nantes have a good chance to make their European return at season's end.
Every season comes with its surprise packages, including this one. Freiburg surpasses expectations early on in the Bundesliga. Leicester City recalls their 2015/16 fairy tale despite Liverpool and Manchester City's dominance. Granada has La Liga fans scratching their heads. And in Ligue 1, Nantes sat second behind Paris Saint-Germain before Saturday's fixtures kicked off. Angers leapfrogged them with a 1-0 victory over Strasbourg but the Canaries can return to second this afternoon with a draw at Bordeaux.
Early form tends to be exactly that. When the chips are down, normalcy usually returns. The big boys resume their places, reminding the pretenders there is an established order. But sometimes a new order is set even if just for that season. Leicester City turned pretence into seriousness and shocked the football world. More recently Atalanta broke into the top four in Serie A and now play Champions League football. Getafe was not so lucky in La Liga but still appreciate the Europa League.
Similarly, Nantes will appreciate either European competition. For a side that reached the Champions League semifinal in 1996, returning represents a dream come true for all associated with the club. Although it might have seemed pie in the sky before the season began, the team is working hard to achieve that goal. Not an expensive collection of world-class talent like Paris Saint-Germain, graft is the ticket for Christian Gourcuff's side.
Challenging PSG for the title is out of the question although victory over Les Girondins will close the gap with the Parisians to five points. Realism says they can give the usual suspects a run for the money. Qualifying for the Champions League is a possibility. Even if that proves a step too far, recent performances make the Europa League football a realistic aim.
But that is mainly because the big guns aren't living up to expectations. Lyon and Monaco, in particular, are traditional challengers to PSG's supremacy. The two sides sat eighth and 13th respectively before Saturday's results. Now they are fourth and eighth. OM knocked off last season's runners-up, Lille LOSC, 2-1 at the Velodrome. Lille remain in fifth despite the defeat. Les Gones travelled to Toulouse to collect a 3-2 victory.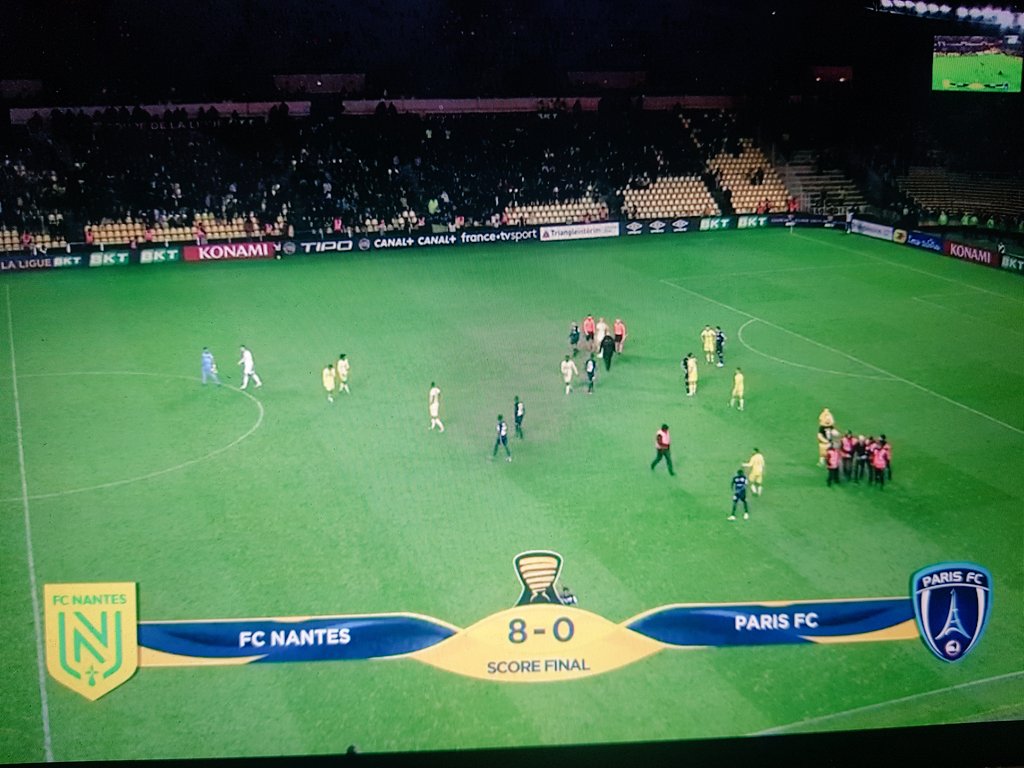 Although the traditional frontrunners gather like storm clouds, it's more or less a free-for-all for French places in Europe next season. That could play perfectly into Nantes' hands.
Gourcuff's main concern is the Canaries aren't singing in the final third. Kalifa Coulibaly leads the way with just three league strikes to his name. Abdoulaye Toure and Moses Simon are the only other scorers with more than one strike. The team must sharpen their edge going forward.
That said, there are not many players in the squad to look to for goals. The team's last five league wins have been by a slender 1-0 scoreline. Conversely, when on the receiving end of a single goal in their last two league games against Metz and Monaco, Nantes could not respond. That could prove the side's undoing in the end.
The division's top scorers are drawn mainly from Nantes' direct rivals. Monaco's Wissam Ben Yedder tops everyone with nine goals. Teammate Islam Slimani boasts five. Lyon's Moussa Dembele and Memphis Depay register eight and seven respectively. Lille's Victor Osimhen also has seven to his name. Marseille's Dario Benedetto comes in with five.
At the moment, Nantes looks set to rock the boat but the lack of prolific scorers and overall squad depth is a huge disadvantage. Unless Gourcuff can make it rain against top-flight sides in the manner of the Canaries' deluge against Paris FC in the Coupe de la Ligue, the dream could slip away once again.