Can the new sturdy midfielders revitalise Napoli?
Will the new signings help Napoli dominate games again?
New management, same old results. The miserable cycle doesn't end for Napoli. As their former gaffer tackles a new burden in the deep blue of Merseyside, the new one tears his hair out trying to fix the problems.
Gennaro Gattuso's appointment wasn't one planned for the long-term. Aurelio De Laurenitis required someone to smack sense back into the squad. After months of internal mutiny - involving bunking training sessions as well as refusing to follow orders - there's somebody to strike terror into the players.
But fear doesn't always equal results. This squad is half Maurizio Sarri's and partly Ancelotti's creation. Not the Rhino's. He needs his own players to garner respect from others. De Laurenitis shelved his profit-making schemes to grant his new manager the tools he needs to restructure Gli Azzurri.
It's perhaps predictable that his first signings were midfielders. Fabian Ruiz is technically gifted, but not a strong character. Neither is Piotr Zielinski. Hence Napoli has opted for those with plenty of steel.
Diego Demme gets his famous first-name from his dad being a huge Diego Maradona fan. Considering his namesake's heroics at Naples, it was perhaps destiny to ensure his father's dream of watching his son shine there. The RB Leipzig man acted as a guardian angel for Julian Nagelsmann's side, but now shifts his duties towards a more volatile environment.
Granted he lacks the creative spark Ruiz is touted for. But he makes up with a you-shall-not-pass attitude. The 28-year-old's ideal to make sure Gli Azzurri aren't sliced up like a knife through butter. They've been opened up easily, dragging their defenders into uncomfortable areas.
But with Demme, they have someone protecting their backline. Having averaged 2.2 tackles and 88.6% passing accuracy per game(WhoScored) at Leipzig, he's proven himself a pillar to get things started from a deeper role.
The German brings tranquillity alongside him, meaning Napoli won't be sitting ducks against swift breaks anymore. If he wasn't enough of an insurance policy, the Parthenopeans are closing in on Stanislav Lobotka. Rather than aiding Celta Vigo's relegation battle, the Slovakian vows to aid Napoli's European charge.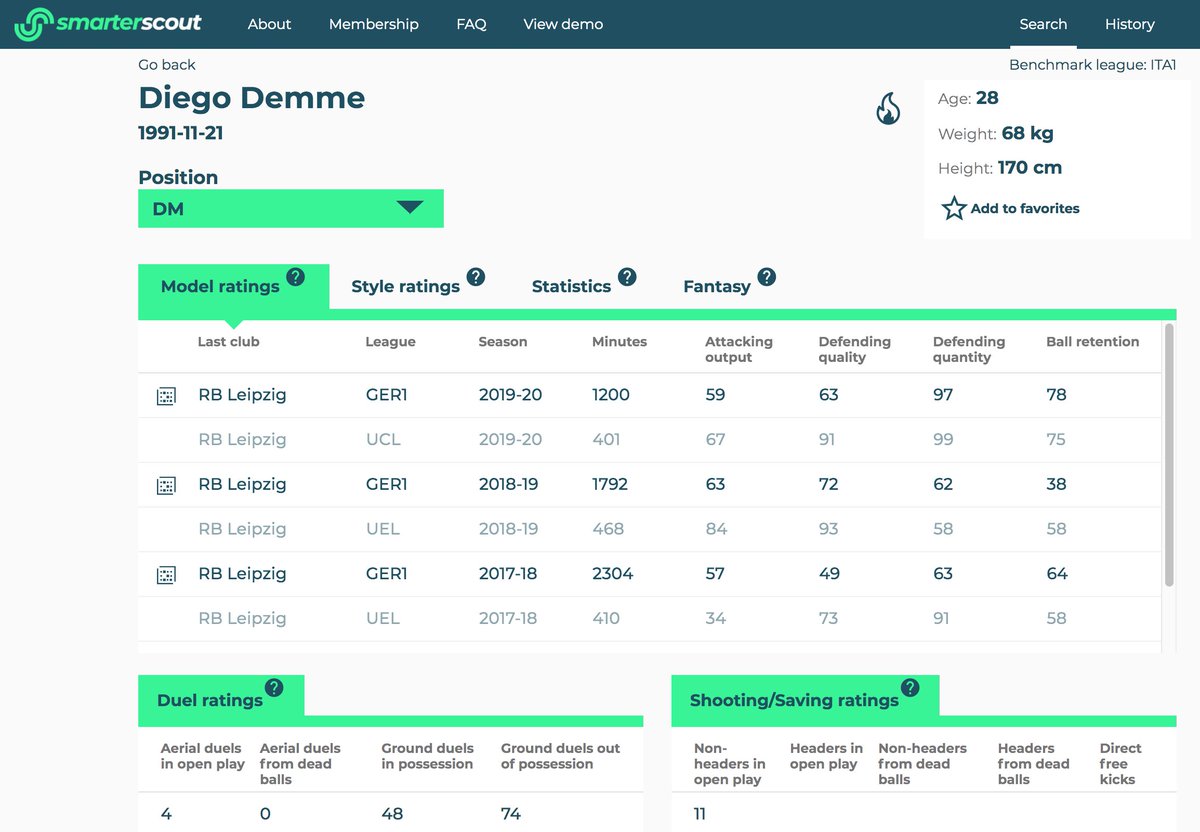 Diego Demme 🇩🇪🇮🇹 is off to @
sscnapoli
for €12m. One of the most consistent performers in the Bundesliga, he's solid everywhere except in the air (not surprising at 1.70m) and an excellent tackler. He's not young, but he'll be an asset. Stats adjusted to a Serie A standard: 🔥🔵
https://t.co/f5qNVzI1SL
Not as sturdy defensively as his German counterpart, but Lobotka makes up the ground with his hard-working nature. With plenty of tricks up his sleeve, the 25-year-old often tends to skitter his way past bodies into creating opportunities. He also possesses the aggression which has been lacking at the Parthenopeans.
These dual signings won't bring many goals or assists. But they'll bring the cohesion needed to revive Gli Azzurri's spirits as well as provide the necessary transition from defence to attack. Gattuso now also has the opportunity to mix things up with multiple options at his arsenal.
Of course, opting for two defensive-midfielders in the same team could make his system too cautious. He can instead rotate his experienced candidates according to the situation. Allan, for one, will benefit from having a reliable partner helping him bully opposition midfielders into submission.
Since the Jorginho and Marek Hamsik departures, the Brazilian's had trouble controlling games. Now alongside two trustworthy companions, he can take the fight to the opposition. Even Fabian Ruiz, known for his creativity, could operate in a natural playmaking role than having to fend to defensive duties.
The Spaniard is more comfortable when given license to move up higher for creating chances. Having protection behind should give him the confidence to take risks to stitch together moves. Arkadiusz Milik, Jose Callejon can regain focus on scoring goals than dropping back to help them from falling apart.
Napoli has been a side in perpetual transition since Sarri's departure. There's no quick fix to the inconsistency. But having opted for street smart midfielders than star acquisitions fits in with Gattuso's pragmatic style and should help rediscover their flame sooner rather than later.