Can Phil Neville find redemption with the Lionesses in France?
Nikita Parris, Steph Houghton and the England ladies head to France with dreams of glory.
background image: Yannick CC BY 2.0
Gareth Southgate's Russian redemption was a joy to watch. Since 1996 when his feebly struck penalty was saved by a grateful Andres Kopke, until around the time Eric Dier sent England through against Colombia, the Three Lions boss had carried a burden of blame.
Euro 1996 was supposed to be England's time. A home tournament, a fired up Paul Gascoigne and the destruction of a much-favoured Dutch side all seemed to point toward success.
The Three Lions made it to the semis before coming up short.
Southgate had to wait 22 years for his redemption but when it finally came, it brought tears to the eyes of those who had seen him fail at Wembley.
In 1998, David Beckham's red card against Argentina earned him enemy status among England supporters. That helped take some of the heat off Southgate, who was watching on from the bench.
Two years later, the former central defender was seated in the dugout again as a little more of the weight was lifted from his shoulders. This time by Phil Neville.
In the game's final moments against Romania in Euro 2000, Neville's clumsy challenge gave Ionel Ganea the chance to dump the Three Lions out at the group stage.
The Romanian striker didn't miss. And in that instant, Neville became public enemy number one, the newest in a long line of English footballing scapegoats.
Speaking some years after the event Neville described the treatment he received from fans. Some 'charming' individuals erected England flags on his driveway and set them on fire. On another occasion he was threatened with violence when out for dinner with his wife.
There is hope of redemption for Neville, though.
Beckham's indiscretion was forgiven two years after the event when, while wearing the armband, he got his revenge on the Argentinians from the penalty spot.
Now, 19 years on from that tired tackle, Neville, like Southgate and Golden Balls before him, has his own shot at absolution when taking charge of England women at the World Cup.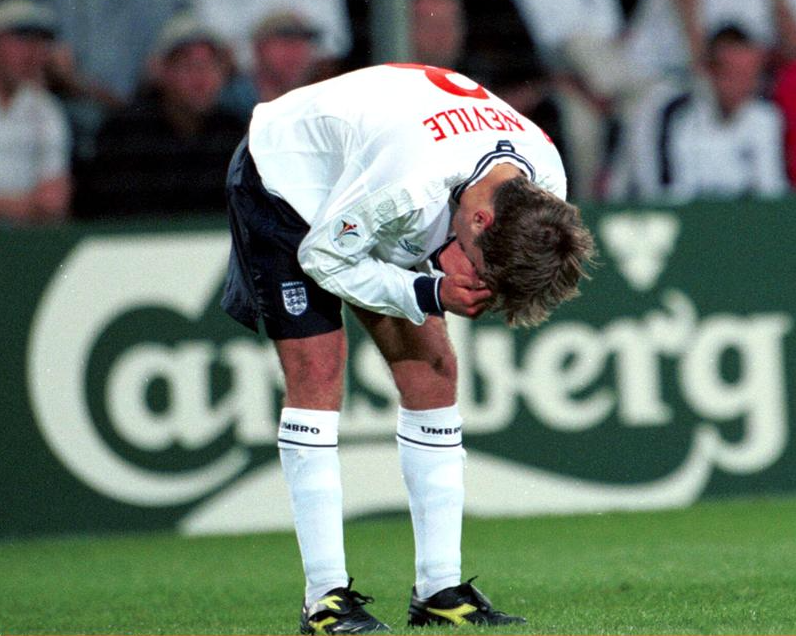 ON THIS DAY: In 2000, Phil Neville conceded a last minute penalty against Romania, as England crash out of the Euros.
http://t.co/5z5zgaR9Bk
The Lionesses begin their campaign later today against Scotland. After finishing third in 2015 World Cup, anything less than a final appearance will be deemed a failure.
There is pressure on Neville where there was none on Southgate when the waistcoat touched down in Russia a year ago. Nobody expected much from the Three Lions after their dismal showing in the previous two major tournaments but the same isn't true of the women.
Victory in the SheBelieves Cup has boosted expectations ahead of the competition on French soil. That success took place in February in the United States.
A win against Brazil followed by a draw against world champions USA meant that three points against Japan in their final match would be enough to secure the trophy.
The Lionesses proved they could handle pressure, easily brushing the Japanese aside in a 3-0 victory.
Since then, however, things haven't gone as smoothly. England arrive at their tournament opener in Nice on the back of some disappointing results.
In the four games since lifting the SheBelieves Cup, they have won twice. A 2-1 victory over Spain at the County Ground flattered them. Neville's team were outplayed, conceding 63% possession and allowing the visitors 16 shots on goal to their six.
It was a similar story against Denmark - the English ladies won 2-0 but were far from convincing against a side which failed to qualify for the World Cup.
Defeats to Canada and then, more surprisingly, to New Zealand in their final warm up game have caused some to question whether England can advance as far as expected in France.
Getting out of the group should be relatively straightforward for the Lionesses. Argentina pose little threat, as they come into the tournament having won only once against international opposition this year. Meanwhile, Japan aren't the force they once were, notably when winning the 2011 World Cup.
England's opener against the Scots is a repeat of their first ever international fixture in 1972. In that encounter, they came back from two goals down to win 3-2 in the visceral surroundings of Greenock.
Neville and his charges must be hoping that Sunday's meeting with the auld enemy proves considerably more uncomplicated.
Producing a victory over Scotland should be a simple enough task. However, in order to overcome teams such as France, largely comprised of players from Lyon's six-time Champions League winning squad, or three-time winners and reigning champions USA, English stars will have to be at their best.
Lioness Beth Mead is a player in good form. Since making her international debut last year she has become an important part of Neville's plans, scoring five goals in 13 appearances.
Nikita Parris, who recently left Manchester City for European giants Lyon, will provide much of England's goal threat. The 25-year-old scored 22 goals in all competitions this season and lifted both the FA and League Cup.
Parris' move to Lyon reunites her with former City teammate Lucy Bronze, a player considered by many to be among the world's best. Bronze, along with captain Steph Houghton, will add solidity at the back while the likes of Mead and Parris try to unsettle their opponents at the other end.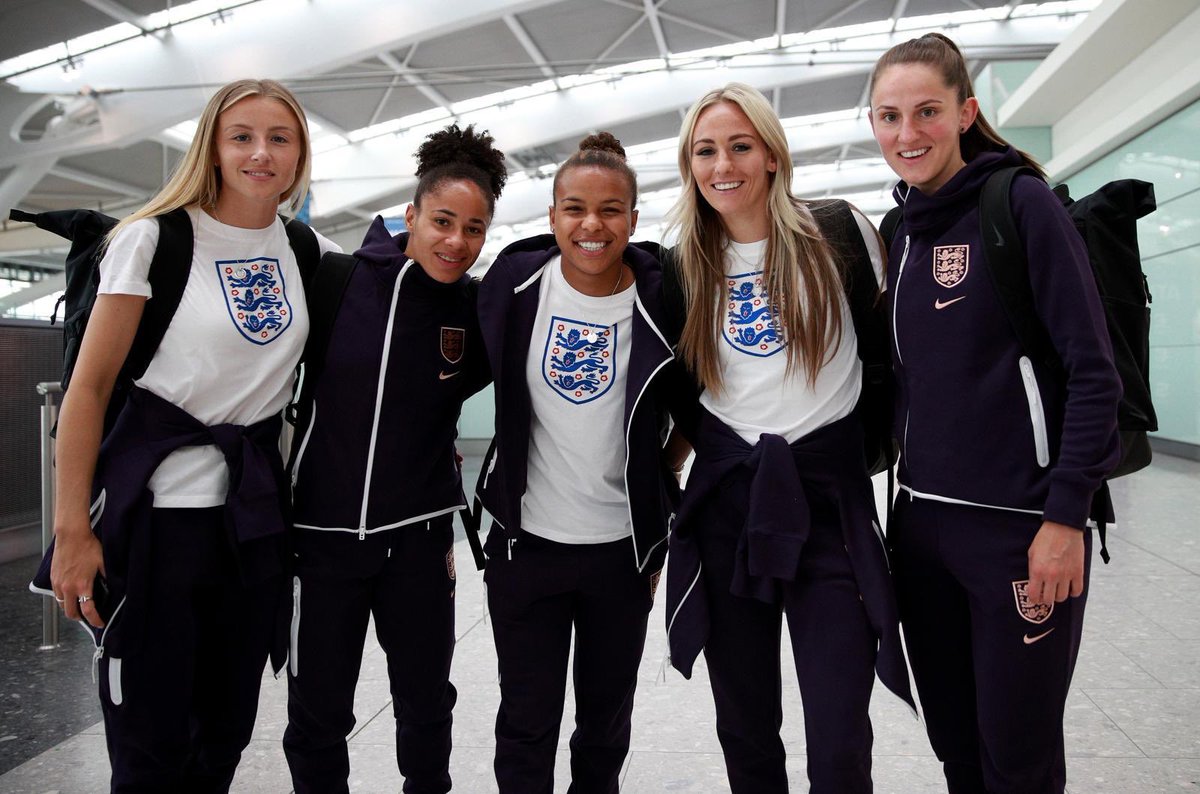 Houghton, Jill Scott and Karen Carney have a combined 381 Lionesses caps. Their experience could be vital during the tournament's latter stages, especially if they meet the USWNT.
The United States' three co-captains, Carli Lloyd, Alex Morgan and Megan Rapinoe have 590 appearances between them. Another five members of their squad have reached or exceeded a hundred caps each.
The WSL's move to professionalism in 2018 was a huge milestone for the women's game in England. Success at this year's World Cup would be the next natural step in its development.
Whether Neville is the right person to ensure the Lionesses make that higher level remains to be seen.
His appointment as England manager was an odd decision given his lack of managerial experience as well as coaching failures at both Valencia and Manchester United. Moreover, Neville was arguably lucky to keep the job after it was discovered he had posted some sexist tweets in 2012.
Having won the SheBelieves Cup the doubts regarding him are now focused on what some interpret as a lack of enthusiasm for the role.
This World Cup could well be Neville's last tournament at the helm. There is a lot on the line for him. His legacy and prospect of future employment depend heavily on the Lionesses' performance in France.