Can Real Madrid beat Barcelona at their own game?
"They mesmerise you with their passing."
Those were the words of former Manchester United manager Sir Alex Ferguson. The Scot was describing Pep Guardiola's Barcelona. A side that beat his Man United team twice to lift the Champions League title. But those are only two honours won by the Catalan club in a trophy-laden four-year period.
Guardiola etched his name in football folklore when he built a Barcelona team that dominate La Liga, European and even world football. The Catalan side won just about everything on offer as they played some of the best football ever seen in the history of the round leather game.
The team was even regarded by some as the greatest of all time. Guardiola implemented the tika-taka style which he had learned as he rose through the ranks in the club's youth teams. It resulted in a dominance that was akin to and proved even more successful than that of his mentor and former manager at the club, Johan Cruyff.
But times change...
After a tremendously successful four years that yielded 14 trophies in total and broke many records, the Catalan had to move on. Subsequent managers have been able to keep the team winning. But not quite as much as Guardiola's team. Neither have they been able to replicate his passing game as much as he did.
However, as much as opposites attract, Barcelona supporters would never have foreseen the table turning so spectacularly. Their system is now being implemented by bitter rivals Real Madrid.
Zinedine Zidane did the unthinkable, leading Les Merengues to a triple of Champions League trophies in his three seasons with the club. After his departure, the club is expected by some to go through a difficult period of readjustment to a new manager as a new era begins. This is particularly so as the club's talisman Cristiano Ronaldo left after nine successive years leading the side to success up front.
But new manager Julen Lopetegui appears to have a different plan. After just two rounds of matches into the new season, the signs indicate that Lopetegui is about to transform Los Blancos into a tiki-taka playing side.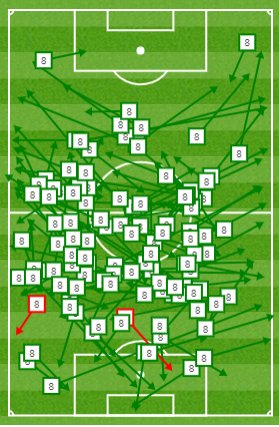 98% - Toni Kroos completed 98% of his passes against Getafe (116/118), the highest percentage of any Real Madrid player in a La Liga game with 100+ passes attempted (since 2005/06). Control.
https://t.co/wTzXtGj3bN
The former Porto and Spanish national team manager comes fresh from leading La Furia Roja on a twenty-game unbeaten run; that stretched through the World Cup qualification process and friendly games. That was before he was hastily relieved of his duties for taking the Real Madrid job while still under contract with the Spanish football federation.
But he appears to be on a mission to replicate the same in his new team along with the possession and passing game that is now associated with Barcelona and the Spanish national team.
So far, Real Madrid leads the way in the league having made 1,505 passes with a 90.76℅ success rate. This is over and above any other team. And that includes a side with a signature passing game - Barcelona. The Blaugrana come in second with 1,470 passes. They have an even lower passing success rate, 87.89℅.
Toni Kroos is proving to be the engine room of this system for the team, as the German alone has made 220 successful passes from a total of 226. At this rate, he may be on course to break the all-time La Liga record of 3411 passes held by former Barcelona midfielder, Xavi Hernandez. He achieved this feat in 2005/06.
The big question though is: will this style lead to Real Madrid's domination of the league and a healthy return of trophies for the club in the near future?
It's still quite early to say, especially given the strength of the opposition they have faced so far. They have two wins out of two against Getafe and Girona. But these are not two of the strongest sides in La Liga despite their relatively good outings last term.
But Lopetegui demonstrated an ability to win trophies in his time with Spanish youth sides. The Santiago Bernabéu may be just the right atmosphere he has been looking for to unleash his trophy-winning capacity at club level.