Can Salomon Rondon, Josef Martinez's thunder and lightning rain on Copa America heavyweights?
If there's a time for Venezuela to challenge for the Copa America, it is now. Rafael Dudamel flaunts the most luscious Red Wine in ages, especially in attack. The frightful pair of Salomon Rondon and Josef Martinez, combining power and finesse, is crucial
Venezuela's record on the continent is so wretched that guests Mexico and the United States own better. The pair from CONCACAF reached the semi-final on numerous occasions. El Tri contested the final twice. La Vinotinto scrapped their way into the last four only once.
In that memorable 2011 tournament in Argentina, Venezuela finished runner-up in the group behind Brazil. They cruised to the knockout stage undefeated, then eased pass Chile before Paraguay ended their fairytale run.
Afterwards, Venezuelan football again took a back seat to baseball. The country dipped as low as 89th in the FIFA World Rankings and finished bottom of their 2015 Copa America group.
Dudamel's appointment in 2016 breathed fresh air into the side. Although they could only muster a quarterfinal berth at the Centenario, the team made massive progress. Finally, there is another decent vintage of Red Wine.
That vintage can be improved, however. Venezuela is the only South American team never to qualify for a World Cup. Dudamel's squad did show promise to end another poor qualifying campaign with a four-game unbeaten run. His side recorded recent victories over Argentina and the United States, World Cup regulars, in preparation for this year's Copa.
Venezuela thrashed Argentina 3-1 on March 22 in Madrid. It was La Vinotinto's second win in 25 matches against that opponent. The country's leading marksmen, Rondon, and Martinez combined to ruin Lionel Messi's La Albiceleste return.
Dudamel's team possess a good blend of youth and experience. His squad includes five players from the 2017 U20 World Cup runners-up. It is massively diverse, consisting of players who feature in 11 different countries.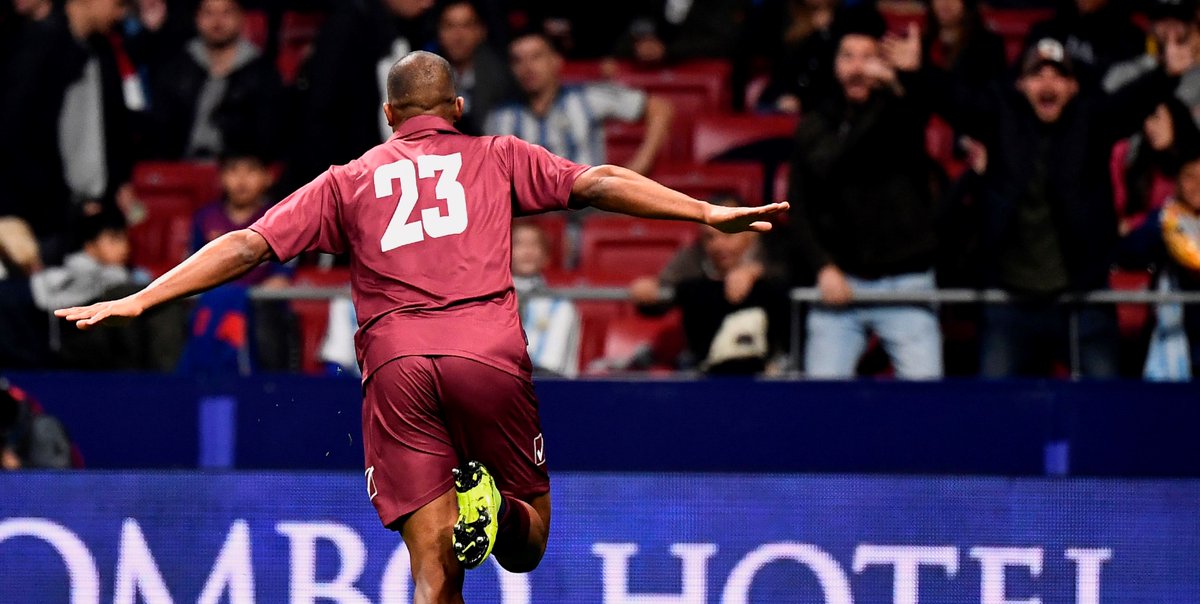 🚨 RECORD BREAKER 🚨
🇻🇪 Salomon Rondon has now scored more goals for the Venezuela national team than any other player.
https://t.co/Bew2eUFpuL
Still, the burden of the entire Venezuelan nation will be on Rondon and Martinez. The pair complement each other perfectly. Rondon outmuscles defenders. Martinez outruns them. While the 26-year-old is picking up where he left off in a record-setting 2018 Major League Soccer campaign, contributing 13 goals so far in 15 matches for Atlanta United, Rondon provided 11 goals and seven assists for Newcastle United in the Premier League.
Both are sturdy, powerful and ruthless. Their distinct styles offer Dudamel options.
Martinez trades in simplicity, with the bulk of his goals coming from close range, more often than not finishing off counterattacks. He combines speed, courage and uncanny ability to sniff out scoring chances. Despite being only 5' 7", he is an aerial threat as well as with either foot.
A return of 60 MLS goals in just 69 games attests to his threat. Only 43 players have scored more in the competition's 23-year history. His ratio of 0.94 goals per 90 minutes is streets ahead of anyone else. He brings the same menace to the national team with 11 strikes to date.
Rondon's work ethic, energy and enthusiasm allow Venezuela to compete in tight spaces. Although he can appear lazy at times, the big man shows up at the right moments to settle matches. His ability to bring his team-mates into play and hold-up the ball is invaluable.
The 29-year-old comes into the tournament on the back of a positive season in the Premier League, on-loan to Newcastle from demoted West Bromwich Albion. His two early goals against the USA in the final warm-up game for the Copa positioned him as Venezuela's top career scorer.
For all that, the duo don't often start together. Dudamel opted for a one-man attack during the last four matches. Martinez sacrificed for Rondon. They've featured together from the start only twice in almost two years. Rondon wears defenders down before Martinez comes on to run them ragged. Whoever gets the nod, Venezuelans will rest assured there will be goals aplenty and potential upsets against top sides in Brazil.
La Vinotinto compete in Group A with the hosts, Bolivia and Peru. If they can finish in the top two or among the best four third-place finishers, they can avoid the Selecao until the later rounds.
The knockout rounds are a tough ask in any Copa America. That said, there is always a surprise or two in the quarter-finals. This could be a year in which Venezuela take it even further than that.