Can Sarr save Watford from relegation?
Can Sarr put his newfound momentum to good use?
Background image: Stuart Chalmers, CC BY 2.0.
Ismaila Sarr experienced a high not many else have while dealing a lethal blow on Liverpool's "invincible" dreams. With a brace and an assist, he experienced a Leap Day miracle! Perhaps the deconstruction of the Reds wasn't solely orchestrated by him - but rather a combined effort from the entire Watford unit. The Senegalese managed to put the killing blow many higher reputed players or teams have failed to do this season when going toe-to-toe with the Red Men.
However, he can't bask in the glory for long. After the euphoria mellows down, the Hornets have a relegation battle to survive. The mighty win goes in vain if Watford can't avoid the drop. With all their joy on Saturday, an injury to Gerard Deulofeu is bound to impact their supply chain.
There are not many capable of carrying the ball forward like him. At least not with similar finesse. That being said, Sarr possesses the raw pace to skip past defenders. He left Andy Robertson and Virgil Van Dijk tracing his footsteps at Vicarage Road. Indeed, he averages 1.8 dribbles and 2 shots per 90 [WhoScored] indicating his volatile threat moving forward. But a 28% shooting accuracy [Premier League] means his end product has to be better.
Rather than wasting chances with unrealistic attempts, Sarr must improve his decision-making around the penalty area. Three assists all season long for a winger isn't good enough. Just as he displayed clever wherewithal to find Deeney for his strike, the Senegalese should start searching for better options than going for glory himself. He should, although, be encouraged to lead the charge. The 22-year-old's 0.42 expected goals per 90 [Understat] is just bettered by the Watford captain. After Deulofeu's set-back, they need somebody to throttle them past tight defences into churning out definitive chances.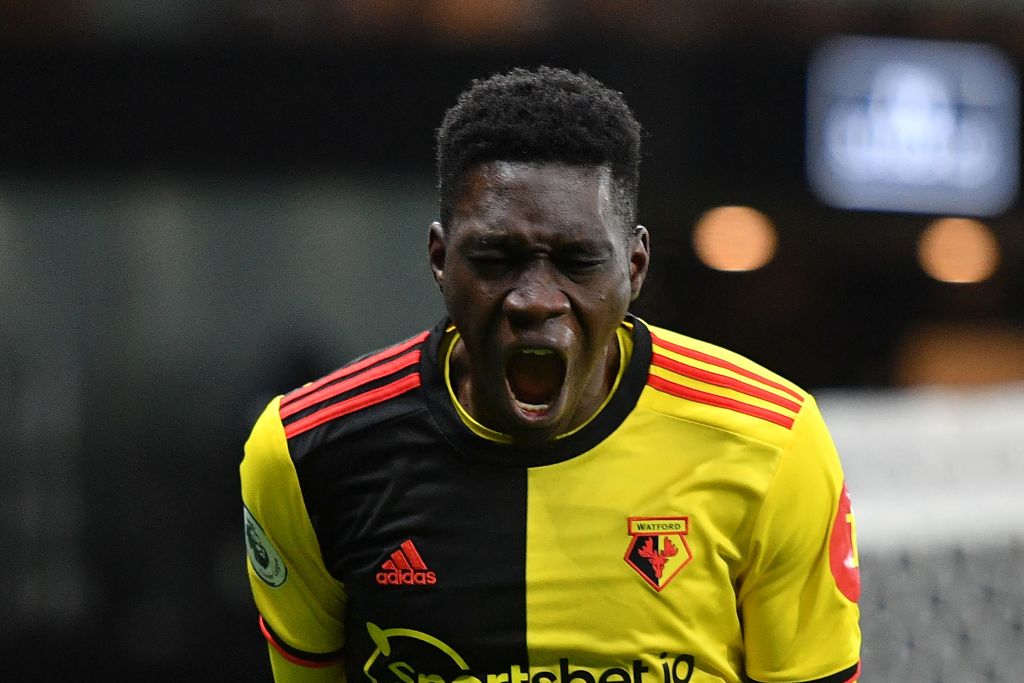 Sarr is a sparky customer. He has the pace for days, but prefers having the ball played into space for him to gain the upper-hand over defenders. He can only do so much when opponents start singling him out. To find that edge during intense scenarios, he needs better service teammates. Deeney uses his physicality well to bully defenders. He also holds up play long enough to find team-mates in promising positions. As long as he creates a formidable link with the captain, the young winger should receive the ball in threatening areas.
There isn't a flurry of creativity at Watford but Nigel Pearson has instilled spirit in their style. As a result, the players have learnt when the press the opposition higher up, regain possession in dangerous positions before sparking their counter-attack. Abdoulaye Doucoure's rediscovered his tireless persona. He often steals the ball in crucial areas. But the Frenchman should be encouraged to find Sarr in open spaces to finish moves off better. Roberto Pereyra might be having a disappointing season but he obtains a unique creative touch.
As long as his team-mates are clever enough to find him in promising areas, the Senegalese should continue being more directly involved in goals. He will be relied upon to do the handy work for the Hornets to steer clear of the relegation zone. The Premier League competitiveness is at full flow. Five of the bottom-six are separated by just three points. Watford sits a point above the drop-zone. Every point gained is gold. A good thing is they face just four top-half sides in this final stretch.
During their remaining games, Watford face bottom half-sides, including relegation contenders Norwich City and West Ham United. Realistically, eighteen more points should grant them survival. But in this volatile battle, nothing fortuitous is guaranteed. Pearson's side needs to muster their strengths to sustain the pressure. With Deulofeu out, they need Sarr to bear added responsibilities. Last week's heroics is reassuring enough that he steers them through the coming storm without falling over.