Can veterans Naldo and Fabregas spark life into limp Monaco?
After a catastrophic half-season, AS Monaco began its rescue mission in the January transfer window by seeking reinforcements.
Towering Brazilian Naldo joined first, a great defender to stabilize a rickety rearguard. Catalonian playmaker Cesc Fabregas followed after a distinguished career with Arsenal and Barcelona stuttered at Chelsea.
Naldo arrived for £2 million after 13 years in the Bundesliga with Werder Bremen, Wolfsburg and finally Schalke. Fabregas switched from Stamford Bridge to the Stade Louis II for between £8-10 million.
Chelsea delayed Cesc's departure until they found a replacement but he won't be the last of the cavalry. Young Chelsea forward, Michy Batshuayi, is understood to be coming from Chelsea on loan. Portuguese defender Pepe, who recently parted ways with Turkish giants Besiktas, has been mooted, too.
The young Belgian should get on a few of Fabregas' pinpoint passes to give Les Monagasques added punch. He never got a fair shake at the Bridge under Antonio Conte. Injury interrupted his development at Borussia Dortmund. At Valencia, he never found playing time. He should get it in abundance in the principality.
It's the veterans that manager Thierry Henry needs most, however. His depleted squad is filled with overmatched youth players. Leonardo Jardim held on for as long as he could while owner Dmitry Rybolovlev sold his best players out from under after he engineered a stunning Ligue 1 title run and Champions League semifinal appearance. Now rookie manager Henry must pick up the pieces.
Henry pulled a win or two out of his hat before the winter break but he certainly wasn't going to succeed where the experienced Jardim failed. Naldo [36] and Fabregas [31], along with Monaco captain Radamel Falcao [32], give Les Rouges et Blancs a veteran presence in each third of the pitch. Henry now has a core group who can help the youngsters deal with a relegation battle's psychological toll.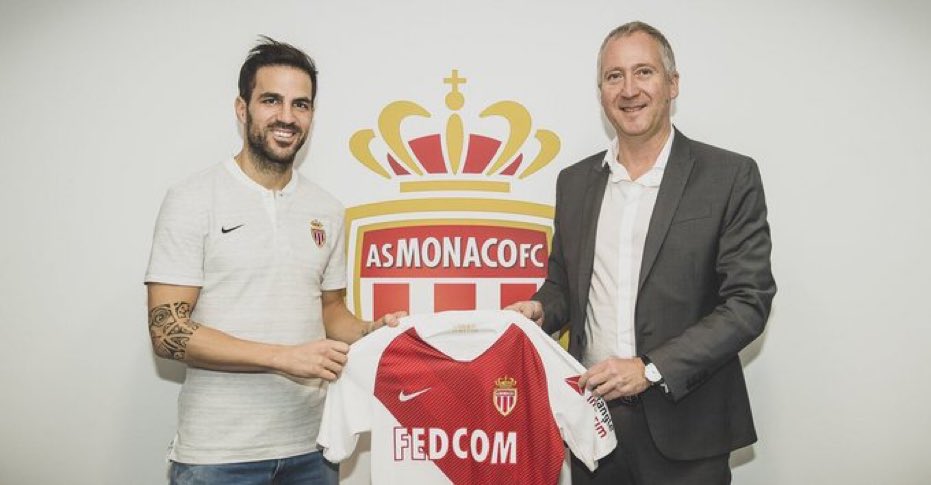 There is no word in French for shambolic but it's the best term for Monaco's central defence. Kamil Glik and Jemerson fail as a partnership. While the 30-year-old Glik is a proven flagship centre-back, he struggles to combine with the 26-year-old Brazilian. Naldo's arrival brings optimism to a side who have shipped 29 goals in 18 games. The lean, lanky Selecao is almost literally larger than life. Playing as a versatile two-footed central defender, he stands 6'6'' tall. His aerial presence should resolve the Red and Whites set-piece woes.
Fabregas gives the defence an outlet. Possessing the skill and composure to start the attack as a deep-lying midfielder, he can link with 21-year-old central midfielder, Youri Tielemans. Cesc can create numerous chances in tandem with the Belgian and also sit deep to cut the opposition out.
For both Cesc and Naldo, the critical question is pace. Can their positioning sense cover for their lack? It's a valid question but Monaco had no time to wait for an answer.
The two veterans don't signal an end to Monaco's youth model. They're just stop-gap measures intended to provide the time and leadership to revive it. Practicality, as in staying up, supercedes ideology. On The Rock, it is about saving what can still be. It is refocusing. It is about finding the balance that's been lost.