Can Wednesday night follow Tuesday's spectacular Champions League action?
The Champions League quarterfinals have been lit. With plutonium. What was it the Americans said when they went to Iraq? Shock and awe? In the first-leg, Liverpool trampled City. Last night, they did it again. Barcelona ran riot against AS Roma. They certainly did not do it again. Who saw that coming?
Now Real Madrid must hold its lead against Juventus at the Santiago Bernabeu and Bayern Munich must push its advantage over Sevilla at the Allianz Arena. Let's talk about that.
Who joins the last-four?
AS Roma and Liverpool booked their places last night. It wasn't easy for either. The Giallorossi came back from a 4-1 deficit against Barcelona in a shocking 90 minutes in Stadio Olimpico. Barcelona were comprehensively outplayed and sent packing at the quarterfinal stage. What a shock. Meanwhile, Liverpool finished what they started, winning 2-1 over Manchester City at the Etihad to advance 5-1 on aggregate. Let me type that one more time. 5-1. Over City.
There are two more to come.
Juventus lost 3-0 to Real Madrid in Turin. I can't bet on them pulling a comeback at the Santiago Bernabeu against a brilliant Real Madrid side. However, Bayern Munich and Sevilla is a tie still desperately poised for the second leg.
Sevilla caused an upset against Manchester United at Old Trafford. Vincenzo Montella's side stunned the Red Devils with two late goals to put the tie beyond reach. At the Ramon Sanchez Pizjuan, they put one past the Bavarians before conceding two in strange, unlucky fashion.
It will be difficult to replicate their Old Trafford magic at the Allianz Arena. Jupp Heynckes and Bayern aren't about to hold back as Jose Mourinho did. If they do, however, it will almost be expected at this point. And wouldn't Real Madrid love to have their pick from Liverpool, Roma, and Sevilla rather than Barcelona, City, and Bayern?
#BUFFONALDO
It is always fun watching the greatest play each other. That said, every time Gianluigi Buffon has faced Cristiano Ronaldo, it has been a nightmare. The Portuguese makes him look like Simon Mignolet. No one wants to look like Simon Mignolet.
In last season's Cardiff final, Ronaldo scored a brace against Gigi. Last week, he did it again, with the second bringing Turin to its feet to applaud the enemy. Turns out Ronaldo might be a Terminator.
Buffon will be back to face his nightmare again at the Santiago Bernabeu, hoping to somehow escape Judgment Day.
Go-Goa-Goal!
Bayern Munich and Real Madrid are free-scoring sides. Sevilla have dangerous players in Wissam Ben Yedder, Luis Muriel, Joaquin Correa, Franco Vazquez, and the returning Ever Banega, but Simon Kjaer will be missed at the back. The Bavarians scored eight to get past Besiktas in the last round. If Sevilla's defense show any sign of dizziness, expect goals at the Alianz Arena.
When it comes to scoring, the Merengues aren't left behind. Cristiano Ronaldo has regained his touch and Real are currently in brilliant form. They scored three in Turin. Who says they can't add more? I can't wait.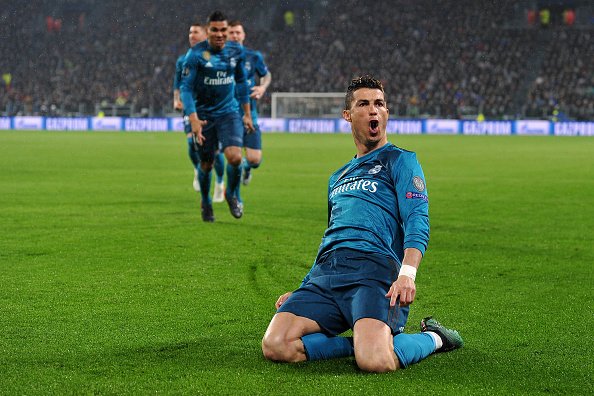 8/9 - Cristiano Ronaldo's last nine shots on target vs. Gianluigi Buffon:
⚽️
⚽️
⚽️
🙌
⚽️
⚽️
⚽️
⚽️
⚽️
Nightmare.
https://t.co/EyH7gjlPMP