Can Werder Bremen avoid relegation?
Die Werderaner's long stay in the Bundesliga may come to an end this season.
Werder Bremen sit 17th in the Bundesliga, five points from safety, in danger of direct relegation to the second tier for the first time in 40 years. Bremen boast four Bundesliga titles. Their most recent came in 2004 when they completed the double, also winning the DFB Pokal. Now, their best years are a distant memory. Struggling for form and showing little sign of improvement, a dramatic turn is necessary to cling to their Bundesliga status. Florian Kohfeldt's side lost 2-0 to Borussia Dortmund on Saturday. It was their eighth loss in nine Bundesliga games and fifth in succession.
During this woeful stretch, they lost key games to teams surrounding them in the bottom of the table, including a 1-0 loss to cellar dwellers Paderborn and a 5-0 defeat to Mainz 05. The setbacks compound Bremen's worries and leave Kohfeldt under pressure.
Beset by injuries, their biggest loss is striker Niclas Fullkrug. The 27-year-old signed for Die Werderaner to fill talisman Max Kruse's boots. Kruse signed for Fenerbahce in the summer. after scoring 12 and assisting 14 times last year, driving Bremen to finish seventh. Fullkrug suffered a cruciate ligament rupture in September. He won't return until 2020/21. Bremen suffer in his absence. The team won two of the four games he played thanks to his two goals and three assists.
Bremen cry out for a striker with a meagre three goals in their last nine Bundesliga matches. They haven't beaten a goalkeeper in their last three. When goals are a rarity, defensive stability should be the priority but Kohfeldt's side concede the most goals in the league [53] and sport the worst goal difference [-28]. Circumstances provide the perfect blend for relegation. Hope remains at the Weserstadion, however.
Kohfeldt's constant tinkering doesn't aid the cause. The 37-year-old deployed nine different formations over the 23 matches completed but favoured a 3-4-3 in the last eight. While he's finally settled, the approach isn't working. His 4-3-1-2 was more effective. Bremen scored six and conceded six in that shape and it might be advisable for the boss to pull it out of mothballs. A structured bank of 4 and 3 provides the best defensive structure.
Bremen play some crucial matches in their final 11 Bundesliga fixtures albeit maybe all are important at this stage. They face fellow relegation contenders Paderborn and Mainz 05 again. Struggling Hertha Berlin are also on the horizon and Koln close out the campaign.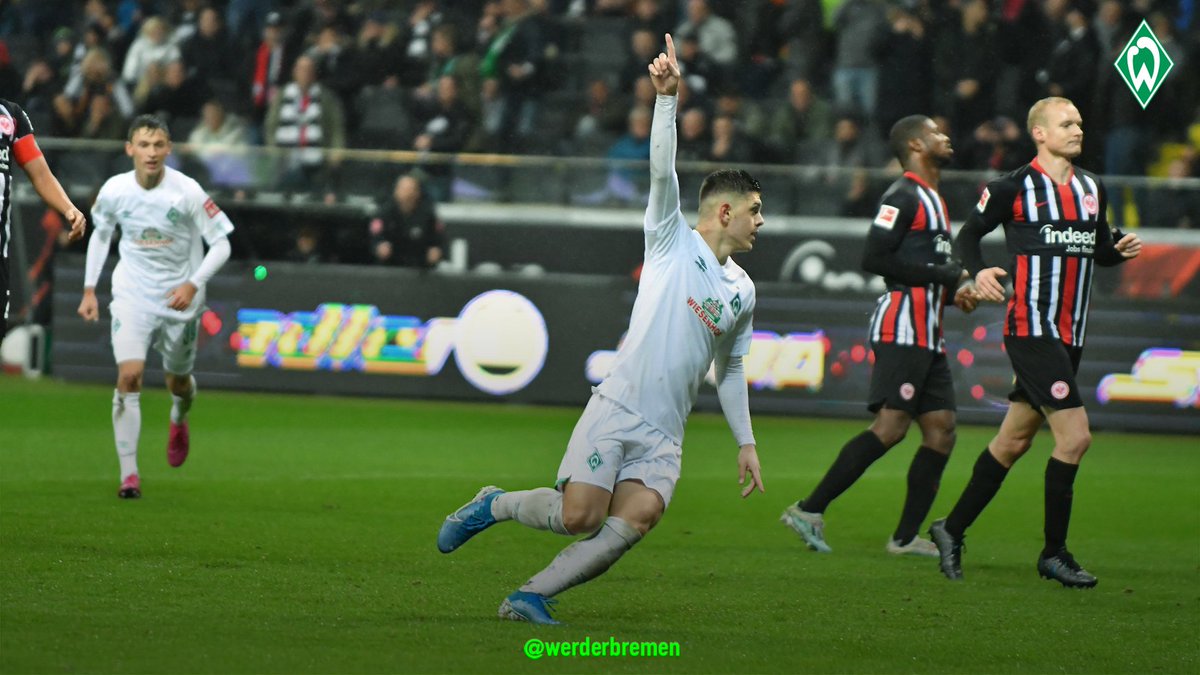 First up is Eintracht Frankfurt, however, for two matches. The sides pair off in the Bundesliga on Sunday then in the DFB Pokal quarter-finals on Wednesday. While the Pokal might be a distraction, securing a place in the semifinal could be just the morale boost required to spur on the northerners during the run-in.
Injuries and fixture congestion render Frankfurt somewhat vulnerable. The cup fixture is die Adler's fifth match in 13 days. They must fight through the stretch without right-back Danny da Costa and striker Bas Dost.
Bremen are desperate but opportunity knocks. Can Kohfeldt make the right decisions to carry his club across the threshold?