Can Wolves' Jota, Neves, and Moutinho form a pack at Portugal?
The trio hunt and gather goals well for Wolves but Fernando Santos enjoys a wealth of options for Portugal.
You'll be convinced there's a long-term project to get Wolverhampton Wanderers among the top clubs in the Premier League. The way they've gone about it is quite interesting. First, they hired a quick-thinking Portuguese gaffer; who in turn has beamed on talent from Portugal to build a solid team.
Wolves signed Diogo Jota and Ruben Neves in 2017's summer. Both guys were exuberant 20-year-olds still cutting their teeth in European football. A year later, European Champion Joao Moutinho was convinced to join his countrymen in West Midlands.
It was easy to get the likes of Moutinho to pen for Wolves. The billionaire club owners made their intention pretty clear – to massively fund the Wanderers. And ensure they become as big as or even bigger than Manchester City in a few years. Overly ambitious dream or not, a handful of Portuguese talent were sold.
Jota and Neves did excellently, helping Wolves get promoted last season. But not many outside Wolverhampton gave reverence. Including Portuguese national team coach Fernando Santos.
Despite scoring 17 Championship goals last season, Jota continued to wait for his international debut. For Neves, he found his name in Portugal's 35-man provisional shortlist for the World Cup but searched fruitlessly for it in the final 23.
Meanwhile, Moutinho who made the cut for the World Cup has been exiled from the team since.
Nuno's effect
Espirito Santo has managed to maximise the potential of the three players under review. His methods which focus on exploiting compactness and quickness on the counter has helped his Wolves excel.
Combining brilliantly in attack with Raul Jimenez, Jota has scored six and assisted four in 26 League games. Far from his Championship return last term but decent for a Premier League newcomer.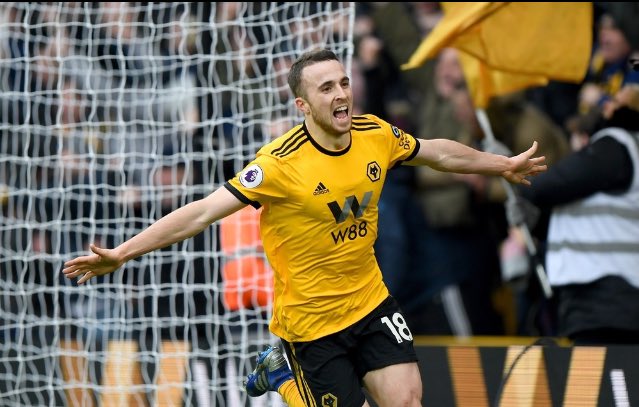 In central midfield, Neves has partnered superbly with Moutinho – the pair has contributed four goals and nine assists to help Wolves to seventh in the league.
Now doing the business in the Premier League, the world has taken notice. Or people back home at least...
Jota, Neves and Moutinho have all earned a call-up to the national team for the upcoming Euro qualifiers and UEFA Nations League games.
Breaking in
Getting called up to the national side for qualifiers and breaking into the first team is a different matter entirely. Whereas Moutinho is a seasoned international, Jota and Neves must battle hard to gain reckoning with coach Santos.
With Euro 2020 almost at the door, the time to start fighting to make the manager's final shortlist for the competition is now. That's if the Selecao eventually qualifies.
The Wolves trio are indispensable for their club; however, for the national team, they're like fish in a pond filled with sharks and crocs.
In midfield, Portugal can call on William Carvalho (another great guy), Inter Milan's Joao Mario and Manchester City's Bernardo Silva. It's difficult to envisage Neves and Moutinho partnering regularly.
In attack, Jota may only be able to sit and watch. He competes with the likes of Cristiano Ronaldo, Andre Silva and the hotshot from Braga everyone's talking about – Dyego Sousa.
Portugal still has eight qualifying games to play before 2020; not including the UEFA Nations League games to come. It tells how many chances can still come the way of the triumvirate from Wolverhampton.
Diogo Jota, Ruben Neves and Joao Moutinho will get more opportunities to show their club form for the European Champions. The question is, can they do it together as a pack, just as they do for Wolverhampton? Saying its difficult may be an understatement...