Carabao Cup Preview: Where could the shocks come?
The big guns enter the fray in the third round of the flailing Carabao Cup and the organisers will be hoping for a few dramatic games to revitalise the interest in a cup that's lost its magic in recent years.

So, what are the chances of a Chelsea, Manchester United or Liverpool being shocked by a lower league side and can any teams from Leagues One and Two realistically make it into the fourth round? I'll take you through the most notable fixtures and those that you might've missed had I not brought them to your attention.


Possible Shocks


I suppose you wouldn't call it a shock, but Liverpool could easily be dumped out of the competition at an early stage by fellow Premier League club Leicester City. The Reds face a tricky test at the King Power Stadium and with Jurgen Klopp set to play a weakened side (yes, that does mean the defence can get worse), a strong Leicester team would be considered the favourites. However, Klopp is still looking for his first trophy as Liverpool manager and has reached the League Cup final before and this could be his best chance of silverware again this year so expect him to take the game seriously.

Tottenham's Wembley 'hoodoo' continued at the weekend as their winless streak at the national stadium stretched to three games in the Premier League with a 0-0 draw with Swansea. Even though they impressively saw off Borussia Dortmund last week under the arch, a few nerves and an early goal against them could see them slip up to Barnsley. The Yorkshire club are no strangers to Wembley either, having won two games there in 2016. Chelsea fans should look out for Barnsley striker, Ike Ugbo, who is on loan from the Blues and could feature against Spurs hoping to follow suit of his parent club after their two wins over Spurs this year at Wembley.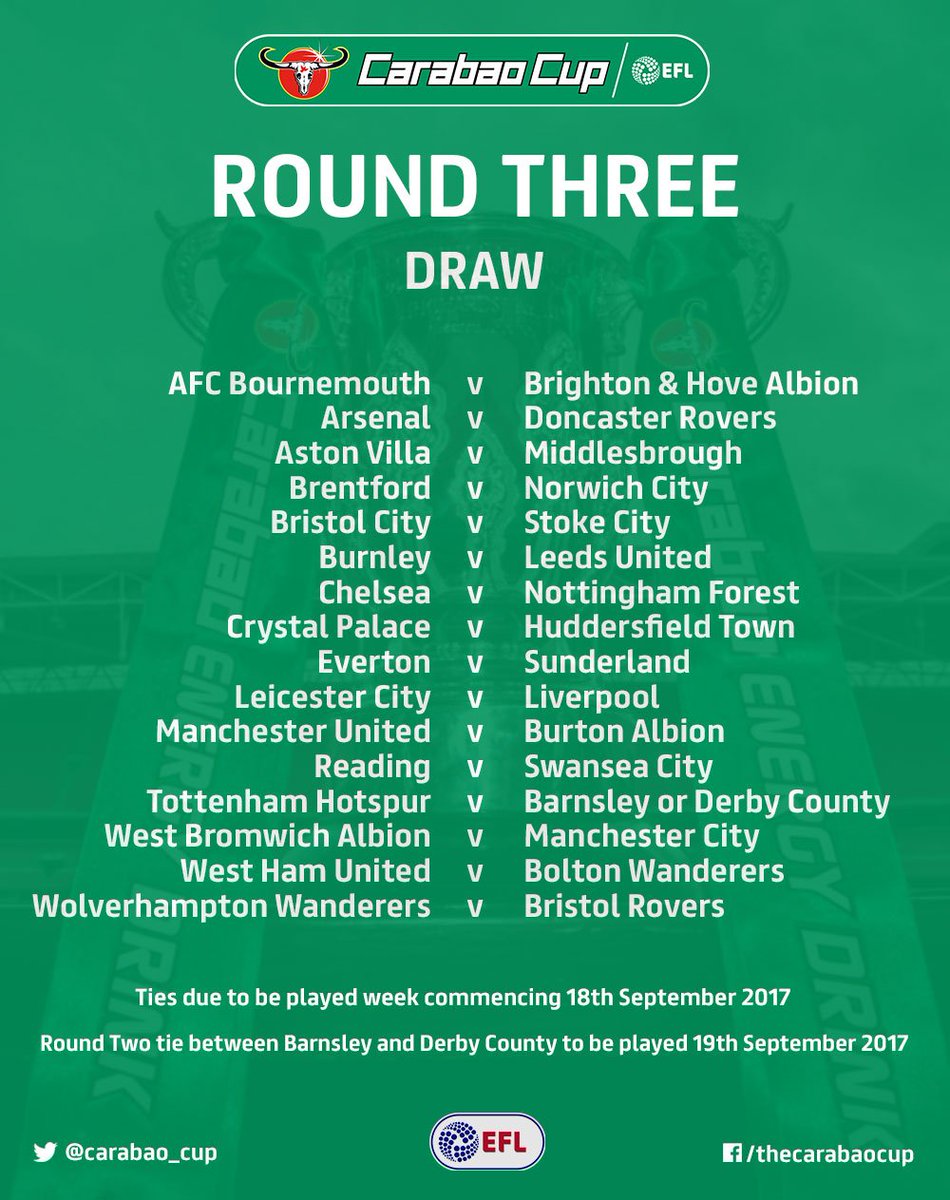 Mismatches


Holders Manchester United, on red hot form this season, host Burton Albion at Old Trafford in their customary televised game on Wednesday night. The Red Devils have a good home record in the League Cup with their last loss in normal time coming back in 2011 to a then-Championship team in Crystal Palace, playing in yellow… like Burton. The last time United lost at home in the competition was in 2015 when they went down to Championship team Middlesbrough, playing in yellow as well. These good omens will only provide Burton fans with a faint optimism as I think we all expect United to progress comfortably into the fourth round.

Chelsea and Arsenal are also at home to lower league opposition in Nottingham Forest and Doncaster respectively. Both teams are bound to play weakened sides but they should still be more than enough to make it into the next round unscathed. However, Chelsea can expect a tougher game against Forest than when they played Qarabag in the Champions League last week and I don't link Doncaster will be bringing 20,000 fans to the Emirates even if it would double the attendance. Manchester City go to the Hawthorns, so don't be surprised if you see all the big teams left in the hat for the draw for the next round.


Likely Underdogs


Bristol Rovers and Doncaster are the only clubs from England's third tier at this stage after 46 of the 48 teams in Leagues One and Two were knocked out in the earlier rounds. Bristol Rovers will feel they have more of a chance than Doncaster as they go to Molineux to face a resurgent Wolves side. Two Championship sides are guaranteed a place in the fourth round but it's a far cry from the days where Bradford made it all the way to the final from the fourth tier.

The magic of this cup has almost certainly been distinguished with the sponsors moving draws to other continents and the trophy having the name of a foreign energy drink.