Carlo Ancelotti deserves the praise for Everton's good fortunes
Carlo Ancelotti could be Everton's ticket to Europe.
Liverpool sealed the Premier League title race long ago. Manchester City won't overcome the Reds' 22-point cushion. Compared to Spain, Germany, and Italy, England's top division has a clear winner but that doesn't stop the Premier League from stealing headlines every Monday.
The latest is the race for European berths. The table shifts every weekend. With the gap between fourth and tenth a meagre ten points going into Sunday action, three points carry massive value. In part, the queue is so densely packed due to the change in fortunes at Tottenham and Everton. As Christmas neared, both were rooted in the table's bottom half. Each signed a manager with multiple Champions Leagues to his name and, spoiler alert, the two sides rocketed up the table.
Jose Mourinho keeps himself in the public eye in North London even as he deals with an injury crisis and inability to get the better of former player Frank Lampard. Carlo Ancelotti is less concerned with his image at Goodison Park. Results are what matter.
Under Marco Silva, the Toffees secured 14 points from 15 games. Their style remained broken and predictable while the goal difference sank to -11. In early December, they were in the bottom three. Everton legend Duncan Ferguson offered a temporary solution until the club's new owner, Farhad Moshiri, stunned the world by appointing Ancelotti.
The first thing you notice about Everton under Ancelotti is they pass more directly. Passes increased in volume and accuracy game by game. Players work hard off-the-ball to keep it moving. The former Napoli manager varies between three-man defences and a 4-4-2. He likes to press low blocks with variations on a basic 3-5-2 while holding central superiority against attacking teams with the 4-4-2.
Silva's poor man-management wasted the depth in Everton's squad. Ancelotti focusses on the individual's strength, building around it. While Yerry Mina enjoys a good reputation since his move from Barcelona last year, Mason Holgate is rock-solid in the defensive line, profiting from the Italian's teaching. The 23-year-old is composed and aware.
Overall, Ancelotti's Everton waste little time in possession, playing more directly, completing 65% more vertical passes.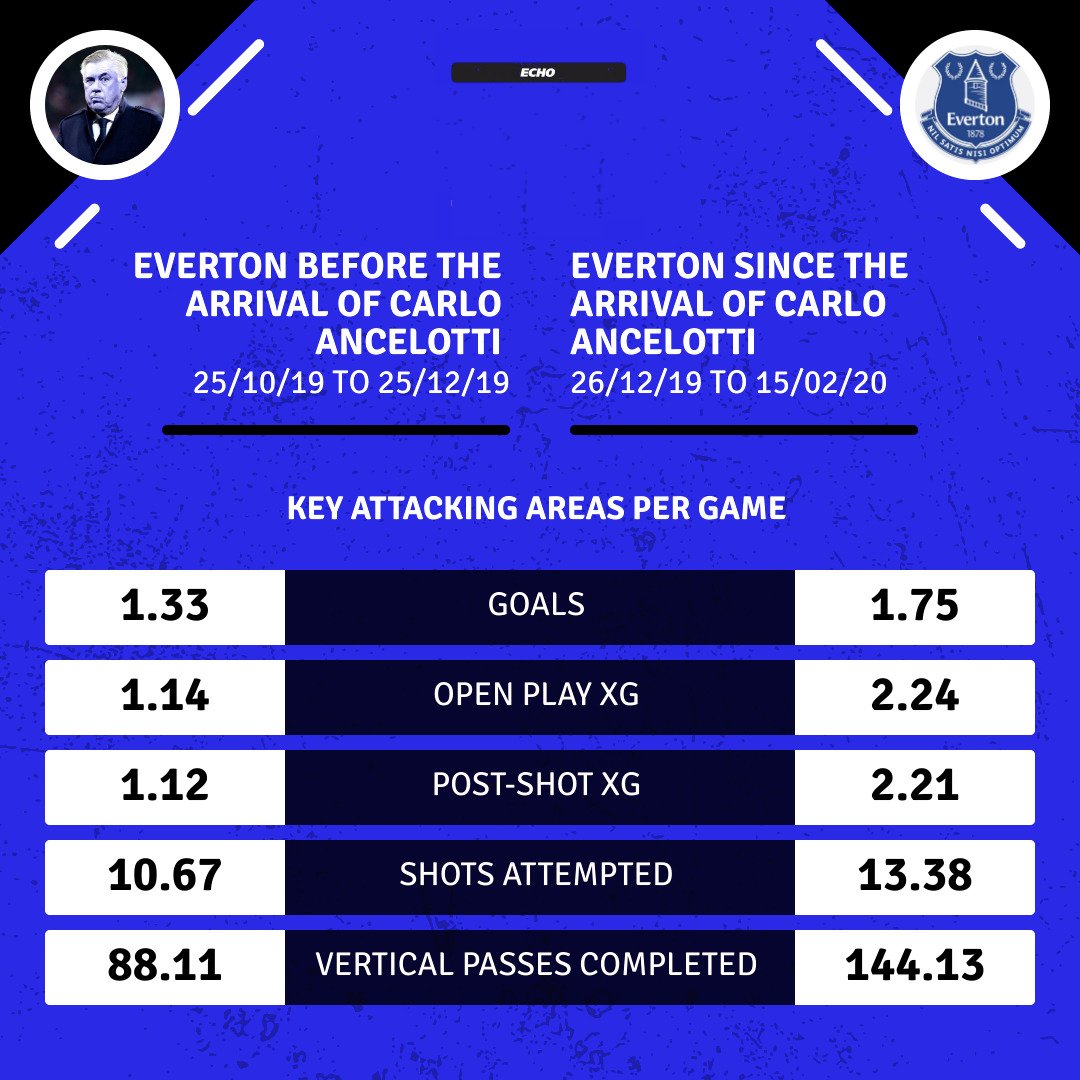 He wants full-backs Lucas Digne and Djibril Sidibe to stroll up and down the pitch, creating from the flanks. When in possession, Sidibe and Digne create a front four with Dominic Calvert Lewin and Richarlison. Calvert-Lewin's aerial prowess and Richarlison's ability to pop up unexpectedly in the box make their crosses an effective tactic. Meanwhile, Bernard and/or Alex Iwobi drift into central positions with Gylfi Sigurdsson taking a more deep-lying role as playmaker.
Defensive stability is achieved when Morgan Schniederlin, Michael Keane and Fabian Delph start against attack-oriented teams. Theo Walcott and Moise Keane provide fresh legs to impact the final third. Andre Gomes' return from a long-term injury will give Ancelotti more options.
Everton owner Moshiri is ambitious. Barcelona's £85m bid for Richarlison was rejected for that reason. They plan to take on Europe next season. With Manchester City's ban, the race to gain access to European competition extends to the top seven.
Ancelotti is arguably the best man to guide that process. He's won the Champions League three times and division titles in England, Germany, France, Spain and Italy. He's managed the best players at the biggest clubs across Europe. Who better to instil a winning culture at Goodison Park?
I think I see Everton (towards) the top of the table, fighting for some titles, fighting to be competitive in Europe.
Since Matchweek 19
- Carlo Ancelotti Side has Won
Second Most points in Premier League after LFC.
- Has scores third most goals in premier league One Less than City.
- Calvert Lewin has second most goals scored.
Top 5 maybe? 👀
https://t.co/ukvZCKlihw
Ancelotti gets everything correct. The Toffees are ninth in the table, eight points off fourth-placed Chelsea. The run-in will challenge his abilities, however. Of the remaining 12 fixtures, only three come against bottom-half teams. They face Arsenal today, then Manchester United, Manchester City, Leicester, Wolves and Sheffield United in the upcoming week, all teams above Everton as matters stand.
The Italian lacks all the pieces at the moment. Knowing the squad is incomplete, he is content to target the Europa League for next year then address his needs in the summer. As well as new signings, the club are in talks with Monaco to keep Sidibe permanently. A pre-season spent with Ancelotti can only help Moise Kean clear his head and regain confidence.
All in all, Don Carlo successfully lightened the mood and instilled a winning mentality in the dressing room. They embrace the new change and are willing to put their bodies for the boss. Expect the Evertonians to make some noise under the Italian.