Carlos Queiroz shows what he can do with world-class talent
Carlos Queiroz has travelled extensively during his 30 years in coaching. From being a forgotten Real Madrid manager to Portugal national team boss, Sir Alex Ferguson's acclaimed assistant and holding jobs on four continents, he's done it all and sometimes twice. The 66-year-old's niche is international football. After that turn with Portugal, he spent eight years transforming Iran into an Asian heavyweight. Given the shallow talent pool and strict conditions imposed by observing Ramadan, it was an amazing achievement. In Colombia, however, he has the opportunity to prove what he can do in a more conducive environment with top-quality materials.
Queiroz engineered Team Melli's rise by welcoming home footballers caught up in the Iranian diaspora, opening the insulated nation to the wider world in the process. Unsurprisingly, his methods created friction with the political power base in Tehran. More than once in the two World Cup cycles he spent in the country, tensions rose to a boiling point. Finally, he resigned.
In Colombia, football isn't treated as an inconvenient political device. He now enjoys a supportive culture, far deeper talent pool and much better coffee. Three meaningful matches into his tenure, Colombia boasts the only perfect record at the Copa America and are favourites to hoist the trophy. For a manager who toiled to craft something artful from mediocrity, inheriting naturally gifted, world-class individuals must feel good.
If you want to make a statement, what could be better than defeating Argentina and Lionel Messi in your competitive debut? In his first real challenge, the Portuguese outwitted both Lionels, Scaloni and Messi, his side scoring two late goals while keeping the Barcelona star off the scoresheet.
Against Qatar, revenge must've felt sweet. The Asian Champions embarrassed Team Melli in his final game at the Asian Cup, making for an embarrassing exit.
Los Cafeteros' new-found hero, Duvan Zapata found the winner. The unheralded 28-year-old broke out with Atalanta in Serie A this season. Queiroz isn't afraid to use him. He's not only benefitting from an inherited cast, he's building for the future.
Queiroz has shown a deft touch in rotating his talent-steeped squad. While resting most of his starters, he still found a way past stubborn Paraguay. On the one hand, it's a testament to Colombia's depth. On the other, it's a nod to the manager's tactical nous.
The majority of Queiroz's squad play in top European leagues. However, his ability to get the most out of those in the shadows, like Gustavo Cuellar, John Medina and Roger Martinez is inspiring. Even his defence, yet to concede a goal, has improved. The coach's dissatisfaction might be his greatest asset. Despite his 4-2-3-1 system working like a charm against Argentina, he wasn't pleased.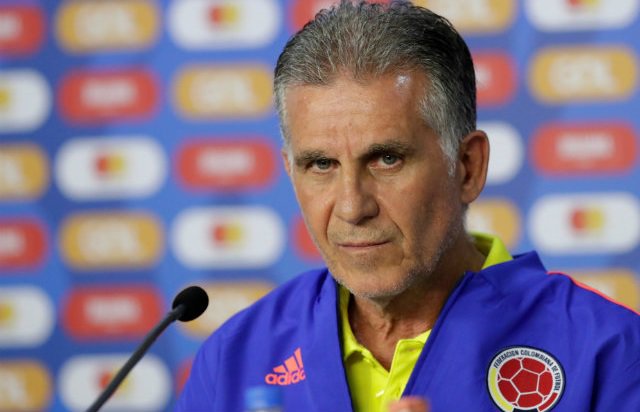 🇵🇹Carlos Queiroz for 🇨🇴NT
✅❌✅✅✅✅✅
7 Games / 6 Wins / 1 Loss
6 Clean-Sheet !
482 Mins without conceding ⚽
https://t.co/ASrDKNvZlq
Against Paraguay and Qatar, he reverted to the Coffee Growers' more customary 4-3-3 allowing them to attack with both elegance and ruthlessness.
While the underrated gems are soaring under him, the recognized superstars are also finding their footing. Radamel Falcao is making do with a more off-the-field influence thanks to Zapata's fiery form but, after clashing with both Zinedine Zidane and Nico Kovac at club level, James Rodriguez thrives in Queiroz's system.
Following his struggle with injuries at last summer's World Cup, the midfielder is back to his creative best. Whether the need to convince a new club of his worth is the motivating factor or not, James has done a job in Brazil. The 27-year-old assisted twice and created 14 chances in the group stages. It goes beyond saying he's loving life under Queiroz who labelled him as a "team leader" and gave him a free role to trouble oppositions with his unmatched vision.
While their perfect record makes Colombia strong favourites to go the distance, the road to the Maracana gets bumpier from here. Los Cafeteros face two-time reigning champions Chile in the quarterfinals. It's a match that takes place at least one round too early. La Roja's loss to Uruguay might give Queiroz confidence but someone will remind him La Tricolor beaten this opponent in seven years and only twice in Copa America history.
The Portuguese' own record in knockout stages isn't the greatest. During his time at Iran, he failed to win any silverware. Early elimination at the World Cup wasn't a shock, but he couldn't get beyond the semifinals in three AFC Asian Cups, the farthest he took Team Melli. It's up to him to prove that his squads were playing above their heads just to get that far. His current roster is well-stocked for a trophy hunt. He can't point the finger at them if they fail to at least reach a final where either Brazil or Argentina will almost certainly be waiting. He has every opportunity to end Colombia's 18-year trophy drought at the first asking.