Celtic, Brendan Rodgers and Rangers' title chances
Can Steven Gerrard and Rangers take advantage of the circumstances at Celtic?
The day Celtic dreaded since 2016 finally arrived this week. Brendan Rodgers departed to take charge of Leicester City, passing up the chance to add to his Celtic Park legacy by completing a third consecutive domestic treble. Reviving the Foxes' fortunes and engineering a potential late push for seventh place in the Premier League held greater appeal.
Celtic fans fail to see why Rodgers bothered. In their minds, the banner flown against Hearts claiming he'd traded immortality for mediocrity said it all. Rodgers clearly felt differently. Leicester represented a shot at Premier League redemption.
He left Liverpool a battered, broken manager. History deems his time at Anfield less unlucky than bad. His work in Glasgow rebuilt his reputation considerably. He was never going to get a top-six job, but one just outside became viable thanks to his uncompromised success. If Rodgers succeeds in his new job, those top six jobs may become available again. Celtic can be considered as stage one in a three-part plan. There was nothing more he could do in Scotland that he hadn't already. An opportunity arose. He took it. The move makes sense to any ambitious manager albeit not disappointed supporters.
What about the club he has left? The Bhoys find themselves in a tricky position. How the squad reacts will determine how the rest of the season goes. At present, they find themselves eight points clear with five games remaining in the season's first phase. In the second phase, they'll play the other five teams in the SPL's top six, including another Old Firm Derby.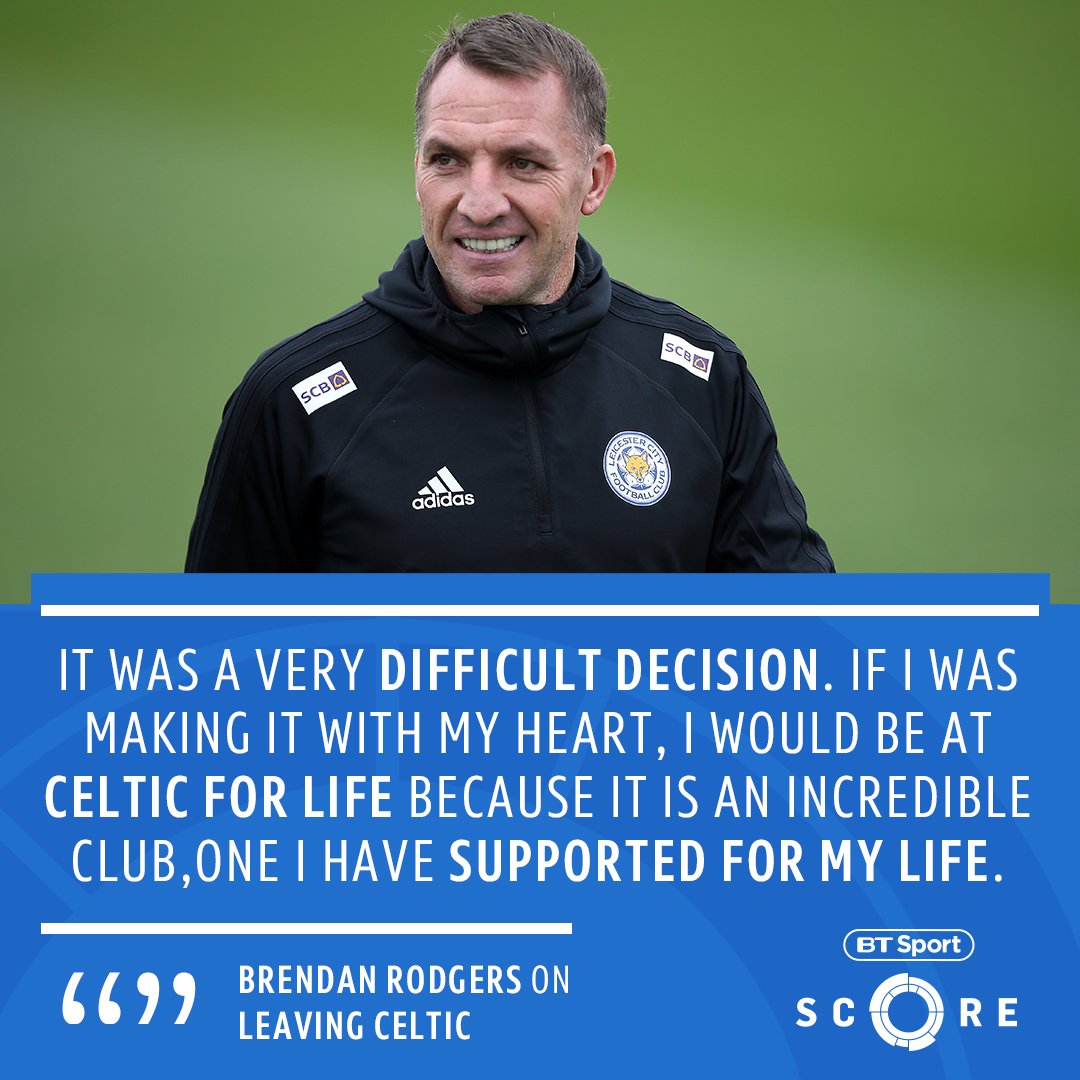 "If I was making the decision with my heart, I'd be at Celtic for life."
Brendan Rodgers has been explaining reasons for swapping Glasgow for Leicester...
#BTSportScore
https://t.co/Fa9595J1vr
They've begun the post-Rodgers era well, beating Hearts. Former boss Neil Lennon returned to finish the campaign, a Northern Irish Jupp Heynckes if you will. In the weekend's Scottish Cup quarterfinal action, Celtic helped him have the last word against Hibernian in a 2-0 victory. He'd resigned abruptly himself last month after the club suspended him for an alleged row with other staff.
Lennon seems to have a handle on the squad but he is known for a temper fierier than his ginger brushcut. If matters go south, that eight-point gap can diminish quickly. The 47-year-old's personal feud with every referee on the planet can hurt the squad. Benefit of the doubt can be the margin between victory and defeat. It's no stretch of the imagination to suggest Celtic can go into a tailspin.
The majority of the squad were brought in by Rodgers to play for him. For some, he was the sole reason to go to Scotland. Will they want to continue playing for Lennon? Will they take well to a completely different style of management after becoming so ingrained in Rodgers' methods? That is particularly salient for the loan players.
Will Oliver Burke and Tim Weah maintain their enthusiasm and form? They have nothing to lose. They will go back to their parent clubs regardless. Lennon may find upsetting the apple cart a huge mistake.
The first big hurdle in league play is the upcoming clash with Aberdeen. The Dons lag 16 points behind in the table but would love nothing more than to put a dent in Celtic's title ambitions. They've haven't beaten the Bhoys since 2014 and don't have a league win at Celtic Park since 2004. What better opportunity than the backroom chaos to turn their futility on its head?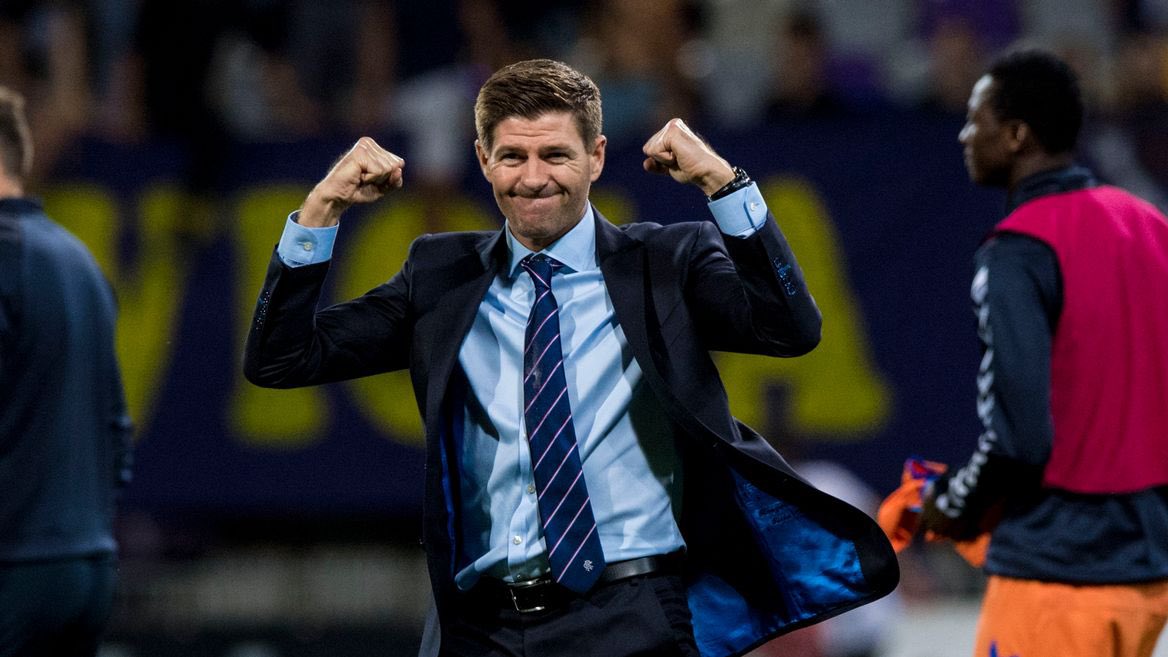 Gerrard went to Scotland, won Rangers their first Old Firm since 2012 and scared Brendan Rodgers out of the country. All in under a year. My Idol
https://t.co/GLLWNuDF3E
If the Hoops handle Aberdeen, they must clamber over the wall that is the Old Firm Derby. Rangers lick their lips at the thought of taking on Celtic these days. The Gers have a fantastic opportunity to keep their slim title hopes alive. Under Steven Gerrard, they fought out a pair of 1-0 matches with the home side winning each. The legendary Liverpool midfielder had the answer for Rodgers' tactics. He should be confident he can deal with Lennon's.
The win at Ibrox gave the Light Blues confidence. With their rivals in disarray, they may feel they can sack Celtic Park. When they meet, the gap between them might already be less than it is now. They can help that happen by keeping their foot on the gas against the rest of the league, heaping the pressure on the Hoops.
Even if things don't go their way, this must be considered a successful managerial debut for Gerrard. He has greater ambitions than finishing second but a pair of Old Firm victories will ease the pain.
There have been slip-ups. Gerrard must be disappointed to allow Celtic to regain its league momentum after Rangers topped the table briefly. Failure in the Europa League against RB Salzburg was a tough blow for the Champions League medal winner.
Even so, Gerrard's first campaign as bench boss is revelatory. You can't help but think a decision like the one Brendan Rodgers just made will be put to him in the near future.