In which basket do the Premier League Top-6 put their eggs after the quarter-final draws?
So the draw for the Champions League and Europa League has been made, and England's top six know their fate.
Manchester City, Manchester United, Liverpool, Tottenham, Arsenal and Chelsea have all made it into the quarter-finals of their competitions this year, making the race for the top six all the more intriguing. Should England's top teams focus on the league or the chance of European glory?
That question is one that each club needs to think about individually and thus the answer is different for each.
Manchester City, for example, will be profoundly considering focusing on Europe at this stage. The Champions League remains the main focus for him and his team. The Catalan thinks the club are teenagers when it comes to the competition and he's correct to say so.
If City are to grow and be considered as a European force, they need the titles to get the credit that comes with them. Likewise, City's owners want that Champions League title. They did not invest their money and transform the club only to dominate the English game.
Guardiola, too, has a point to prove. He's yet to win the Champions League without Lionel Messi. This is his best opportunity to do so. A quarter-final meeting with Tottenham and then potential semi against Juventus or Ajax are games City are more than capable of winning. In fact, look at the teams left in the competition, and they're arguably the strongest team left.
If City had to choose, they'd prefer the Champions League. For their title competitors Liverpool, though, the issue is not as clear.
They've been handed a favourable draw with Porto in the quarter-finals. They smashed the Portuguese side last season and will be confident of doing so again. After that, though, they have to find a way past Manchester United or Barcelona. Either tie will be tricky, to say the least.
With Manchester City potentially focussing on Europe, Liverpool's should be the other way. Securing that first league title since 1990 is more important than a potential successive Champions League final appearance.
Yet, can Klopp afford to do that? The Champions League is essential to Liverpool Football Club. The best nights in their history have been had in this competition, and among some fans, it's more important than the league. Ask some if they'd rather have that long-awaited league title or another night like in Istanbul and they'd choose the latter.
On this occasion, though, the focus has to be on the league. They need that monkey off their back, and this is the best opportunity they've had to shake it off in some time. The Champions League can wait for another year.
It's the same story for Tottenham. They do not have a rich history in the Champions League and want to change that in future. However, in their current situation, they need to focus on the league.
With them moving to a new stadium this season or at the beginning of next season, they cannot afford to be out of the Champions League. That stadium was built for big European nights. Make no mistake either; they also need the money that the competition offers.
That money is not only key to helping them pay off the stadium debt but help Mauricio Pochettino bring in the improvements that this squad desperately needs. They need to maintain their top four status at all costs. The same argument can be made for Manchester United.
They currently sit fifth but given current form are in most people's bets to secure a top-four place. That would cap off a remarkable turnaround for them under Ole Gunnar Solskjaer and an ideal end to an otherwise disastrous season.
A place in the Champions League next year would also be an excellent reward for the work they've put in under the Norwegian. They've also experienced the Europa League before and don't want to repeat it any time soon.
The draw is also not in their favour. Barcelona were one of the worst teams they could have drawn, particularly with Lionel Messi in the form he is in. After that, they're likely to come up against Liverpool. That's another tie they'd be underdogs in. It makes little sense for them to use their energy trying to get through these ties over securing a top-four finish.
Focusing on getting into the top four may not represent the glory they're accustomed to, but they need it right now.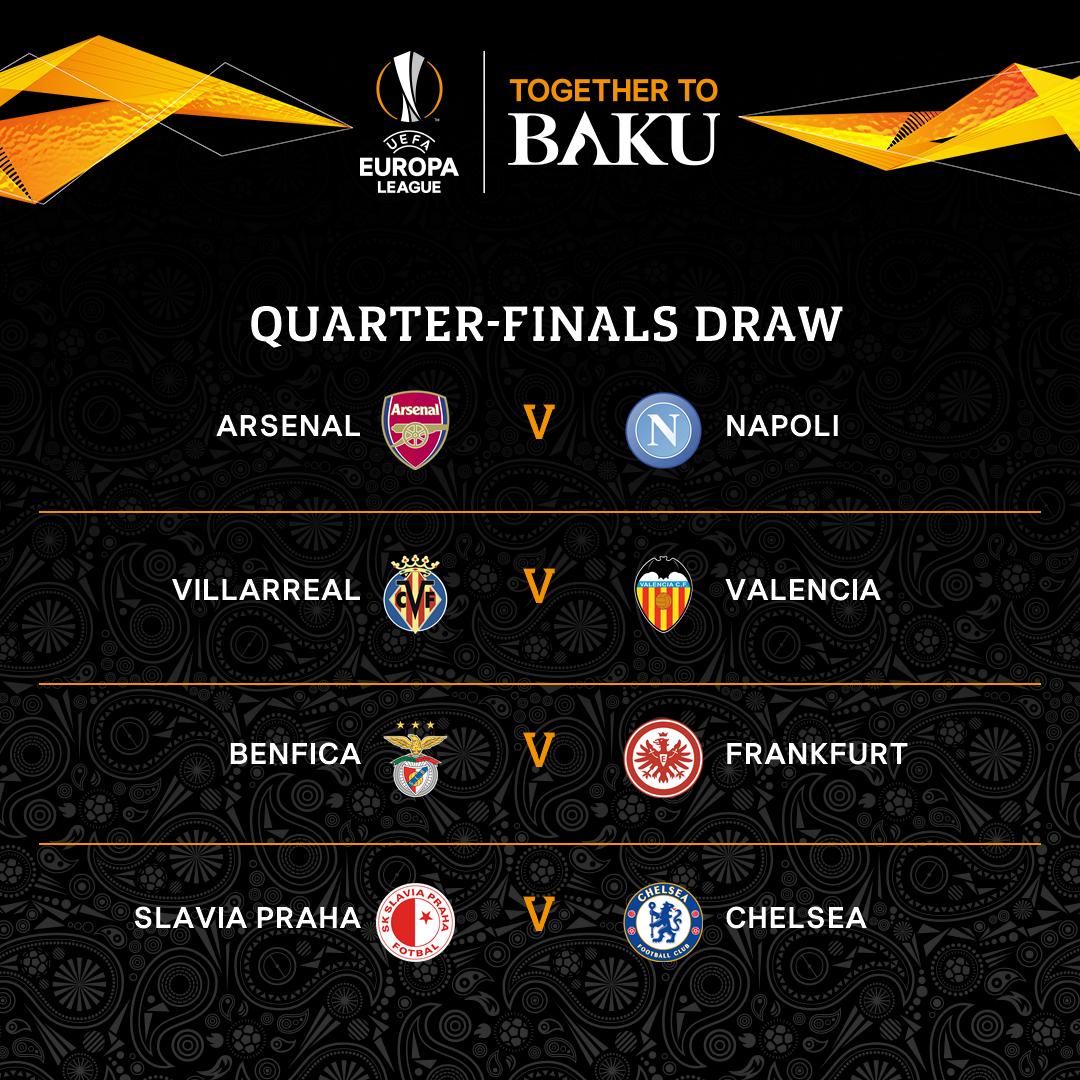 Likewise, Arsenal need the security of the top four. They currently sit fourth in the table, and it's imperative they remain there until the end of the season. A return to the top four would mark an impressive first season in charge for Unai Emery. It would also represent the kind of improvement the club were looking for post-Arsene Wenger.
Like United, they also have to look at the draw they've been handed. Napoli are one of the best teams left in this competition and the opponent everyone would have wanted to avoid. It's a wiser use of their time and resources to focus on securing a top-four finish.
For Chelsea, though, the opposite is true. The Europa League should be their top priority from here on out. It's more valuable to them, particularly if you're Maurizio Sarri.
The Italian coach has faced a lot of criticism this season and questions have been raised about his methods. The principal issue for many is that his style and techniques are yet to win trophies. He needs that first trophy to win over Chelsea's fans but also prove the doubters wrong, including those among the Chelsea fans.
Some of those doubters may even be in the squad of players he has at his disposal. Winning the Europa League would pull those players even further in line. It could be the key to him staying at Stamford Bridge and being a success there.
The fact is, as well, they have a great chance to win it. Chelsea have been excellent in this season's competition and should overcome Slavia Prague with ease. That would put them in the semi-final and given the teams left in the competition, they'd fancy their chances even more.
The idea any of the Premier League's top six are considering throwing one competition in favour of another would be regarded as lunacy. None of them would openly admit that they are doing so.
The fact is, though, these are the kind of conversations they will now be having. All of them, bar perhaps Manchester City, know they don't have the squad depth to be going full tilt for every competition they're in.
And that means for Liverpool, Arsenal, Manchester United and Tottenham the Premier League has to take precedence from here on in. City and Chelsea, however, should have their eyes on the European prize.