Job one for Guardiola: Don't let Schalke romp go to players' heads
Schalke's ineptitude contributed as much to the Champions League R16 second-leg scoreline as City's quality.
Pep Guardiola described Manchester City as teenagers in the Champions League. Managers play mind games to motivate players but they can also be brutally honest. Whichever it was in this case, the Sky Blues remain outsiders in the competition until they win it, exhilarating results notwithstanding. Recent history shows past winners are huge favourites to win each and every season.
The Cityzens swept aside Schalke like a team ready for the big time but Domenico Tedesco's side suffers through dismal form this season. Of late, the Royal Blues concede goals left and right. Fortuna Dusseldorf, 11th in the Bundesliga, dispatched them 4-0 not two weeks ago. Manchester City should not be over the moon for hitting seven past the hapless Konigsblauen.
All the same, the Champions League was made for upsets, as this season proves. A team's league form is not always a good yardstick for measuring success on the continent. Liverpool manhandled Bayern, 3-1, days after die Roten put six past Wolfsburg. Real Madrid, Borussia Dortmund, Paris Saint-Germain and Atletico Madrid also saw positive first-leg performances wasted.
For a club with the ambition to dominate Europe and lift the continent's biggest trophy, qualifying for the quarter-final is a step in the right direction but there is still a long way to go. Juventus, Barcelona and Premier League rivals Tottenham, Liverpool and Manchester United all lie in wait among the last eight. Juventus and Barcelona are accustomed to reaching the quarterfinals. Liverpool embarrassed City on their way to the final last season. Less is expected from United and Spurs but each knows Pep's side all too well. In addition, Ajax and Porto are past winners who proved they belong by dispatching holders Real Madrid and semifinalists Roma respectively.
Whoever City draw on Friday will provide a stern test. If they progress, the semifinal and final will only demand more.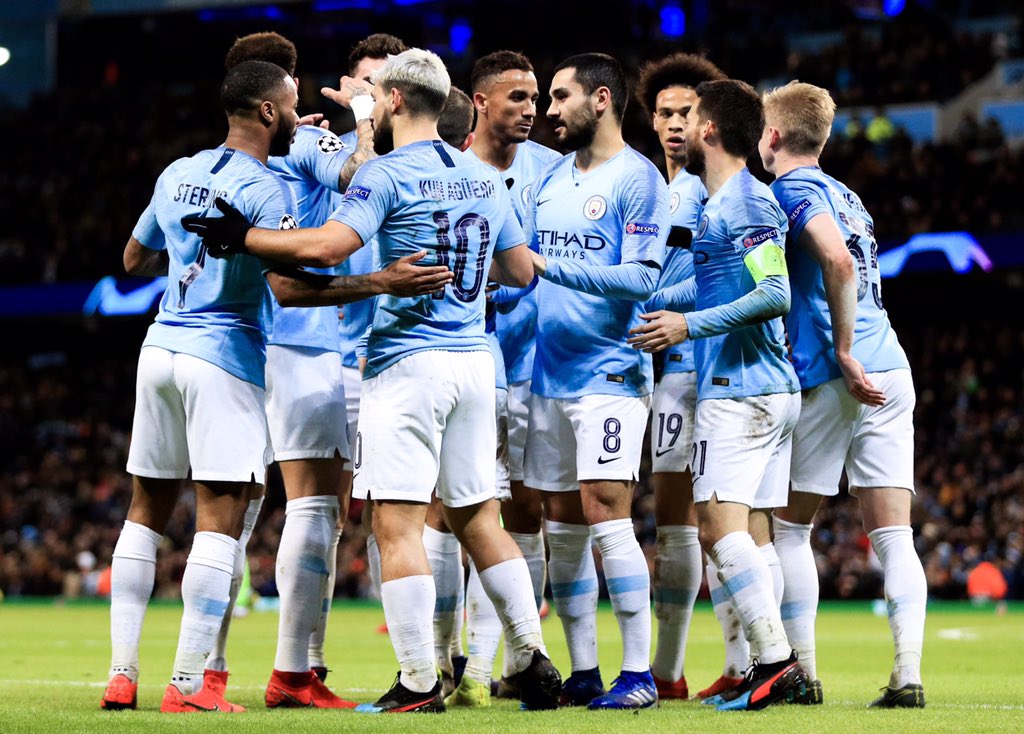 Players like Raheem Sterling, Sergio Aguero, Bernardo Silva, Leroy Sane, Gabriel Jesus and Aymeric Laporte distinguished themselves this season. Apart from Aguero, all are still quite young. Their confidence is wonderful but inexperience often tells.
Captain Vincent Kompany can provide stability and calmness at the back in critical moments. Midfielders Fernandinho and David Silva should also provide vital leadership when the Belgian isn't on the pitch. Whether the squad can do the job remains to be seen but the football Guardiola has them playing suggests it's about time. They've repeated as League Cup champions, defend their title from in front and are finding top form at the season's business end.City is still in the FA Cup, as well. Success on all fronts will be difficult but continues to be a possibility.
The quadruple is merely gravy, however. Winning the Champions League would be the club's greatest achievement. The players need to have their feet firmly rooted on the ground and remain alert to the dangers. This is no time to switch off.