Champions League underdogs up to something?
Can an underdog lift the Champions League trophy?
Background Image: K Canaytekin on Pixabay
European football has several top teams. Fans desperately need to know who is the best. The Champions League offers the chance for all to fight for glory. In the immortal words of Juan Sanchez Villa-Lobos Ramirez, there can be only one.
Even amonmg the biggest clubs, there are some who are bigger. These are the ones who have won the title many times or simply have the most money. Real Madrid. Barcelona. Juventus. Bayern Munich. Paris Saint-Germain. Manchester City. Although they've never won the Champions League nor have the deepest pockets, reigning Europa League champions Atletico Madrid belong in this elite group. Liverpool made the final last year under their new American backers, reconnecting with their storied European history.
Spanish teams tend to have the best players and the most accommodating scheduling [sorry Premier League]. Thus, the trophy became a second Spanish Cup in the past five seasons. The others aren't happy with that hegemony. They'd love nothing better than to free the big-eared cup from its Spanish prison and re-introduce it to other cultures.
But there are also a few other clubs less favoured who intend to be heard. They are now getting involved and going deeper into the competition. AS Roma reached the semifinals last season after humiliating Barcelona. This season, they were toppled in the Round of 16 by Porto, a club with severed connections to the trophy as well. They've won it twice, the last time under Jose Mourinho in 2004. Their current keeper, Iker Casillas, once manned the goal for 13-time champions Real Madrid.
Though they were sent home, Roma was a delight. They showed qualities that better teams lack. Their fighting spirit and determination of last season made them fearsome than their normal selves. Qualities like that are found in champions. That's how kings are forged.
This season's tournament boasts other clubs who demonstrate those qualities. Porto, obviously, but also two other long-missed European champions. Ajax played three-time defending champs Real Madrid off the park at the Santiago Bernabeu to advance to the quarterfinals. Ajax played like a team with more to prove.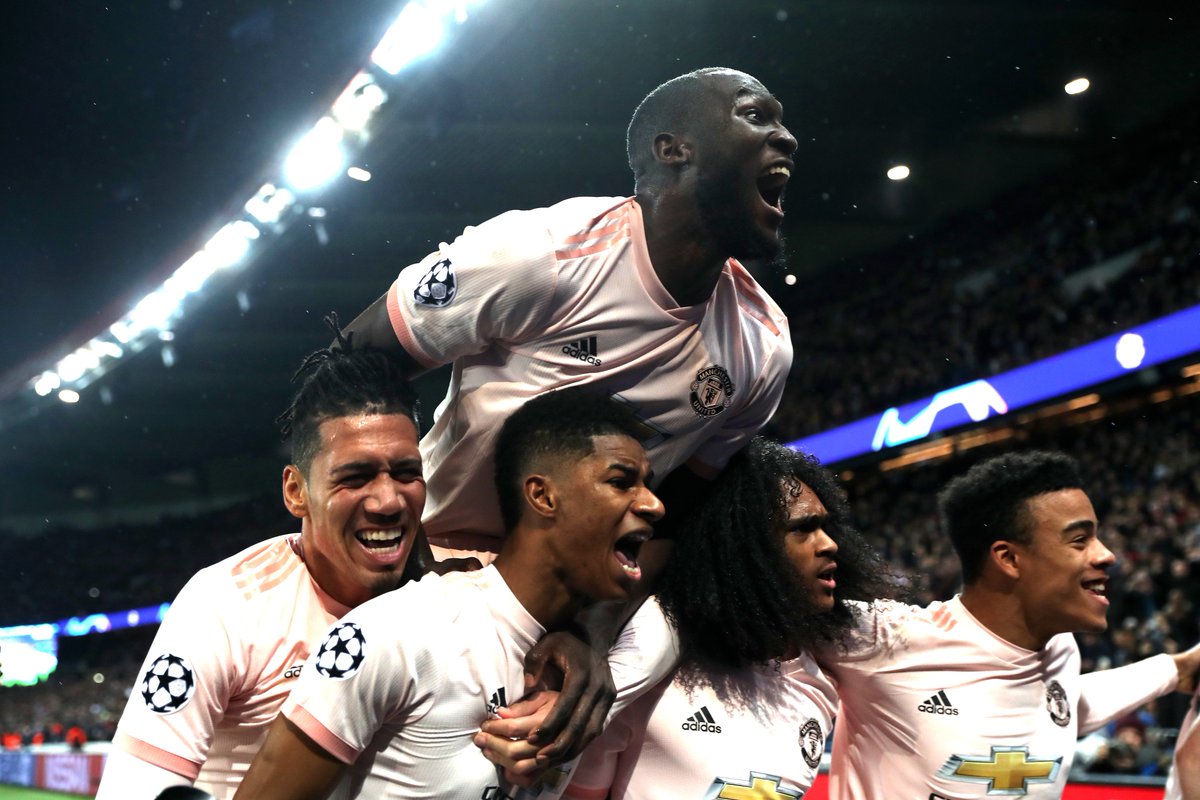 ℹ️ 2018/19 quarter-finals (so far):
🇳🇱 Ajax
🏴󠁧󠁢󠁥󠁮󠁧󠁿 Tottenham
🏴󠁧󠁢󠁥󠁮󠁧󠁿 Manchester United
🇵🇹 Porto
#UCL
https://t.co/pIA3axnlRr
The Godzonen reversed a 2-1 first-leg deficit with a 4-1 romp. The next evening, Manchester United did them one better in Paris. On paper and on the pitch, United were inferior to PSG. To make things worse, they were down 2-0 at the kickoff in the Parc des Princes. No team had overturned a multiple-goal deficit after one leg in a Champions League knockout round. With more than one improbable victory under their belts since Ole Gunnar Solskjaer took charge in mid-December, the Red Devils were prepared to make history. Despite being outplayed throughout the entire 90 minutes, they exploited three mistakes and a favourable VAR decision to escape 3-1 winners on the night, 3-3 aggregate victors on away goals. Marcus Rashford's 92nd-minute penalty eliminated the Ligue1 giants at the last-16 stage for the third year in succession.
To be fair to Real and PSG, injuries hindered both. The Merengues lost Vinicius Junior and Lucas Vazquez in the first half at the Bernabeu. Gareth Bale turned his ankle in the second stanza. In addition, Sergio Ramos foolishly ruled himself out by intentionally drawing a suspension in Amsterdam, looking ahead to the later rounds. The Parisians played without Neymar and Edinson Cavani. That said, United had ten players unavailable due to injury and suspension. Paul Pogba, Antonio Valencia, Alexis Sanchez, Anthony Martial, Nemanja Matic, Juan Mata and Phil Jones were among the absentees. Chris Smalling produced a defensive masterclass to limit Kylian Mbappe's influence to an assist on Juan Bernat's goal. Meanwhile, Thilo Kehrer, Gigi Buffon and Presnel Kimpembe all made mistakes that led directly to United goals. Thomas Tuchel's squad had no excuses for their poor performance.
Manchester City must take a lesson from PSG's folly. They hold a commanding 3-2 lead over Schalke 04 with the second leg at the Etihad next week. Pep Guardiola doesn't usually allow his team to let up. Now is not the time to start.
Barcelona also play the second leg at home but their situation isn't so comfortable. Lyon held the Blaugrana to a goalless draw at the Olympic Stadium. The Camp Nou won't intimidate them. They ran roughshod over City in the group stage leg in Manchester.
More drama may be on the cards next week. It's been a long time since the Champions League progression didn't seem a foregone conclusion. An open field is a refreshing surprise. Let the underdogs run.