Why is Chelsea failing the eye test?
Last year, West Ham chief scout Tony Henry lost his job for categorising African players as "troublemakers". He admitted the club avoided signing them after a bad experience or two. Once Henry was sacked, the furore subsided in short order.
The recent Populist movement in politics emboldens people with racist views to speak aloud. Some even try to claim that white supremacy is politics and that, in the name of free speech, such views shouldn't be censured. Imagine those folks sent to a Bengali village being ravaged by a man-eating tiger. Let them tell villagers the tiger has a right to eat and must be left alone.
If you fail to see how Henry's views were racist because West Ham signed one or two players with contentious attitudes, imagine the same being said about Lionel Messi, Sergio Aguero, Gonzalo Higuain, Paulo Dybala et al in the wake of fellow Argentine Mauro Icardi's petulance. Or of the entire England squad because Jesse Lingard likes to twerk on Twitter.
Racist views aren't politics; they're hatred, pure and simple. If we wish to live in a peaceful, prosperous world, everyone must be afforded the same opportunities. When some are denied prosperity, there won't be peace. Therefore, when people try to pervert free speech to subjugate others, they should be stopped.
Unfortunately, rhetoric isn't the only tactic used to propagate racism. Silence is even more effective. Some companies employ subtler racial policies in a discreet fashion, hoping no one notices. We must discuss racial issues with candour but also keep our eyes open.
Players in Serie A and the Russian Premier League frequently suffer abuse from fans. That rarely happens in Spain. Is that in part because La Liga clubs tend to field few players of colour in their starting XI?
Watch a Primera Division contest and you'll see few black faces. Real Madrid is an exception with Raphael Varane, Marcelo, Vinicius Junior and Casemiro featuring regularly. Barcelona doesn't show much faith in its players of African heritage. We're not talking about an ageing star like Kevin-Prince Boateng, playing out the string and signed to fill a special role. Promising youngsters Nelson Simedo and Ousmane Dembele aren't trusted with extended runs in the team to develop their prodigious talents. Only a healthy Samuel Umtiti enjoys that much faith.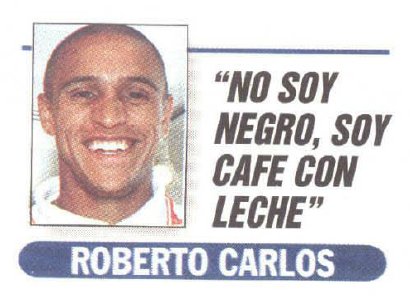 Roberto Carlos: "There's a lot of racism in Barcelona & this does not happen in the rest of Spain. During the whole game Seedorf & I were called 'monkeys' & monkey chants. I do not care if they insult me, I'm not black, I'm coffee with milk."
05-04-1997 MARCA & Mundo Deportivo
https://t.co/CvFNhTcVzl
In other Liga squads, dark complexions like Pione Sisto and Geoffrey Kondogbia's are rare. Thomas Partey seldom gets a game at Atletico Madrid. The most diverse squads feature four, maybe five black players on the roster. Compare that to many Ligue 1, Bundesliga and Premier League squads and you can't help but wonder what isn't being said.
Unfortunately, Chelsea's recent lineups look more like a La Liga or Serie A side than an English or French club. On the one hand, Willian and N'Golo Kante feature regularly. Their talent is undeniable. On the other hand, far too many players filled with promise find it next to [if not] impossible to break into the Blues' lineup.
Before his injury, Antonio Rudiger was an exception to the apparent rule. Antonio Conte gave him regular opportunities. Maurizio Sarri supplied a starting role at the expense of fair-skinned Andreas Christensen. Ruben Loftus-Cheek also seemed to be making headway before the ruptured Achilles tendon suffered in a friendly that sidelined him for the Europa League final.
When you see four or five names who seem to be receiving fair treatment at Stamford Bridge, you might ask, where is the problem? The answer is in the mass of players who haven't.
Many are Chelsea academy graduates and the club is notorious for favouring experienced players. Until Christensen's time under Conte, no Chelsea youth player established himself in the senior squad since John Terry in 1998.
During the Blues legend's heyday, race wasn't an issue within the squad. The roster was diverse. Claudio Ranieri's 2003/04 squad, the first under new owner Roman Abramovich, included Celestine Babayaro, Claude Makelele, Marcel Desailly, Jimmy Floyd-Hasselbaink, William Gallas and Geremi. Jose Mourinho came in the next year, signed Glen Johnson and Didier Drogba and promptly won the league. Nicolas Anelka, Florent Malouda, Jose Bosingwa, Michael Essien and John Obi-Mikel all followed.
Last time I saw shit like that it was Chelsea captain John Terry racially abusing Anton Ferdinand at Loftus Road. I wonder where that Chelsea fan got his inspiration?
https://t.co/xXeHJCRMan
Meanwhile, a first-class youth program was implemented beginning with the controversial signing of Gael Kakuta. Yet, none of those young recruits can crack the first team even when it appears they should.
This year, fans cried out to see Callum Hudson-Odoi in games. The teenager produced when given the opportunity but Maurizio Sarri stubbornly refused to make him a regular starter.
In 2017/18, Michy Batshuayi endured the same frustration under Antonio Conte. Chelsea longed for a clinical finisher. Diego Costa was gone. Alvaro Morata was ineffective. Whenever the young Belgian appeared, he impressed everyone except his manager. Rather than give him a run of games to show either his flaws or consistency, Conte loaned him out to Borussia Dortmund in a three-party transaction that sent Pierre-Emrick Aubameyang to Arsenal and Olivier Giroud from the Emirates to Stamford Bridge.
Success in the Europa League aside, Giroud hasn't been the answer at striker. Neither has Gonzalo Higuain. Meanwhile, Batshuayi makes Premier League inroads with Crystal Palace. To date, no one is asking why all the players the Blues have tried in the number nine role are white. If they had no faith in Batshuayi, why not attempt to sign Aubameyang from Dortmund themselves? The Gabonese now claims a one-third share in the 2018/19 Premier League Golden Boot with two other Africans, Sadio Mane and Mohamed Salah [another Chelsea reject]. If that's making trouble, Chelsea should be all for it.
Hudson-Odoi and Batshuayi are merely the two most recent players to be ignored by the Chelsea hierarchy. Tammy Abraham, Nathan Ake, Ryan Bertrand, the Chalobah brothers, Trevoh and Nathaniel are others. Of the 16 other surviving Premier League teams, only Burnley and Wolves feature fewer non-white players. Brighton, Everton, West Ham and Southampton field roughly the same number but only the Saints can make even a slightly credible claim for rivalling the Blues' prodigious depth of young talent.
Still think there isn't a reason to ask questions? Go to Transfermarkt's page for Chelsea academy players. Arrange the 'age group' to display the youngest first. Of the 25 players on page one, only six, Andreas Christensen, Joe Tupper, Kyle Scott, Chris Mepham, Dan Kemp and Declan Rice are white. The other 19, which include Hudson-Odoi, Loftus-Cheek, Ake, Abraham, Trevoh Chalobah, Dominic Solanke and Ola Aina are all black. More than three-quarters of the players and not one, including Loftus-Cheek, received a steady run of starts in the lineup. Yes, Kevin de Bruyne is also a Chelsea reject [albeit not an academy player] and Declan Rice was allowed to get away but the numbers are staggering.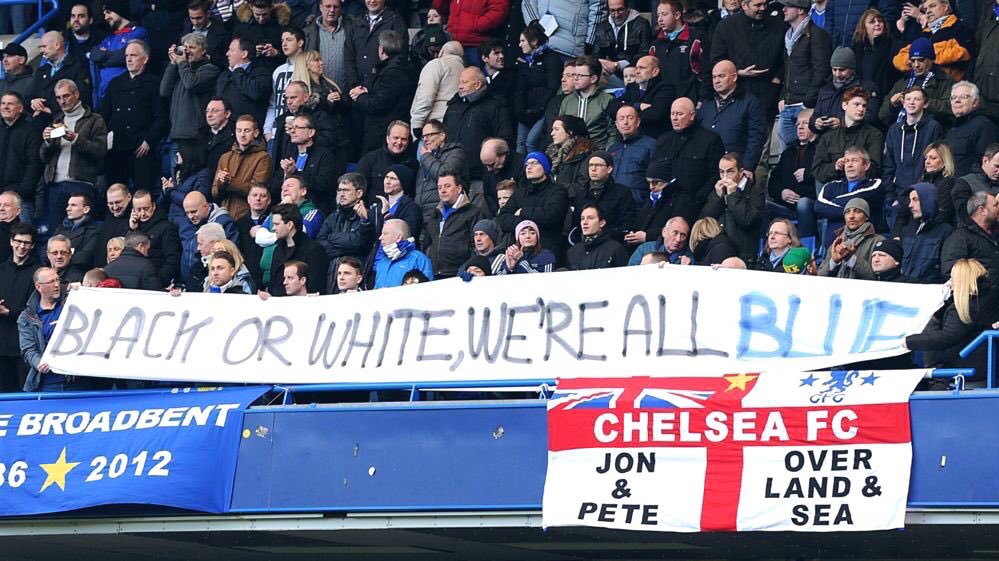 These guys are the real Chelsea fans.
The racist fans are a tiny segment of the fanbase who are universally loathed by everyone else at Chelsea.
Still disgusted how racism still happens. It's disgraceful.
https://t.co/EkGA9NQxwi
To those who've had so much difficulty with the Dan-slagging-Chelsea-fans thing.
If you've been a fan less than 35 years, I've been here longer than you.
And, for the whole of that that time, I've been calling-out racism.
So, basically, racists can fuck off.
Apologies? Unlikely.
Consider that this class won the following while in the academy:
UEFA Youth League 2014/15, 15/16
U18 Premier League National Champions 2016/17, 17/18
U18 PL Southern Champions 2014-18 [4x]
2017/18 U18 PL Cup
FA Youth Cup 7x in the past ten years
With all that money spent and so much success, how are these players going unwanted by the senior club?
There is no question Chelsea is biased against youth players regardless of their race. When you look to their recent signings, however, you'll find only Antonio Rudiger and N'Golo Kante, among players of colour, holding down a starting role. Tiemoue Bakayoko is in AC Milan. Kenedy is with Newcastle. Ethan Ampadu languishes on the bench. Ross Barkley plays a role for Maurizio Sarri after sitting for Antonio Conte. The days of Makelele to Essien to Obi Mikel are gone.
Meanwhile, Jorginho, Kepa Arrizabalaga, Mateo Kovacic, Higuain and Giroud all play integral roles. Danny Drinkwater did the same under Conte but is exiled along with Gary Cahill in Sarri's scheme. Both are in their 30s, however, not their prime or just starting out.
Again, it's a well-known fact that Chelsea don't play academy products, preferring to treat them like assets to be sold for profit. That said, when you note a 3:1 ratio of black players to white in that category and the near-exact opposite in first-team signings in the past two seasons, it must be said that the Blues are trending in the wrong direction.
If you follow social media, incidents in the stands like the one with Raheem Sterling occur regularly. Callum Hudson-Odoi spoke out against it. Nor is Stamford Bridge the rare English venue where it occurs. Chelsea aren't the sole purveyors of bigotry in the English to flight; they just top the table.
Despite staging an anti-semitism friendly in the United States immediately after the Premier League campaign concluded, the bigger picture suggests the club hierarchy is either ignoring the problem or tacitly supporting it. Some would say the game demonstrates the club's commitment to diversity but actions speak louder than words.
The Blues' Nigerian sporting director, Michael Emenalo, left the club last year despite the immense success Chelsea enjoyed at both the youth and senior levels on his watch. His departure roughly coincides with the British government denying a visa to Blues owner Roman Abramovich, allowing Chairman Bruce Buck, CEO Guy Laurence and directors Eugene Tenenbaum and Marina Granovskaia to act with more autonomy. Does ageism provide the perfect cover for racism within the new club hierarchy? The question deserves to be asked.