Where should Callum Hudson-Odoi go next season?
Destiny awaits Callum Hudson-Odoi. Now it's his decision whether he takes the path to success or failure. Maurizio Sarri's turned an eye over his talents, deeming him too inexperienced to make his team. Regardless of the 18-year-old putting in electric shifts, not only for Chelsea but for the England national team as well, he's being undermined by the London giants.
No wonder he's frustrated with his situation. The youngster's been pushing for a move away for a long time, wanting to go somewhere he's valued. At this fragile phase in his career, the winger needs to have his wits about him when pondering a move away. While joining a club which values young talent and encourages their development can make him a superstar, joining one like Chelsea could halt his progress. Here we'll look at some options he should look towards next summer.
Liverpool
Jurgen Klopp's project is a blooming one for any youngster. Liverpool are on the rise and primed for humongous success down the road. Not only can he gain a winning mentality, but he'll also be allowed freedom to express himself by Klopp. The German gaffer's elevated many young talents. He can use the 18-year-old's trickery, pace, unpredictability to further electrify his attack.
Playing alongside Mohamed Salah, Sadio Mane and Roberto Firmino, he'll learn crucial lessons on how to become more ruthless in the final third. The youngster's exciting ability could create special moments regularly under Liverpool's "heavy metal" style.
Like he does for his national team, the winger can take risks, charge forward with confidence looking for goals knowing the belief the manager has on him. Unlike Sarri, Klopp will rapidly accelerate his growth as a world-class winger.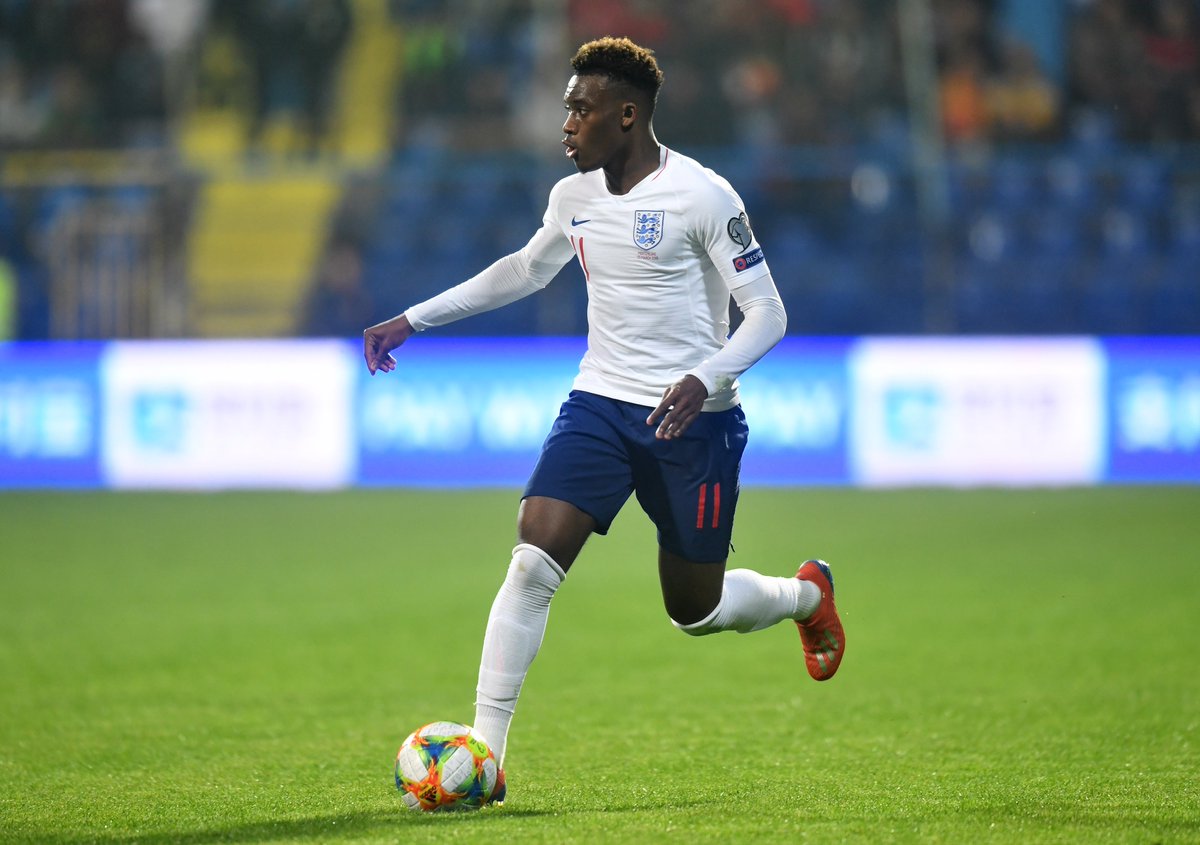 Minutes played by Callum Hudson-Odoi this season:
110 - in competitive internationals
119 - in Premier League
https://t.co/QPDZwj4KNC
Manchester United
With their future now more clear with Ole Gunnar Solskjaer's permanent deal, Hudson-Odoi could be intrigued at a move to the Theatre of Dreams. Solskjaer's keeping up United's values, giving chances to youngsters ahead of the experienced ones. He's almost the Anti-Mourinho, something Hudson-Odoi will appreciate.
The 18-year-old will relish the prospect of playing alongside Marcus Rashford and Jesse Lingard. As United require a quality right-winger, the Chelsea man can be their missing link to success. His ability to outpace defenders, put in quality crosses, cut into the box can light up Old Trafford.
The Red Devils are brimming with promising talent capable of helping him take his game up a notch. He'll also operate under a manager who never shades away from encouraging youngsters, something which can boost the youngster towards picking up gears in his performance level.
Bayern Munich
Like his buddy Jadon Sancho, he could also move up to light up the Bundesliga. Bayern Munich have been hot at his tails for months now, wanting to imitate Borussia Dortmund's trick. Knowing their dominance in Germany and the attacking football they deploy, the 18-year-old could shine amongst some world-class talents.
He'll be groomed as Arjen Robben or Franck Ribery's replacement. Quite a daunting task, yet he's proven to thrive under pressure in recent months. With the likes of James Rodriguez, Robert Lewandowski, Thiago Alcantara, Serge Gnabry around him, the winger could terrorise teams with his swagger.
He fits into their fast-paced, lethal style just perfect. Like the successful English youngsters before him, Hudson-Odoi can also blend in easily in the Bundesliga and become Bayern's new attacking sensation.
Chelsea
So this might seem anti-climactic, yet Hudson-Odoi should ponder about staying considering Chelsea's circumstances. He's loved by the supporters, is popular among his team-mates and knows the club thoroughly.
Not to mention, with Eden Hazard's inevitable departure, he could become a worthy successor to the stylish Belgian. If the winger can win over the stubborn Sarri, he can become the long-term superstar for the Blues. He possesses the swagger, electricity to dazzle fans and turn himself into a huge fan-favourite very quickly.
That being said, a move to Bayern looks to be on the cards. Unless Chelsea can pull a trump card, the young sensation's setting up as the latest wonderkid they've wasted away.