Maurizio Sarri's three biggest problems at Chelsea
Background photo: Vespa, CC-BY-SA 3.0
It's unheard of, but Chelsea has indeed lost their last four away matches in all competitions while failing to score. In 2019, they've conceded more goals than every Premier League club except Fulham. And scored fewer League goals (7) than Sergio Aguero (8).
Before January elapsed, Bournemouth must've thought they'd inflicted Chelsea's heaviest defeat of the campaign. Manchester City had other ideas.
About Manchester City, everyone, especially Chelsea, knows they aren't invincible. The Citizens were soundly beaten at Stamford Bridge in December, but that seems a distant memory now. Chelsea just can't compete away and got swallowed whole by genuine title contenders at the Etihad.
Chelsea isn't a relegation-threatened club, but that's the best way to describe a side that concedes 10 goals in two consecutive away games. All these tell you there are hovering problems at Chelsea. Let's look at the biggest three.
Maurizio Sarri and A tactic
When Chelsea fired Antonio Conte at the start of the season, they were getting rid of a manager that proved too stubborn with almost everything. Then they hired someone just as stubborn, or a little more. Maurizio Sarri has remained adamant with his approach to things as Chelsea gaffer.
Chelsea hasn't won a game from a losing position this season and Sarri hasn't got a clue on how to change that. They play well until they go one down, then things go sideways. It's a major challenge to have a manager who doesn't know what to do or say to lift his players when they're drowning.
Sarri's tactics have also come under intense scrutiny in recent weeks. Apparently, it works, but the results are far too inconsistent – particularly when they play away from home. Sarri's team quickly becomes a mess when teams turn up the pressure. That much has been evident in all their away games since December, including the home defeat to Leicester.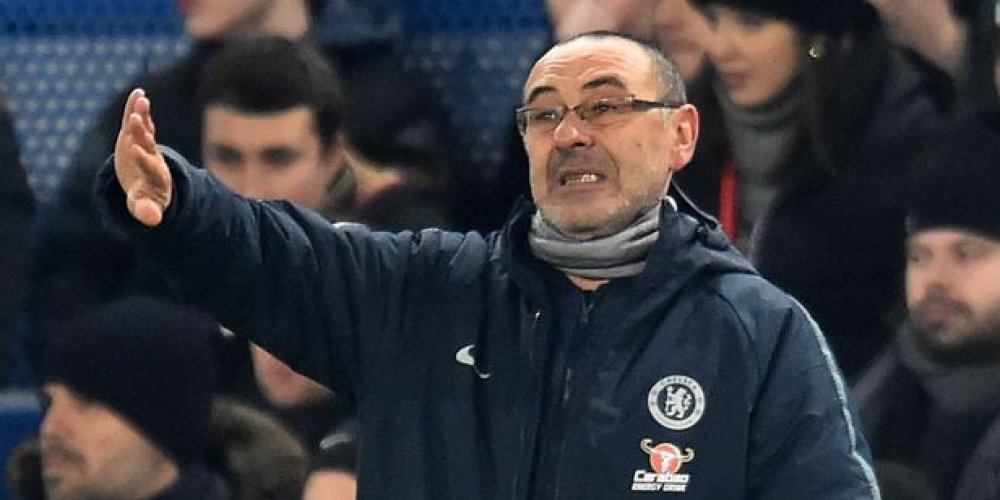 Defensively, Sarri's Chelsea can easily be swept aside, unless you're not persistent about it. The man has N'Golo Kante playing away from where he's the world's best; that's fine until you do that against teams that come at you from all angles. What's wrong with switching tactics midway through a game to save face?
Well, Sarri has insisted he only has plan A for 'his football' and cannot change his mind until 'his football' is played very well. Question is, where will Chelsea be when that happens? In the Champions League place or sixth? I say sixth. Sorry, I looked at the League table first.
Lack of leadership
Don't you just miss the days of John Terry, Frank Lampard, Didier Drogba, Michael Ballack… these were the happy days when true leaders played football for Chelsea. In 2007, these men were on parade when Chelsea hammered City 6-0 at the Bridge; less than a year later they were in the Champions League final.
Besides their resilient performances, the class of Terry were packed with leaders. Men who were incensed with any appearance of lethargy or lack of commitment. Those guys didn't care about breaking their backs for victory – they were that hungry.
Today, there isn't one characteristic leader in that Chelsea side. Cesar Azpilicueta does well, but he isn't influential enough. David Luiz is a 30-year-old in a teenagers body. Eden Hazard annoyingly wants to take all the shine. Willian is too volatile and also self-centred like Hazard. Kante is too nice to everyone. Gary Cahill can't influence anyone from his position on the bench. Pedro has never been one to shoulder responsibility. The rest are either too young or new.
"When I watch them now, they're fantastic players but I don't see leaders." Mikel John Obi told Sun.
Rock bottom mentality
Irrespective of whatever the manager is smoking, Chelsea has players who are paid heavily enough to pull themselves together and prevent an embarrassment – like lose 6-0.
When things like that start happening a conclusion can be drawn that the players have their heads up where the sun doesn't shine. Maybe not all of them, cos it's hard to fault guys like Kante, Azpilicueta and Kepa Arrizabalaga. But the greater majority is guilty.
Perhaps it's time to overhaul the Chelsea squad, starting from the manager. Chelsea needs to bring in a few quality players. Sell Willian to Barcelona or wherever. Sell Hazard to Real Madrid. Sack Sarri. Promote outstanding youth players. Hire a vibrant, dynamic manager. And the Blues will return to being the Pride of London.