Why Eriksen should heed Bale and Coutinho's warnings before ditching Tottenham
Do Eriksen's recent words mean he's set to depart Spurs sooner than later?
A major blow was dealt to Tottenham Hotspur recently when Christian Eriksen announced plans to move on this summer. The Dane's confession came only three days after Spurs' heartbreak in the Champions League final. He told reporters, 'I feel that I am at a stage of my career where I would like to try something new.' With that on record, would a transfer be right for the talented playmaker?
Eriksen joined Tottenham in August 2013 from Ajax. Since arriving, he's scored 49 Premier League goals as well as twice being voted club's Player of the Season. His £11-million price tag has been made a mockery of. Even more so when comparing him to similar-type players who switched to England around the same time. Arsenal's Mesut Ozil is still trying to repay his £42-million fee. The £22-million Stevan Jovetic failed to deliver at Manchester City. To put Spurs' bargain into further perspective, in the same window, they paid £2 million less on Eriksen than Wigan Athletic forked out for James McCarthy and only £2 million more than Liverpool spent to buy Simon Mignolet.
Eriksen continued to produce this term. An exquisite passing range helped him record 12 assists, the Premier League's third highest amount. His performance extends to Denmark, too, wherein he's netted 20 times in last 30 matches spanning three years. Maybe, then, it's time for him to take next career step.
Finding a level up from Tottenham, though, is easier said than done. Mauricio Pochettino's men average a league finish of third place since the Argentine took over five years ago. During that time, they've secured top four all but once. This campaign, they ended fourth as well as Champions League runners-up. In England, there are only Man City and Liverpool better set. La Liga's Barcelona, Real Madrid can both boast superiority, too. As can Bayern Munich, Juventus, and Paris Saint-Germain. Yet, at present, five those heavyweights have bigger problems to solve than the north Londoners.
Madrid are currently bookmakers' favourites to land Eriksen. Los Blancos face a rebuilding mission due to a disappointing season in which they finished 19 points off the pace and crashed out at Champions League last 16 stage. Linking the Spurs midfielder with newly-acquired Eden Hazard would be an exciting prospect, one which could restore Zinedine Zidane's side onto winners' map.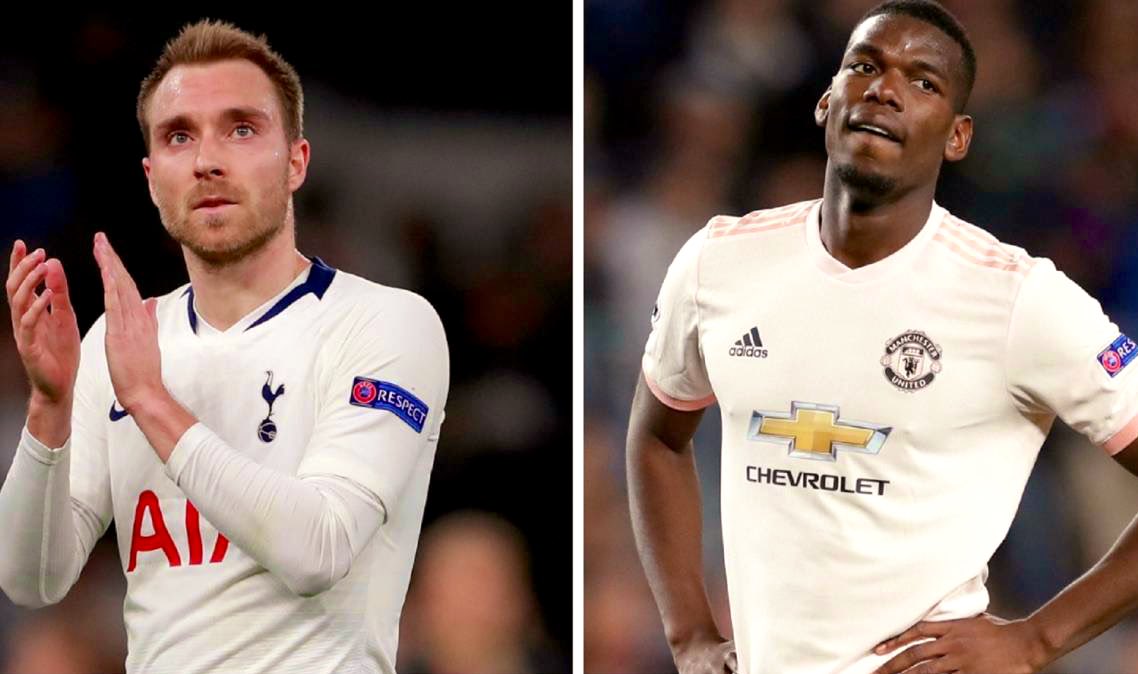 💣 Real Madrid president Florentino Pérez prefers to sign Christian Eriksen this summer, as a cheaper alternative to Paul Pogba! [Sky Sports]
https://t.co/fkfGGZYOhY
Eriksen must be vigilant, however. It's not all sunshine and sangria in Spain's capital. Just ask Gareth Bale.
The Welshman officially swapped Tottenham for Madrid just two days after Eriksen's arrival. Trophy wise, Bale's had a productive experience, winning four Champions Leagues in his first five campaigns, among other honours. He stuck three goals in those European finals, including last season's brace to defeat Liverpool.
Throughout it all, there's been discontent among Les Merengues faithful. Bale's suffered having his car attacked by own supporters following El Clasico loss three years ago and also routinely being jeered inside the Santiago Bernabeu. He's never been truly loved in Spain. Unfortunately for him, things aren't likely to ever change.
The 29-year-old was left despondent on the bench in Real's last La Liga outing. Zidane later insinuated that the winger doesn't fit his team. Moreover, a recent poll showed 91% of Los Blancos supporters want Bale out this summer. What they want they often get. Would Eriksen really wish to risk such treatment?
If that's not reason enough to rethink, then perhaps Philippe's Coutinho's recent plight is. Reports suggest Barcelona are also in the hunt for Eriksen. There are comparisons to be made between now-Tottenham and then-Liverpool. Both's search for their first trophy under Pochettino and Jurgen Klopp respectively, for instance. Coutinho left the Reds, and only four months later they made Champions League final. A year after that, the Merseysiders went one better, defeating the Brazilian's new side en route.
Coutinho had a decent start to life at Barca, but he then plummeted, failing to produce what was expected. His goal contributions in campaign's last 24 matches read just three. As a result, the 26-year-old's days are rumoured to be almost up at Camp Nou.
Barcelona need to recoup a large portion of the £105 million spent on Coutinho in order to boost their squad in this transfer window. Matthijs de Ligt and Antoine Grizmann are two main targets. Coutinho, left surplus to requirements, reportedly tops PSG's shopping list. Alternatively, returning to Liverpool with tail in between his legs awaits.
Philippe Coutinho is worst big name signing in football history along with Gareth Bale.
Granted, Eriksen isn't Bale or Coutinho. They each have different personalities to cope with certain pressures. However, the Dane shouldn't expect to effortlessly transfer his form to a new country. La Liga would pose unfamiliar surroundings but even more importantly, both Madrid and Barca are entirely different animals to Spurs. Particularly Los Blancos considering both ruthless president Florentino Perez and unforgiving fans.
At Tottenham, meanwhile, Eriksen's place is secure. He'll remain one of first names on the teamsheet for as long as he stays. That wouldn't necessarily be the case in either Madrid or Catalonia. As well as Bale and Coutinho's struggles at La Liga's big two, Cesc Fabregas and James Rodriguez also spring to mind. The former couldn't get a footing after returning to his boyhood Blaugrana, while the latter Les Merengues shipped out on loan for past two seasons before giving permission to leave permanently this summer.
During those respective periods, Fabregas and Rodriguez' statuses were similar to Eriksen's. Coutinho's too for that matter. More yet for the ex-Ajax star to think through, Spurs' future is extremely bright. Not only have they got a new state-of-the-art stadium, but they've also an excellent manager who demands his charges' continued improvement.
Eriksen has just one year remaining on his existing deal. He's not completely ruled out extending it. During the interview in which his desire to leave was expressed, he later said this: 'If there are no exciting offers why shouldn't I stay at Tottenham? If I then sign a new contract depends on the situation.' More recently, though, the midfielder was coy regarding his future.
Moving to either Madrid or Barca can work out, of course. Luis Suarez has shined since exiting the Premier League. Also Luka Modric, who made the same switch that Eriksen is currently contemplating. Players' aims of furthering their careers should be lauded. Reaching very top is what it's all about for the game's leading talents.
Yet, Eriksen's potential move is a gamble. It's one which he doesn't have to commit to right now. The main incentive would be a huge wage increase, as Spurs stand a good chance of challenging for silverware next season. A significant trophy at that. The 27-year-old should ignore any approaches and remain involved in Tottenham's project, for another year at least.