Christian Pulisic to Chelsea: All sides explained
The January transfer window is live. Chelsea made its mark proactively. The Blues signed Christian Pulisic from Borussia Dortmund for a reported £58 million fee, the highest amount paid for an American footballer. A Manchester United fan in his childhood, Pulisic was linked to big clubs like Bayern Munich and Liverpool. He will stay with Dortmund until season's end as an on-loan player which makes him the 41st Chelsea player to be out on loan.
Let's look at how it has affected the sides involved:
Chelsea
Any 20-year-old making a big-money move to a top English club is a star in the making. Pulisic is no different. Despite his tender years, he possesses colossal potential and already has significant experience under his belt. He is also the brightest footballing talent the United States has produced in their history. Signing him establishes inroads for the club in the American market.
Pedro and Willian are in their early 30s and lack the verve they once offered. Additionally, both are injured. It's a missed opportunity for Pulisic to ride the bench at the Signal Iduna Park under those circumstances. While a capable wingback, Victor Moses never proved himself as a forward or fullback. He gets one last chance while the young American remains unavailable.
Even though BVB wouldn't release the player immediately, the Blues had to close the deal now. In trouble with UEFA for mishandling youth player transfers, they face a transfer ban. The club must think ahead.
Borussia Dortmund
It is quite commendable how Dortmund push the envelope by selling important players while remaining competitive. key sales raise revenue. Shrewd purchases keep the roster stocked. As long as a balance is maintained, theirs is a model clubs with financial restrictions should follow.
They made a significant return on a player edged out by 18-year-old Jadon Sancho and upon whom they no longer rely. BVB will turn that money into more young players they can develop. Meanwhile, they hold a six-point lead on Bayern Munich in the Bundesliga table. It's all going well at the Signal Iduna Park.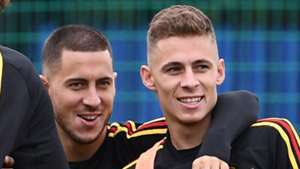 Borussia Dortmund are interested in signing Thorgan Hazard as a Pulisic replacement. Deal with Gladbach running out in 2020.
Real Madrid, meanwhile, haven't made a move to sign Eden Hazard as yet. No contact with Chelsea. No official offer. No verbal agreement over a fee.
#cfc
https://t.co/19EH8soXdc
The Hazards
Eden Hazard is undoubtedly the best Chelsea player as well as one of the talismanic figures in world football. He was 21 when he arrived from Lille. In the seven years he has been with the London club, he has reached his admittedly mercurial best.
With Cristiano Ronaldo leaving Spain to start a new story in Italy, Real Madrid need a leader in the final third. Both Gareth Bale and Karim Benzema fail to live up to expectations for the back-to-back-to-back Champions League winners. Real have not made a Galactico signing since 2014. The Belgian provides a marketable personality with talent to boot. With Pulisic arriving in London, Chelsea can allow their star to leave in the summer for a respectable fee.
Meanwhile, Eden's brother Thorgan has been heavily linked with an exit from Borussia Monchengladbach. Just like Pulisic, he can play any forward role across the pitch. In 19 appearances this season, he has scored 12 goals and provided six assists. His speed, composure, dribbling and quick passes suit Lucien Favre's Dortmund squad. He is 25 and will cost about half the money raised by Pulisic's sale.
Callum-Hudson Odoi
John Terry is the only notable academy graduate in Chelsea's history. The academy is stocked. The Blues dominate youth football in England, winning the most leagues and cups of any club in recent years. Yet, there is no way into the senior team.
The situation is confusing. So is Callum-Hudson Odoi's future. The 18-year-old is too good for youth-level football. All he needs is experience on the pitch which will help him develop his mentality and decision-making. Pulisic's transfer will increase attacking depth for Chelsea which will hinder his development.
Sarri has made clear with his statements that he is not a fan of CHO, labelling him immature and unfit to play in the senior team. There is no lack of interest for him from abroad. Bayern Munich lead the list. On the other hand, if Hazard departs with a transfer ban in place, Sarri may change his tune.