Complacency at Liverpool will be their downfall
Liverpool was complacent as they squandered their 2-1 lead at home to Bournemouth on Wednesday night. While they currently sit in third, their top four spot is in now in jeopardy.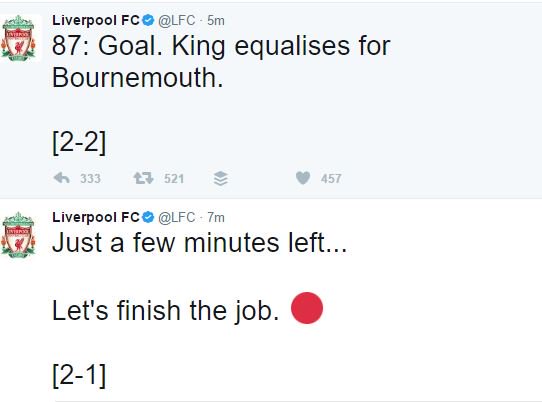 If you take a quick glance at the Premier League table, you will see a team streaking ahead of the pack. you will see one languishing at the bottom and you'll see a rash of Liverpool red sitting pretty in third. They are, other than Tottenham Hotspur, now Chelsea's closest rivals after Manchester City's loss to the league leaders 0n Wednesday night.

Many factions of the Merseyside faithful are known for their naive, vain sense of rightful success; that because of the club's history, they are subsequently deserving of immediate and significant titles and trophies. As such, while it is unlikely that they will haul back Chelsea, it is a standing that sees many of their fans look upwards; a perspective of ambition rather than worry.

That, though, may well be a shortsighted opinion of their beloved club.

Wednesday night also saw Liverpool host Bournemouth, a game that should be a routine victory for a side challenging at the upper echelons of the Premier League. That was far from the case. Thanks to the misguided backpass from Georginio Wijnaldum, Benik Afobe opened the scoring with a lovely finish under the onrushing Simon Mignolet. It was a bad start.

But that is not the primary cause of Liverpool's issue. They proceeded to haul their way back into the game thanks to goals from Philippe Coutinho and Divock Origi, and entered the latter stages with a slender advantage, before missing a host of chances when 2-1 up, failing to put the game to bed. It was their crucial mistake.

Bournemouth equalised in the 87th minute through a twisting and turning Josh King strike before continuing to hold on to their advantage for the remaining few minutes, heading back to the South Coast with a precious point indeed. It was, without a doubt, two points dropped for Liverpool, though. Wth results elsewhere going against them, while their fans continue to dream of success, the reality could yet be another season without Champions League football.

Liverpool currently sit in third position, six points clear of Arsenal in fifth. With just seven games remaining, that seems like an insurmountable chasm. But Arsene Wenger's side have two games in hand and are experienced in their quest in dragging their way back into the Champions League positions. Liverpool, on the other hand, have not been a member of Europe's elite since Steven Gerrard and his fateful slip saw them slide into second in 2014.

And Klopp's side continues to drop points from winning positions. This season, they have dropped 14 points in games that they have won, including a dramatic 4-3 loss to Bournemouth themselves earlier in the season, and more recently, in draws to both halves of Manchester. Liverpool are in dire need of Champions League qualification and it is expected that they will achieve it.

But doubt still remains regarding their credentials. And if complacency continues to unravel their plans, then their season could end in jeopardy once again.