Concussions at the World Cup: Where is FIFA's head at?
Here's an embarrassing story about me. When I was 11, I tried to emulate David Beckham by cutting stylish slits into my eyebrows. My effort was unsuccessful.
The end result of my ill-fated attempt to mimic Mr Spice was, in a word, patchy. The overall appearance caused my mum to fear for my health. She assumed I had been heading the ball too often and with so much vigour that I was beginning to look like Tony Adams. She banned me from playing until the "symptoms" subsided and my hair grew back, which took a surprisingly long time. She had a frightening ability to make me feel guilty with a glance when I had done something forbidden. Like a cross between Carlo Ancelotti's eyebrow and [the old] David Moyes' glare. Intimidating, it was, so I observed the ban.
My willingness to follow orders is not all that common in sport, however. Time and again players ignore professional advice and continue playing through injury. In the case of head injuries, that can have dire consequences.
Mike Webster was a center and four-time Superbowl champion with the Pittsburgh Steelers. His story is considered the starting point for sport's concussion saga. In the middle of the line, he was beaten about the head endlessly. After retiring he drifted away from friends and family until he was found living on the street, suffering from mental illness. He died of heart attack in 2002.
The subsequent autopsy revealed Chronic Traumatic Encephalopathy, a neurodegenerative disease caused by repeated head trauma. The condition can cause cognitive problems, difficulty thinking and depression. CTE is also thought to be the driving cause behind many suicides.
The same condition affected Junior Seau, another gridiron player. Seau committed suicide at aged 43, less than five years after retiring. A first-ballot Hall-of_Famer, his daughter spoke at his induction ceremony.
Jovan Belcher, a Kansas City Chiefs linebacker, killed his wife before committing suicide in the Arrowhead Stadium car park in 2012 while his position coach attempted to calm him. He was 25.
The issue has become so charged that former Green Bay Packers quarterback Brett Favre has backed an Illinois state bill to ban tackles in youth football. Favre holds the record for the most consecutive games played in the NFL but admits to having suffered multiple concussions, and memory loss, during his career.
The authorities have handled the whole question terribly. For years, the NFL and NHL tried to cover up any links between their sports and life-altering brain conditions. Following a class-action lawsuit brought on behalf of several players both living and dead, the NFL agreed to establish an $800 million fund to support players suffering from concussion's effects.
It could be argued that players should take better care of themselves by not rushing back from head injuries, but blame cannot always be placed on stubborn competitiveness. Consider the criticism levelled at Gareth Bale and Jack Wilshere simply for being injured repeatedly and the reverence we hold for players like Favre, who 'suck it up' and keep playing. Although it seems otherwise, the vast majority of players are not millionaires set for life. Without Bale or Wilshere's talent, they'll be released if they spend too much time on the trainer's table. Unprepared to do anything other than play football, what will they do? Sometimes, it's difficult to differentiate between one's livelihood and one's life.
It is also difficult to diagnose concussions. Few connected Lorius Karius' woeful performance in the Champions League final with the sly elbow he received from Sergio Ramos shortly before the first of two glaring errors against Real Madrid. Concussion has since been confirmed as the cause.
Using three NFLers as examples may have you thinking the issue is isolated to more brutal sports like gridiron and rugby. A study headed by Ann McKee at the University of Boston labels that an incorrect assumption. In an interview with WIRED, she set the record straight.
Soccer has repetitive impacts. It doesn't matter how you do it, just that you do it and do it repeatedly.
While Favre campaigns for an end to tackling in youth football the issue of concussions in soccer has become such a concern stateside a 2015 policy change to youth soccer limited players heading the ball. Measures need to be taken at the highest levels.
Iceland's Ragnar Sigurdsson returned to the field of play in a recent group match despite suffering a suspected concussion. Iceland's disregard for the guidelines relating to the treatment of a suspected concussion was not the first instance at this World Cup. Morocco also ignored the Return to Play guidelines when Nordin Amrabat started against Portugal just five days after suffering a confirmed concussion against Iran. The minimum recommended rest period is six days according to FIFA's own guidelines.
As I write this, Nigeria and Argentina are fighting it out for a place in the next round. Two Nigerian players, goalkeeper Francis Uzoho and striker Kelechi Iheanacho, have both been down holding their heads. The former received treatment from the medical staff, before playing on. Uzoho seemed genuinely fine but Iheanacho was subbed at half-time. If the change was due to a concussion, one has to wonder why he was allowed to return to the field in the first place?
We know that players cannot be trusted to have their own best interests at heart. It seems that coaches and match officials are ignoring medical advice, as well. After Amrabat started against Portugal, Morocco's team doctor reportedly told FIFA's head doctor, Michel D'Hooghe, that he felt pressured into passing the Watford winger as fit. D'Hooghe said that he was angry and disappointed, that the incident was in "defiance" of FIFA guidelines. No consequences appear forthcoming.
The team doctor is the most qualified man to make a judgement call on the well-being of players so why are we still seeing players returning to the field of play with bandages around their heads? To fans, athletes are warriors, invincible gladiators with superhuman ability. It isn't the case.
In an article he wrote for the Players Tribune, Swedish NHLer Gabriel Landeskog sums up the feeling of duty that players have to dispel this ideal.
Like most professional athletes, I believed that if something wasn't broken, you shouldn't take time off. This was the kind of pressure I was putting on myself and it's an attitude that runs rampant in sports. The danger we don't always talk about, however, is the incredible pressure you feel to rush back after you've already been diagnosed with a concussion.
Concussion is a complex beast due to its invisibility. Only a tiny percentage of concussions manifest themselves in the stumbling, double-vision stereotype we associate with it. While concussion may be hard to diagnose, taking steps to ensure the safety of players is simple. Or at least it should be.
Football needs to start heeding the warnings provided by other sports. It must treat concussion seriously. While the authorities dawdle on the issue, teams should take a stronger stance to protect their players. If they are serious about safeguarding players [and their financial investment in them] coaches should be directed from on high to always substitute them when a concussion is suspected, whether it is a preseason friendly or a World Cup final.
They should also lobby FIFA and IFAB for a system to make that easier. Both the NFL and NHL. the latter still fighting its own concussion lawsuit, have implemented independent concussion spotters with the authority to have a player removed for examination and not permitted to return without independent medical approval. With such spotters in place in football, an emergency substitute could be sent on while the player is diagnosed and removed immediately upon the player's return. Because the medical staff would be neutral, clubs would not be able to 'game the system' for tactical reasons.
Meanwhile, if a team ignores recovery guidelines and in doing so jeopardises a player's safety, fines, point deductions, and other penalties should be legislated and fully enforced.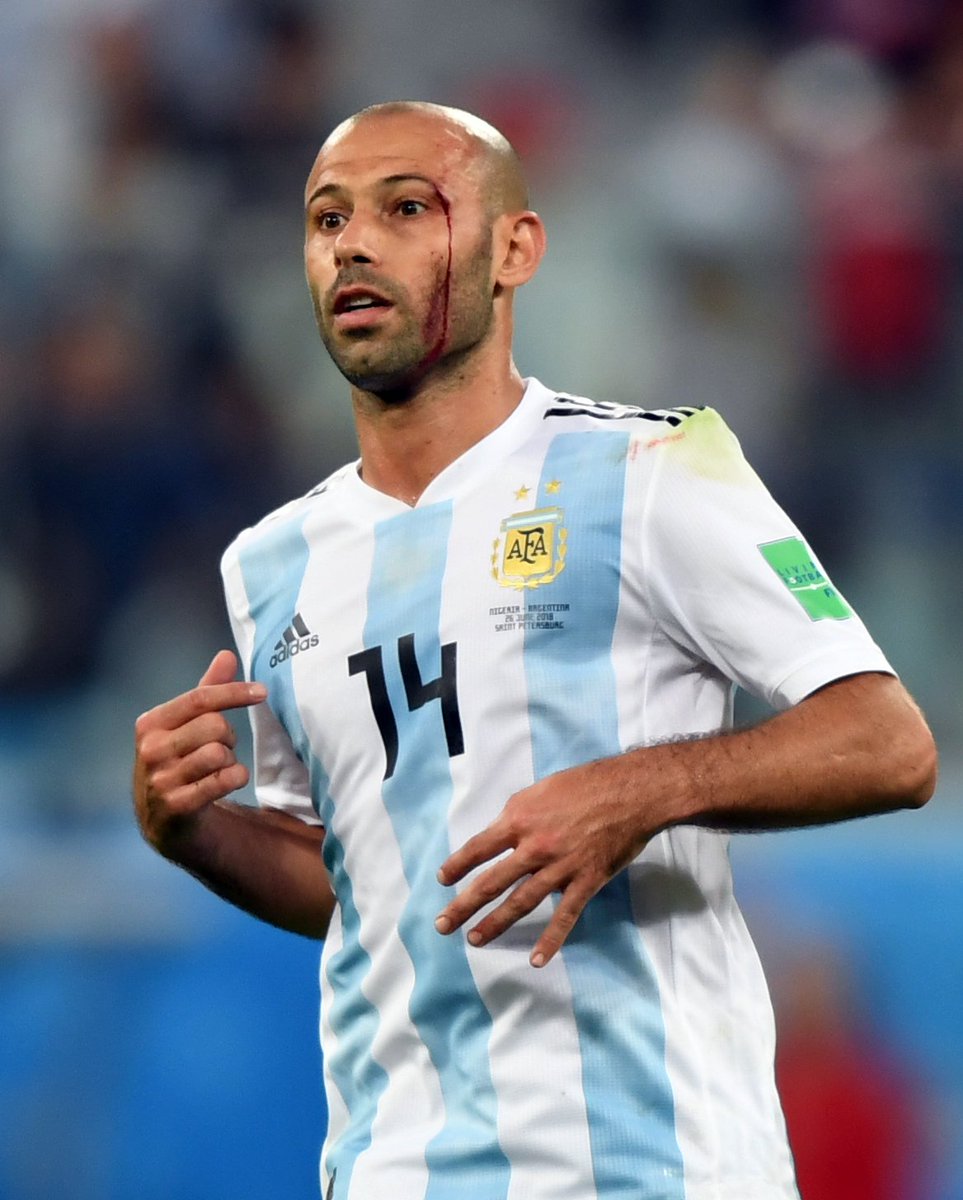 Mascherano, the perfect definition of a soldier that always gives everything for the Argentine National Team.
https://t.co/vi8BpXD1wr
A quick update on the Argentina game: it's 1-1; we're into the last ten minutes. As it stands Argentina are going out and Javier Mascherano is charging around the pitch with blood pouring from a cut on his head. Nobody, including the ref, seems to have noticed.
I would have found it hard to believe that, in the 21st century, a bloodied Terry Butcher would have been allowed to continue manically heading the ball as if his very existence depended on it. Apparently, we still have a long way to go.
Football has the opportunity to learn from other sports' mistakes by implementing effective protocols and ensuring they are followed. If the World Cup is anything to go by, however, that chance is slipping through its fingers. On the biggest stage of all, football is showing the world that it doesn't care about the well-being of its athletes.
Maybe we should start getting players' parents involved. I wonder what the mum's of players like Sigurdsson and Amrabat thought when they saw their sons return prematurely from head injuries. Or Mascherano's, blood running down his cheek. If they were anything like my mum, these players wouldn't even be thinking about stepping back on the pitch.