Living legend: Could David Beckham still be playing?
For Manchester United fans, May 26th will always be a special date. Back in 1999, Sir Alex Ferguson's team would go on to achieve the impossible - securing the *proper* treble in stunning circumstances, coming from behind to beat Bayern Munich in injury time. Nobody will ever win a European cup more dramatically than that.
Fast-forward twenty years and that special Red Devils squad would meet their German foes once more, this time in a charity game with the proceeds going to the United Foundation. Money was raised for a wonderful cause, United would run out 5-0 winners. Gary Neville looked as energetic as ever, Paul Scholes was typically flying into tackles, while predictably, Ole Gunnar Solskjaer would come off the substitutes bench to score a goal within minutes. The perfect tribute to the greatest side these shores have ever seen.
However, one man would steal the show. An evergreen, ageless David Beckham. Now 44 and a father to four, the United legend decided to hang up his boots six years ago back in 2013. At Old Trafford on Sunday, the fans were treated to a masterclass from their former #7 as Beckham rolled back the years in stunning fashion, putting Munich to the sword with inch-perfect deliveries - just as he did at the Nou Camp in 1999.
I guess that technique is something you never lose. Becks was spraying the ball all over the field from the get-go. It felt like he'd never been away and the whispers amongst the terraces suggested that he could still do a job in United's team even now. Well, when it comes to whipping in a cross I'd still much prefer to see Beckham out on that right-wing rather than Ashley Young, that's for sure...
The precision, the skill, the quality and dare I say it, even the pace!? For United's opener, Beckham beat his man as if he weren't even there. He did likewise to wrap up proceedings as he made it 5-0, being greeted by what was probably the loudest Old Trafford roar we've heard all season. It was a masterful performance, a display that brought back memories galore, but it's time for some perspective.
Sure, Beckham will always be able to cross a ball like no other. You never lose that. We have to remember that this match was a friendly played at a snail's pace. Credit to him, but Lothar Matthaus is 58 now, United's prodigal son is fourteen years his junior. It was never really a contest due to the fact that the whole Bayern team was practically older man-for-man - and that'll always make you look considerably better than you actually are.
In this modern-day game, the body is put under more stress than ever before. Pace was never Becks' strong suit. Rather than beating his man with sheer speed, the now 44-year-old would take a touch and whip the early ball into the box trying to surprise his opposite number. There's absolutely no way Beckham would be able to keep up with the speed-demons in this day and age, while tracking back towards the end of games is entirely out of the question. As a right-winger, it wasn't a viable option over a decade ago for the man from Leytonstone. Unless his name is Benjamin Button, that hasn't changed.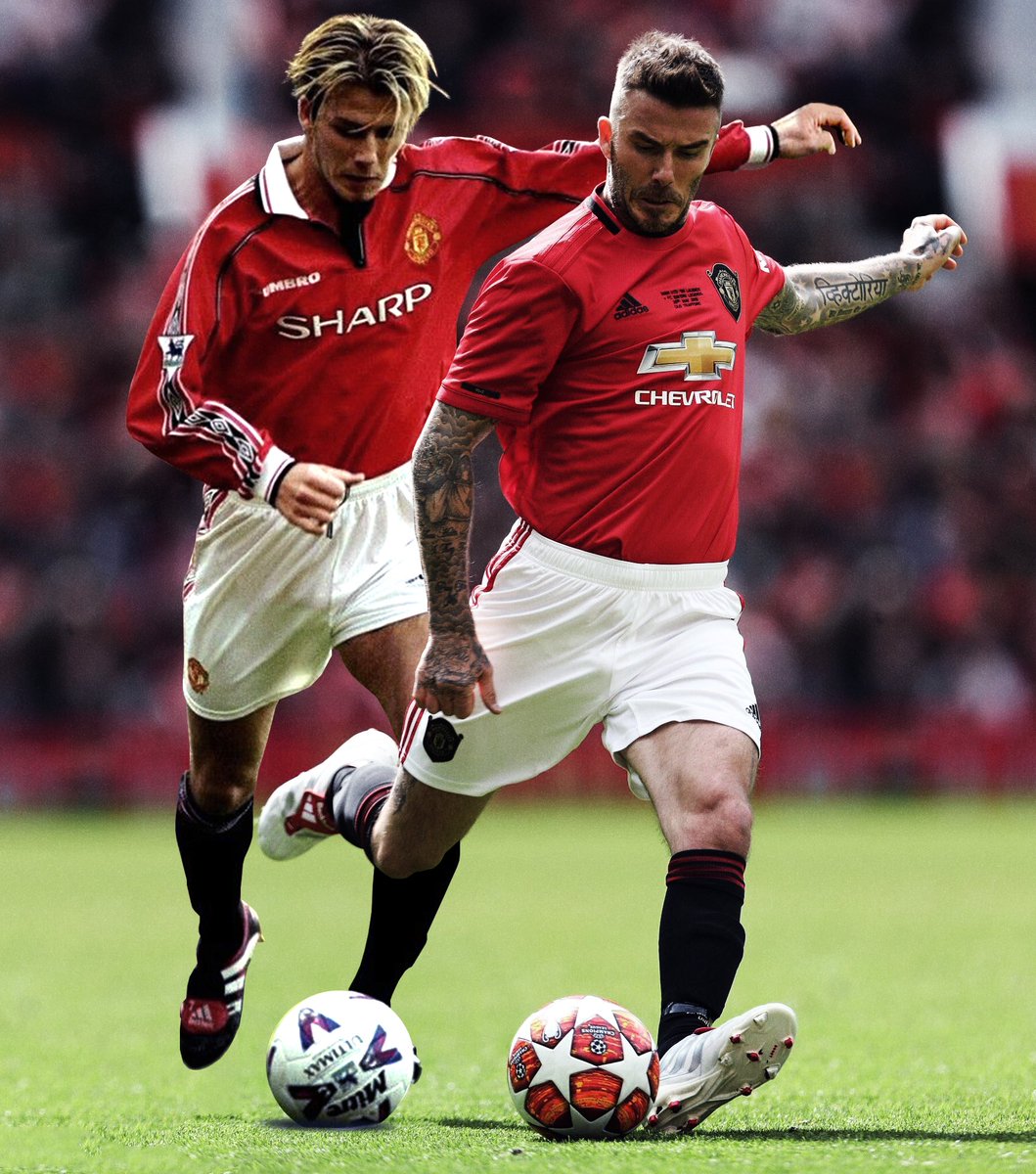 I actually feel pretty confident in claiming that Beckham would have retired far sooner if he didn't switch to a central midfield role in his later years, but that positional change was a genius one. Now it's all hypothetical obviously, but if Becks did want to come back and play professional football again, this would likely be his best shot...
Again, though, he'd have to be realistic. The pace of the Premier League and other elite divisions would be far too much for him to handle these days. He has been out of the sport for far too long to just walk back into the starting line-up of say, a Wolverhampton Wanderers, or even a Norwich City. You'd imagine Becks would have to look down the leagues, at say a League Two side - and even then I'm not convinced he'd still be able to cut the mustard.
Perhaps as a squad player in somewhere like India or Australia, where he'd be utilised mostly as a dressing room influence while continuing to be as marketable as he ever was. In all, though, it's a pipedream. We'd all love to see Becks back in the big time but he doesn't need the money nor would he want to up-sticks and move his family to a country that is completely foreign to him.
The day out at Old Trafford watching Becks in the flesh for what will likely be the last time was just superb, but personally, I'd love to see him back at United in a coaching capacity. That squad could learn a thing or two about beating the first man from a corner or delivering the unsaveable free-kick...