Coventry City goal drought just the latest in a tale of woe
After a lush start to the campaign, Mark Robins' Sky-Blues find the goals have dried up.
Background image: Marion Wunder
There are few things more masochistic in modern society than being a Coventry City fan.
For instance, last week was Yom Kippur in the Jewish faith but it's the rare orthodox practitioner who persists with the medieval ritual of self-flagellation. For their sins, these extremists whip their own backs, usually 39 times. The most ardent Sky Blue supporters might have them beat even if their punishment is only psychological. In the 2019/20 campaign, they will make 44 pilgrimages (reduced of course this term due to the sad plight of Bury) to watch their team struggle in the depths of League One, a competition two tiers below where such a large club belongs.
I say 44 rather than 22 because club ownership, SISU, refused to accept the rent increase imposed by the 32,500-seat Ricoh Stadium's owners, Wasps. Unwilling to meet the rugby club's demands, City now ground-shares with Birmingham City at St Andrew's, 10 miles away. The faithful must travel to every game.
City averaged 12,363 fans per League One match at the Ricoh last term. That's roughly one in three seats sold, technically leaving no supporter with any complaints about elbow room. There can be even less complaint at St Andrew's, where average attendance has dipped by half to 6,337 per match.
The Ricoh Arena holds 32,500, making it [formerly] the 18th largest football venue in England and Wales. If stadium and club size directly correspond, Coventry City should be in the Premier League or, given 18th is in the drop zone, the Championship promotion or playoff places. They haven't competed in the top flight since being relegated in 2000/01. City resided in the Division 1/Championship until 2011/12, never flirting with promotion. Their highest finish was eighth in 2006/08.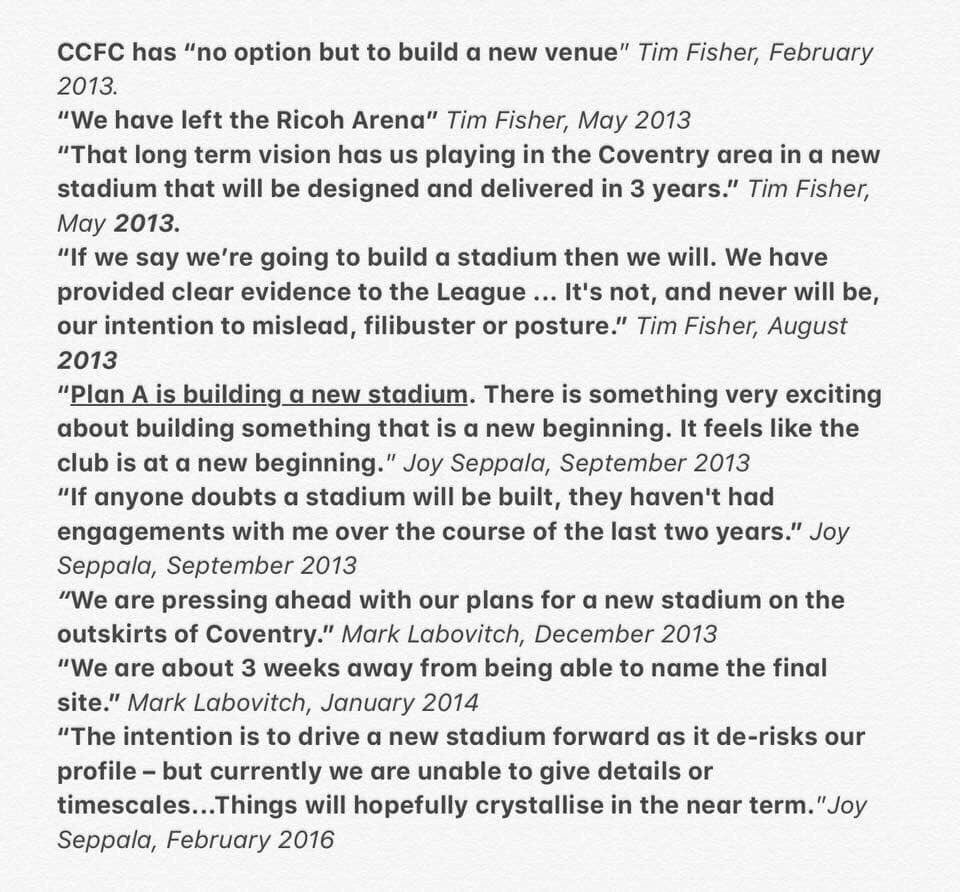 Their steady decline continued in League One, finishing in the table's bottom half until experiencing a false dawn in 2015/16 with another eighth-place campaign. The football gods corrected that error by designating City for relegation to League Two the next season. For once, the Sky Blues responded, finishing sixth and battling through the playoffs to return to League One, last term, where they reclaimed their favourite position, eighth.
Is it possible Mark Robins' side finishes eighth in good years because the number doubles as the symbol for infinity when laid upon its side? Coventry's suffering certainly seems to be of the eternal variety.
In addition to their interminable servitude in English football mediocrity and being saddled with tight-fisted owners of the type who would invent copper wire by fighting over a ha'penny, every silver lining seems to be obscured by a dark cloud.
After beginning the campaign ten games unbeaten, there are signs the bottom is falling out. First came the 0-4 drubbing at the New York Stadium when centre-half Kyle McFadzean was sent off just before the hour trying to prevent Rotherham from taking a 3-0 lead. The ensuing penalty made his banishment a useless sacrifice and Matt Crooks added insult to injury on 75 minutes, completing the rout.
Next, was the EFL Trophy - after a goalless draw with Forest Green Rovers at the New Lawn. It was their second double-goose-egg in the competition. They advanced after defeating Walsall on penalties but hitting seven of nine against Rovers wasn't enough to make up for their impotence from the run of play in the competition. Forest Green converted eight [that number again] rendering Coventry's resistance futile. The man who missed Coventry's final attempt was seeing red for the second time in three days.
Kyle McFadzean misses and Forest Green Rovers win the penalty shoot-out 8-7. #
PUSB
Forest Green: ✅✅❌✅✅✅✅✅✅
Sky Blues: ✅✅✅❌✅✅✅✅❌
Finally, Tranmere Rovers rendezvoused with Coventry at St Andrew's where they escaped with a narrow 1-0 victory despite City dominating possession and creating 19 chances. When you factor in the goalless stalemate against Burton on 14 September, the Sky Blues have scored more than once in a single match from six and found the net only one other time during that span [the one-goal draw with Doncaster Rovers].
On the one hand, Coventry needn't worry about facing a team named Rovers until they hook up with Tranmere again on New Year's Day at Prenton Park. On the other, the goal drought isn't limited to clubs who like to get out of the house.
Robins strike partnership, Matty Godden and Jordy Hiwula, couldn't hit the broad side of an aircraft hangar at the moment. Each missed multiple opportunities against Tranmere in a match that should have ended in the type of score you see from that other team in cerulean blue, the one that would have paid any price Wasps asked for room and board at the Ricoh without blinking an eye
Hiwula, 25, was City's top scorer in 2018/19 with 13 goals. Godden, 28, came over from Peterborough United where he scored 18 in all competitions for Darren Ferguson's League One side. Until their power outage, each was on pace to better last season's totals.
Mark Robins responded to media queries about the problem as though he'd been watching too many of those Hotel.com commercials featuring Captain Obvious.
What's happening with them is they are in need of a goal.
The manager went on to suggest the pressure of needing to score was affecting the duo and that he would try to find a way to remove their angst. The feel-good matchday programme cover honouring local 2 Tone music legends, the Specials, didn't succeed in lightening the mood. Nor did the black-and-white third kit that debuted in tandem with the programme. While it was pure class, especially to feature the Kick-it-Out anti-racism campaign, the form on the pitch didn't match its ambition. These days, the kit sponsor should be All-stop, All-stop.
In truth, there are only two ways Robins can ease the burden on his struggling forwards: bench the players or keep playing them until they score and regain their confidence. With no suitable alternatives, the manager who just last week was touted for the Sunderland job must choose door number two and ride out the difficulties that always seem to arise just after you sign a contract extension that represents the club's faith in you.
Next up for Robins and City are MK Dons. Paul Tisdale's side have their issues as well. They aren't finding life in League One to their liking after last season's promotion. Having begun the season in a similar fashion to Coventry by winning four of their first six, they've now dropped a half-dozen in league play and seven of eight overall. Their only win came in the EFL Trophy to Fulham's U21s. They've been shut out in six of those games with their only two goals coming against the Cottagers' rugrats and in defeat to Sunderland. Ironically, their last win came against the same side and by the same score as Coventry, 2-1 over relegation-mired Wimbledon. The Dons/City matchup appears to be between an unmoving object and a nonresistant force.
If there is a bright side for City it's that the contest is something of a no-lose situation. Claiming all three-points should push them back into the playoff positions from seventh while a draw or defeat might very well drop them into their comfort zone in eighth.
Proceedings kick off at Stadium MK at 3 pm on Saturday. I'd tell you to enjoy it but this is Coventry City we're talking about.