Cristiano Ronaldo throws down the gauntlet in Russia; Can Lionel Messi respond?
In 2016, the Euros were followed by the Copa America Centenario.
At the first competition, Cristiano Ronaldo led Portugal to the final. He damaged a knee ligament in the first half and had to withdraw. His knee wrapped, he emerged from the dressing room in the second half, limping to take up a position in the technical area that he would not relinquish. As manager Fernando Santos urged his team on against hosts and favourites France, Ronaldo alternately hung on his shoulder and jumped in front of him, all the while screaming his own orders and encouragement.
Santos had a haunted, harried look as he tried to maintain his grip on the match. He knew there was no telling his ageing superstar to sit down. That is how much Ronaldo cared. If he couldn't do it with his legs, he would drive his team to victory through sheer force of will. It worked. Eder scored the final's only goal in the 110th minute. July began with Portugal and Ronaldo European champions.
Lionel Messi was in hiding at the time.
A fortnight before he had been in the United States, hoping to break his own major international tournament hoodoo as South America's preeminent competition celebrated its centennial abroad. Messi had been to one World Cup final [2014] and two Copa Americas [2007, 2015], coming out on the losing end in all three. Having just turned 20, the Barcelona prodigy had yet to come into his own in 2007. His teammates took the brunt for a 3-0 defeat to Brazil. Chile had beaten La Albiceleste on penalties in 2015 with Leo now the main man.
It would be Chile again in 2016's final in East Rutherford, New Jersey, across the Hudson River from New York City. Again it would go 120 minutes. Again it would be goalless. Unlike Ronaldo, he would play the entire match. Unlike Ronaldo, he would not take his chances when they came. In the penalty shootout, he missed. Afterwards, he announced his retirement from international football.
For the better part of a decade, the two most talented footballers the world has seen had battled for supremacy. With [now] five apiece, you can call it the Ballon d'Or War. Until that summer two years ago, most observers considered the Argentine to be the committed, determined hero and the Portuguese to be the preening, whiny primadonna. Suddenly, the reverse was revealed as the truth.
Interim Argentine boss Edgardo Bauza would journey to Barcelona while the Argentine Federation rode out a financial scandal and possible bankruptcy. He cajoled Messi out of his funk, out of retirement. Bauza has since moved on. Argentina and Messi are Jorge Sampaoli's responsibility now.
For the past few months, writers at Round and White and elsewhere have been speculating on two things.
First, was the Ballon d'Or War finally ending? Both men are in their 30s. Neymar is on the rise. Mo Salah has emerged from the desert where Jose Mourinho used to banish talented Chelsea players. Other young stars are coming of age. Eden Hazard has a chance to come into his own with Belgium in this World Cup, Paul Pogba and Kylian Mbappe the same for France.
Second, with another La Liga title and UEFA Golden Boot on his CV, was Lionel Messi ready to finally put his stamp on the World Cup? Could he score the goals that would carry Argentina to a third Jules Rimet Trophy?
Then Spain and Portugal played their opening match in the Fisht Stadium in Sochi and it appeared we had been asking the wrong questions.
Ronaldo duped Real Madrid teammate Nacho into committing a penalty on the edge of the box. The Portuguese no.7 sent David de Gea the wrong way to give the Selecao a 1-0 lead. Diego Costa levelled. Just before the half, Ronaldo jigged his way free at the top of the box and sent a low drive that bounced just in front of De Gea, then stunningly off the heel of his hand into the corner netting. The two Manchester United living legends had never been teammates, but they had faced off twice in this match with the departed one winning both battles. How had the world's best keeper missed such an easy save? Ronaldo didn't care. His side led 2-1.
Surprisingly, considering La Roja were thought to be in turmoil after sacking manager Julen Lopetegui 48 hours before kickoff, Spain weren't affected either. They dominated possession in the second half. Isco practised legal sorcery on the pitch. Costa equalised a second time. Then Nacho made up for his mental error with a brilliant volley from the edge of the box that even Lev Yashin couldn't have risen from the grave to stop, let alone Rui Patricio. Spain were winning 3-2.
But Ronaldo only needed an opportunity. Another former United player gifted it to him. Gerard Pique needlessly pushed the Portugal star to the turf just outside the box.
De Gea would have another chance to stake his claim to greatness. As he set his wall, however, you only needed to look into the waiting Ronaldo's eyes to know whose moment this was.
When the time came, he stepped into the free kick, bent it around the wall, into the top corner. De Gea took a step towards it but didn't leap, knowing he had no chance.
The match ended a draw that was the proverbial two points won for Portugal and two dropped for Spain. Ronaldo had all three Spain goals, his 51st personal hattrick, the same number in World Cup annals. The three goals doubled his total in the World Cup.
In truth, pundits hadn't discussed Cristiano that much in relation to this competition because he's never stood out in it before. His previous goals weren't timely. They didn't carry Portugal deep into the competition. In one evening, that has changed. His six goals on this stage are now one more than Lionel Messi. The thought is creeping into people's minds that maybe, just maybe, Portugal can win this thing.
Argentina play Iceland today. The ball is now on Messi's foot. Can he answer his old rival? Can he prove his greatness? It's raged for a decade but the Ballon d'Or War isn't over. Cristiano Ronaldo just took it to DefCon One with his performance against Spain yesterday. The World Cup is well and truly on.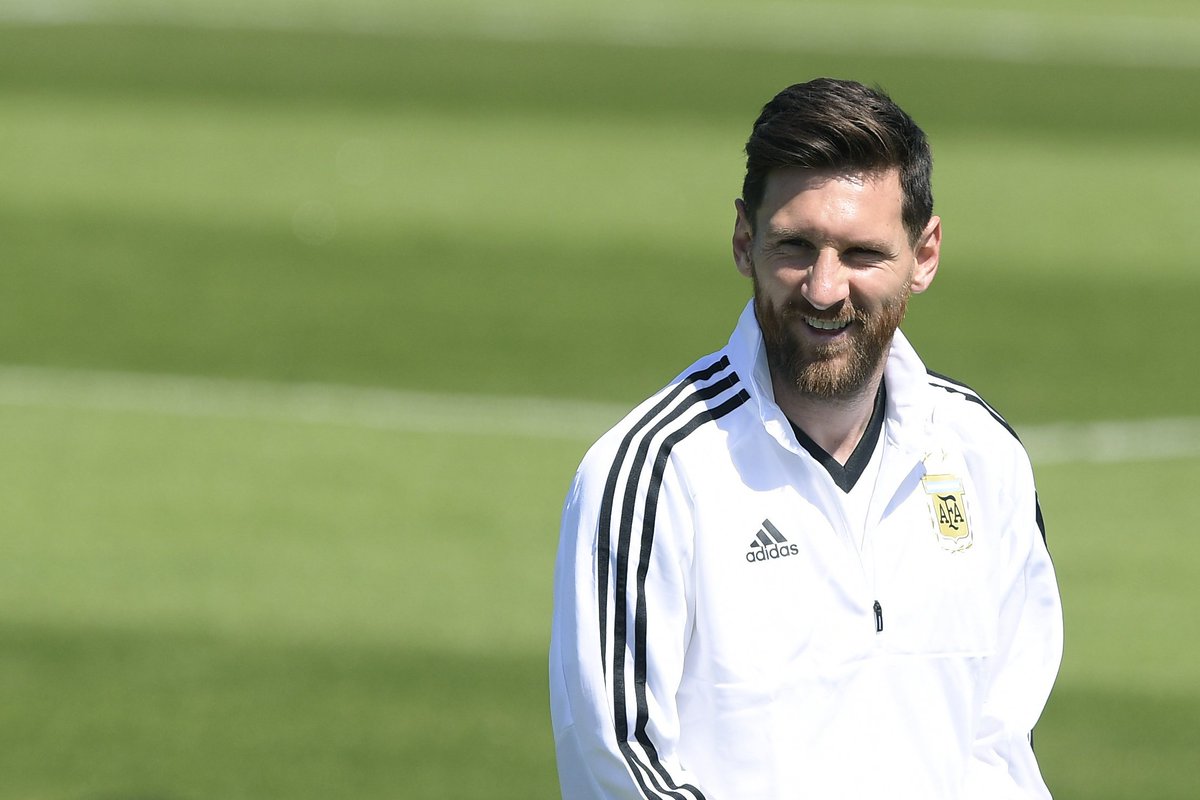 Challenge accepted?
Twice in Messi's career has he scored a hat trick a day after Ronaldo scored a hat trick (Sept. 17-18, 2013 and Dec. 6-7, 2014).
https://t.co/pj9yr8sqPi