Are Tottenham, Pochettino too predictable?
Tottenham Hotspur have been wretched in the Premier League since the turn of the year. After dispatching relegation-bound Cardiff City, 3-0, on 1 January, Spurs have been pedestrian, predictable and ponderous.
A look at last season's form guide tells everything you need to know. From matchday 25-38, Tottenham sit 12th in the league; 30-38, they drop to 13th; the final four games, they're second-bottom only bettering Burnley.
If that isn't gloomy enough, the form table for the last 15 matches, including this campaign's opening three games, has Spurs third from bottom (not taking into account relegated or promoted teams).
Four wins, three draws and eight losses. Simply not good enough for a side with aspirations to retain their Champions League spot.
Little surprise then, Tottenham were nullified by Steve Bruce's Newcastle United on Sunday. Down on their luck, with little creativity and brittle confidence, they have a habit of gifting such teams points.
A litany of narrow defeats against struggling sides is a damning indictment on Spurs' inability to adapt and be versatile.
Losses against Bournemouth, West Ham United, Southampton, Burnley and Wolverhampton Wanderers represent a glaring weakness. Taking on teams which defend stoically, placing ten men behind the ball, Tottenham all too often come up short.
At their very best, Spurs are an exciting watch. Quick passing, clever movement and crucially, a ferocity out of possession.
Against bottom-half outfits, however, they can't find sufficient space. Suffocated by a rigid back-line and densely packed midfield, Mauricio Pochettino's men struggle to get through.
Why? Are the players not taking these games seriously enough?
Pochettino's insistence on respect and discipline rules this one out.
Are the players not good enough, then?
Take a look at Tottenham's line-up against Newcastle.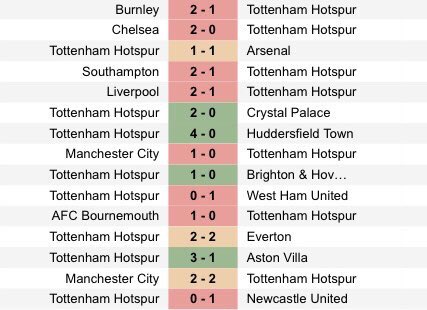 Are the tactics wrong?
Perhaps.
It was all rather tedious against Newcastle. Sideways passing, little insurgency and no real design behind Tottenham's method. It's a story their fans have become used to.
Pochettino deployed both Son Heung-min and Erik Lamela against a side he knew would sit deep and refuse space. Those two attackers thrive when the game is open.
Constantly, both Son and Lamela received the ball in front of the Toon defence, not behind it. Hoping the two could beat a man to deliver a pin-point cross is tactically regressive and uninventive. When they did shimmy past an opponent, their teammates were profligate. Lucas Moura missed several chances.
Only once Christian Eriksen and Giovani Lo Celso came on did Spurs look genuinely threatening. With Eriksen's future yet to be cast and Lo Celso still new to the league, the team's toils against defensively rigid sides may continue.
Indeed, it could cost them dearly. Tottenham finished in last season's top four largely due to a good start. By matchday 13, they had won the same number of games as Liverpool and were only five points behind table-topping Manchester City.
Should Spurs continue to spurn matches where a win is achievable, they may leave too much ground to recover. Although their next six games are all winnable, the way in which they stalled against Newcastle and spluttered against Aston Villa suggests they'll continue to throw points away.
Next up at home Tottenham face Crystal Palace. Besides the top six, this is the team they'd least want to welcome. Fresh from inflicting an embarrassing defeat on Manchester United, the Eagles will fancy their chances. Indeed, they finished sixth in the league's away-table last season. Palace defend resolutely and punish on the counter-attack.
Then travel Southampton, Watford, Sheffield United, Bournemouth and Burnley. Names which shouldn't make Spurs supporters wince, but do. For they know every side will likely approach those games with a defensive mind-set, seeking to stifle their one-dimensional team.
How can things change?
Pochettino will be planning for life without Eriksen, but the Dane must start every match while he's still at the club. Against Newcastle, his two key passes in half-an-hour surpassed Lamela's 60-minute effort of zero. With him and Lo Celso, Tottenham are more incisive.
It's not rocket science. Creative players are needed against obstinate defences. Manchester City started with two playmakers away at Bournemouth recently in David Silva and Kevin de Bruyne. They won convincingly, 3-1.
Granted, Moura, Son and Lamela can be creative forces, yet they rarely unlock a defence or find a killer pass.
Dele Alli is set to return against Arsenal on Sunday. The Englishman can shoulder some of Tottenham's creative burden. However, five goals and three assists in 25 Premier League appearances last season suggest Alli's initial thrust, scoring 18 goals and providing seven assists in 2016/17, has been severely blunted.
Pochettino deployed a 4-2-3-1 formation against Newcastle. Though Spurs were caught out on the break, they do not need to play two holding midfielders at home to such opposition. Truthfully, the Magpies' goal was a product of half-hearted closing down by Moussa Sissoko and sloppy marking.
Tottenham should experiment with a 4-1-2-3 system, with just one midfield protector and two creative fulcrums in-front, forming an upside-down triangle. In the ilk of Pep Guardiola's City, this formation will give licence to Pochettino's two creators, allowing them to continually probe and test out defences.
With the emphasis on creation, Spurs can arrest their worrying slump to prevent further damage.