The curious case of Juan Mata
It's a question that causes a clash among Manchester United faithful. Juan Mata, should he stay or should he go?
Juan Mata's contract expires this summer. In his two seasons at Chelsea, the Spaniard owned the Blues' Player of the Year award. Since arriving at Old Trafford in 2014, he's been inconsistent when in the lineup. In some matches, he pops up everywhere. In others, he vanishes. Ole Gunnar Solskjaer remains Manchester United's caretaker boss but recently began answering questions regarding upcoming transfer policy. Someone should inquire whether Mata is in his plans. While the 30-year-old's positive attitude and philanthropy are public relations boons for the club, he must perform on the pitch as well. Following Chris Smalling, Phil Jones and Ashley Young, should he be the next veteran offered a new deal? Let's argue the merits of his case.
Arguing for the defence
As a United player, Mata has always been a loyal servant, a top professional. The closest he came to airing dirty laundry in public was shouldering past Jose Mourinho when the Portuguese subbed him out in stoppage time during the 2016 Community Shield against Leicester after inserting him just beyond the hour mark. It's an unwritten rule that substituting a substitute, barring injury, is an insult of the highest order. Treat Mata with dignity, however, and he is up for anything, anytime. He prefers to slot in as the No.10 but didn't protest when Mourinho shifted him to the right flank.
His weekly blogs and charitable movement urging players to donate one per cent of their salary to Common Goal place the club in a good light. Without suggesting ulterior motives, goodwill is a valuable asset that a player can offer in addition to his football skills. Paul Pogba's social media and prolific endorsement portfolio positively impact United's image. Juventus signed Cristiano Ronaldo both to win the Champions League and increase their marketability. CNBC reported the Old Lady sold more than half a million Ronaldo kits within 24 hours of their initial release. The gross proceeds from those sales exceeded 50% of his £105.3 million transfer fee.
Of course, goodwill and marketability must be valued in proportion to one's talent on the pitch. The Spaniard is not Pogba. He is not CR7. Nonetheless, Mata contributes, often in big ways. His free kick against the Bianconeri in Turin completed a 2-1 comeback that was critical to United's progression to this season's Champions League knockout stages. Without that effort, the even more remarkable reversal against Paris Saint-Germain wouldn't take place. The Red Devils would not be facing Barcelona in the quarterfinals. Whenever he plays, he gives his best.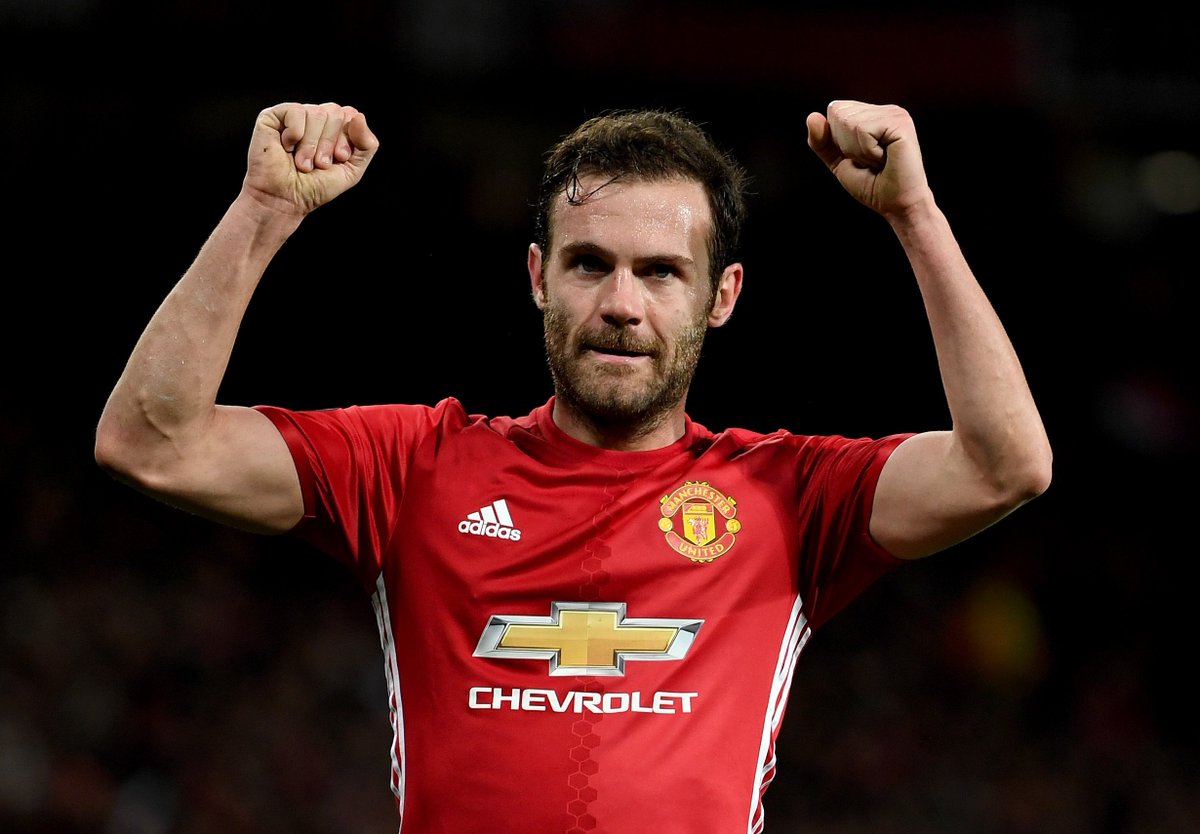 No midfielder has been directly involved in more Premier League goals since 2011/12 than Juan Mata.
45 goals
43 assists
Easiest one yet. 😉
https://t.co/obsYOBgBaj
Just as United can use solid players like Smalling, Jones and Young to provide cover for new signings in defence, a veteran impact sub unintimidated by the gravity of the moment is a tool every manager loves to have in his box. When Andreas Pereira looks a little overwhelmed or Jesse Lingard has run his race, Mata can come into the game to settle matters or provide a change of pace. He also gives Ander Herrera and David de Gea a compatriot help them deal with life away from home, a Spanish uncle as it were.
The diminutive forward lacks pace but provides experience, vision and a deadly left foot on the pitch. He enhances that with positivity and leadership off. When the likes of Marcos Rojo and Phil Jones can be given a chance, there is surely a place for Juan Mata.
Arguing for the prosecution
Mata's charity work doesn't make up for his inconsistency when he steps between the white lines. While it's true Louis van Gaal and Jose Mourinho only gave Mata decent runs in the squad when others were injured, the game's pace and youth pass him by. As a substitute, he isn't the type to bring on when you need a goal. He hasn't surpassed ten in a Manchester United season.
He'll deliver the occasional brilliant moment like the one against Juve, but the manager cannot rely on it. Both his expected wages and minutes can be better spent on developing young talent like Pereira and perhaps Angel Gomes.
The cost will be times when a steadying hand in attacking midfield is required but, like Nemanja Matic, he is just too slow for the team.
Solskjaer hinted to reporters that the club anticipates four summer signings. One absolutely must be a pacy right winger to complement Anthony Martial and Marcus Rashford when either is deployed on the left. There is no place for Mata if United plan to challenge Liverpool and Man City in the league next season. He'll be missed but it's time.
Verdict
I think he should leave United next summer. It is beneficial for both parties. A smaller Premier League or La Liga club can use him like Wolves do Joao Moutinho. There's even a rumour Juventus are interested. I'm not devaluing the positives he brings to the table. United deserve Juan Mata. They just don't need him.