Where should Dani Alves conclude his iconic career?
As Brazil embarked on a brighter future thanks to their Copa America glory, it was the old guard laying the pillars for their future success. No Neymar, so what? Dani Alves' heroics in rolling back the years showed him as the warrior he is.
Be it with an aggressive display against rivals Argentina, or leading the Selecao from the front with his persuasive nature, the 36-year-old was a joy to behold. In the end, many could've been left surprise watching him lift the Golden Ball award, but his impeccable influence definitely proved he still has fire left in his tank.
While the Copa America euphoria sits in happily in his mind, the persisting question is on everybody's mind; Where will Alves go to next, after departing French champions Paris Saint-Germain? Heroics in his homeland definitely amplified the right-back's value, with some big hounds circling over to take him under their wings.
It's no secret Alves still has a few years left on his clock. For a player who's won everything, lifting a record forty trophies in his career, anything but the best is a downgrade. The hunger for winning trophies has become like a drug, as there's little doubt the Brazilian must move somewhere he can further amplify his legendary status before hanging up his boots.
The 36-year-old is enjoying a well-deserved vacation but faces quite the dilemma... The options on his table are varied, with each coming with its positives as well as negatives. Unai Emery apparently wants him at Arsenal to compete with Hector Bellerin, as a move to the Premier League must be on his bucket list.
The Gunnars electric, attacking style will encourage Alves to show off his samba techniques. Linking up with clinical strikers Alexandre Lacazette and Pierre-Emerick Aubameyang with his creative crosses could bedazzle the fans He'll also have ample freedom to burst forward, take on defenders and be that right-wing magician the Spaniard's lacking. However, Arsenal's defensive weakness mingled with a relatively weak squad means silverware's hard to come by.
He'd have to endure multiple humiliations in Emery's rebuilding project, which is more long-term than he'd prefer. A dream could quickly turn into a nightmare. It's safe to say he'd want to end his career somewhere he's more comfortable. Atletico Madrid are apparently proposing a return to Spain, with Diego Simeone still hunting for Sime Vrsaljko's replacement.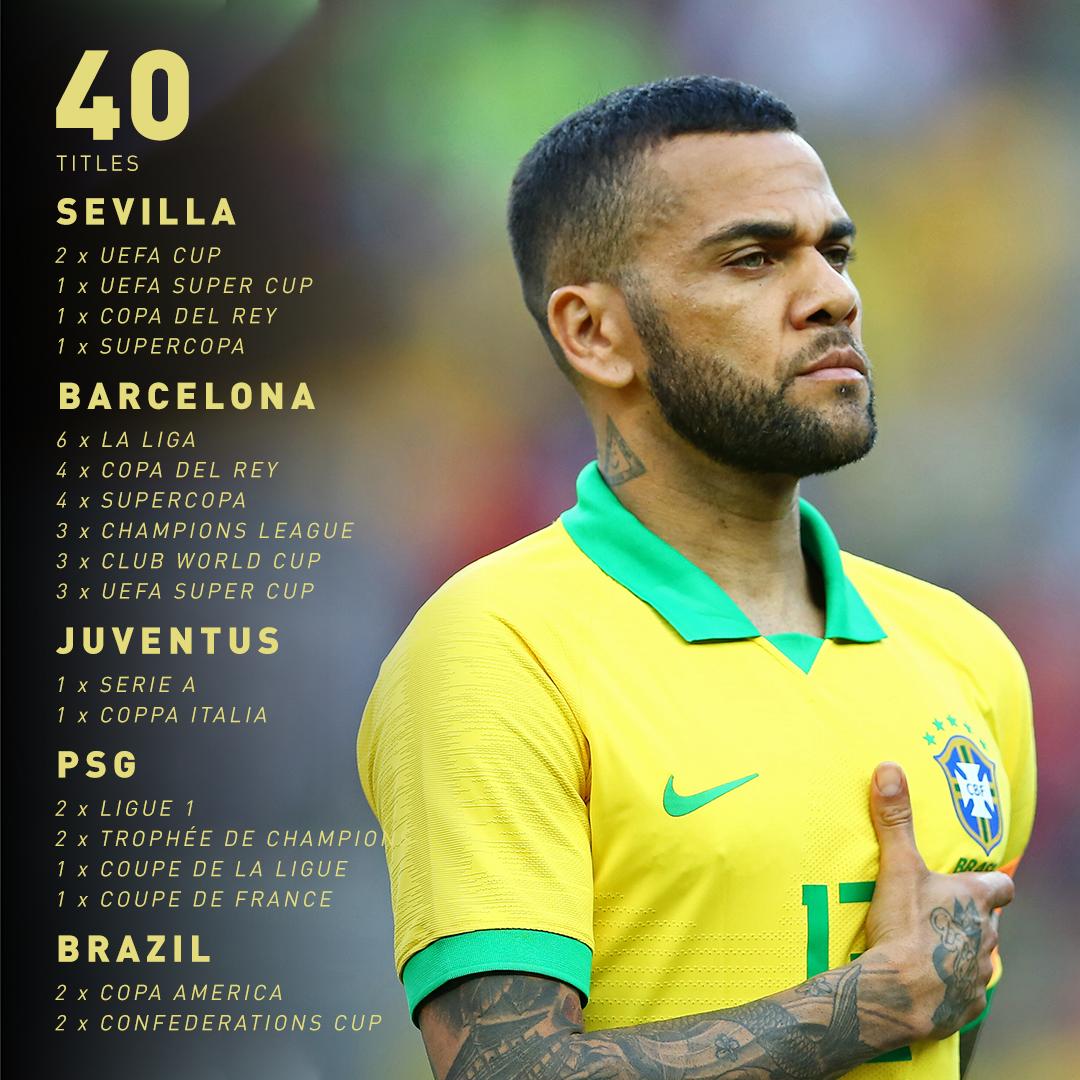 🏆🏆🏆🏆🏆🏆🏆🏆🏆🏆
🏆🏆🏆🏆🏆🏆🏆🏆🏆🏆
🏆🏆🏆🏆🏆🏆🏆🏆🏆🏆
🏆🏆🏆🏆🏆🏆🏆🏆🏆🏆
@DaniAlvesD2 is the first player in history to win 40 trophies.
#CopaAmerica
https://t.co/XJWM3Tuk6E
Los Rojiblancos have churned up a solid unit, especially with Joao Felix's big-money addition. Not only would the Brazilian's defensive solidity be amplified in Simeone's rigid defensive system, but he'll inherit full control over the right-wing. He could anchor attacks, burst forward and create chances for their opportunistic men up-front. However, competing against Spain's top dogs remains a surmounting prospect.
However, the 36-year-old also perhaps has the opportunity to return home that is the Camp Nou. Indeed, Barcelona circle around bringing back the Brazilian star, a pivotal reason for their success in Pep Guardiola and Tito Vilanova's reigns. The reason for the Blaugrana selling him in 2017 being he had started losing steam.
If Alves' recent work displays anything, he's still the menacing wing-back he was at Barcelona. Ernesto Valverde's confusion with his defensive set-up could be solved with an experienced addition. Despite his differences with former best-friend Lionel Messi in international level, there's little doubt that'd be water under the bridge if a chance to rekindle their fiery partnership comes up.
Moreover, mentoring Nelson Semedo to accelerate his development could bring long-term rewards to Barca. He can also influence the younger figures into representing the characteristics of the club and understanding the values Barcelona stand for. Most importantly, the Brazilian would perhaps be the missing spark to help Messi and co get their hands on another UEFA Champions League trophy with his elite, powerful mentality helping them stand firm against pressure.
Dani Alves won twenty-three medals during his tenure at Barcelona. Their partnership was unfortunately broken in false pretences. With both having lost their European mojo in recent years, perhaps aligning once again is beneficiary towards reaching Europe's pinnacle, while also ending the Brazilian's career on an all-time high...