David Beckham asks, Are you Inter Miami?
People who share values often remain separate due to their methods.
Michael Jordan's an excellent example. The greatest player in basketball history and current Charlotte Bobcats owner grew accustomed to criticism regarding his lack of social activism long ago. Advocates for athletes taking a vocal role in society find fault with his silence and business priorities. Quotes like "Republicans buy shoes, too," communicated a nuance that fails to be appreciated in a polarised culture.
Jordan doesn't think athletes shouldn't participate in policy debate, fight racism, sexism, police brutality, voter suppression, gender equality or other important issues if they so choose; he's more comfortable leading by example. On the court, he demanded the ball in critical moments. In business, he regularly fills powerful positions in his companies with minority and female candidates. He just doesn't say "Look at me, look at me," while he does. A generation before Colin Kaepernick, Jordan was the Nike brand's face. As such, he took the iconic slogan literally. Just do it.
David Beckham represents Adidas, not Nike. He's far less taciturn than Jordan although similarly circumspect. While he says a lot, often with an effusive smile, it's always carefully constructed to be inoffensive. The real message in his actions is often unspoken and unnoticed by those unwilling to listen.
Beckham's known for his charitable work. Forbes reports he donated his entire $5.3 million salary while at Paris Saint-Germain to children's charities. They're right that he can afford it given his other business ventures. It's also a safe form of activism. Few people oppose kindness to children.
Listen to the subtext in David Beckham's remarks regarding the naming process for his MLS club. You'll realise he cares about more controversial matters, as well. Adidas spokesman or not, rather than talk about bigotry, he just does something about it.
When Golden Balls joined MLS in 2007, after proving Real Madrid boss Fabio Capello wrong in his judgment that the glamorous midfielder had nothing substantive left to offer the squad, he had an option to buy a Major League Soccer expansion franchise at a discount rate after retiring written into his contract.
In return for the locked-in $25 million fee, the league set a few conditions. Beckham was permitted his choice of open markets but could not start a competing franchise in an existing one. That ruled out lucrative cities like New York and Los Angeles. In 2013, Beckham chose Miami. There were larger populations available. Atlanta wasn't awarded a franchise until the next year, nor Minneapolis. Tampa, Phoenix, and Detroit remain unrepresented by MLS. South Beach best matched Beckham's glamorous persona.
The rest of the city hasn't been so hospitable, however. Beckham and his partners faced a long, continuing fight to secure a stadium site despite agreeing to private financing rather than taxpayer money. Corporate interests and rich landowners barred the way. Miami Beckham United expressed interest in the outdated, decrepit Orange Bowl property, but the city elected to publicly finance a stadium for baseball's Marlins. That team's owner, Jeffrey Loria, broke several promises to the city once the venue was built, making it even more difficult for MBU to secure approval despite their commitment to private financing. Sites near the Miami Heat's arena and in the Port of Miami were also rejected. Property in Overtown was purchased and agreements with the city secured after a long legal battle with a property developer, but new, local investors in MBU persuaded Beckham to forego the Overtown plan for a larger property near Miami International Airport. Opposition to that project is gathering strength.
Jorge and Jose Mas' late arrival to the partnership bristled other MLS owners, who felt they were losing out on a hefty profit while the pair snuck in through the back door. A decade after Beckham signed his contract, franchises were going at six times the rate he was promised.
Nevertheless, MLS Commissioner Don Garber honoured the agreement. There's a simple reason. Miami fans are the least loyal in any major North American city. With so many entertainment options in the market, teams struggle to hold fans' interest.
The Marlins rank at or near the bottom of Major League Baseball attendance figures every year. The Heat finished no better than 20th in any NBA season this decade, even during their four consecutive Finals appearances when Le Bron James was in the squad. The NFL Dolphins' figures fluctuate. They ranked as high as tenth in 2014 but were in the 20s in the seasons before and after. The Florida Panthers' attendance draws mockery from rival NHL cities but the team plays its games in Sunrise, Florida, 50 kilometres from Miami. In addition to four professional teams and a major college football program, beaches, clubs, sportfishing and diving are all year-round pursuits. Key West and Disney World are short drives away. The weather's fair; so are the fans. MLS needs a strong celebrity to promote the franchise if the league is to succeed in South Florida.
Before Garber became commissioner, steering the league towards its wage-capped baby-steps approach to growth, there was an MLS team in Miami. The Fusion played their games in Fort Lauderdale due to the same stadium issues MBU faces. In addition, the summer schedule, when heat and humidity are brutal in the region, hurt attendance. Even though the team developed into an MLS Cup contender, the league elected to shut down both South Florida franchises in 2001.
MLS' business model is also a major hindrance to a strong Miami team. One thing attracts local sports fans: a winner. The Heat's arena is always packed in the playoffs, if not the regular season. But Major League Soccer's salary cap necessitates a dearth of talent save for the three name players it permits every team to sign. Beckham's team cannot spend its way to the top.
Meanwhile, cable and internet allow football fans comprehensive access to top leagues in Europe and South America. A better product's available in the air-conditioned comfort of home.
Beyond all these adverse factors, Miami's population is a melting pot comprising anglophiles, Cubans, Dominicans, Puerto Ricans, Mexicans, other Latinos, Haitians, Jamaicans, various Caribbean Islanders and plain old African-Americans. Like the rest of the country, these groups tend to split along racial and cultural lines. Appealing to all is impossible. Businesses tend to choose one target market. In most cases, it's the group with the most money, the affluent Anglo community.
David Beckham chose a different route. In selecting a name for his franchise, he went for a distinctly South American feel. Internacional Club de Football Miami is a reality.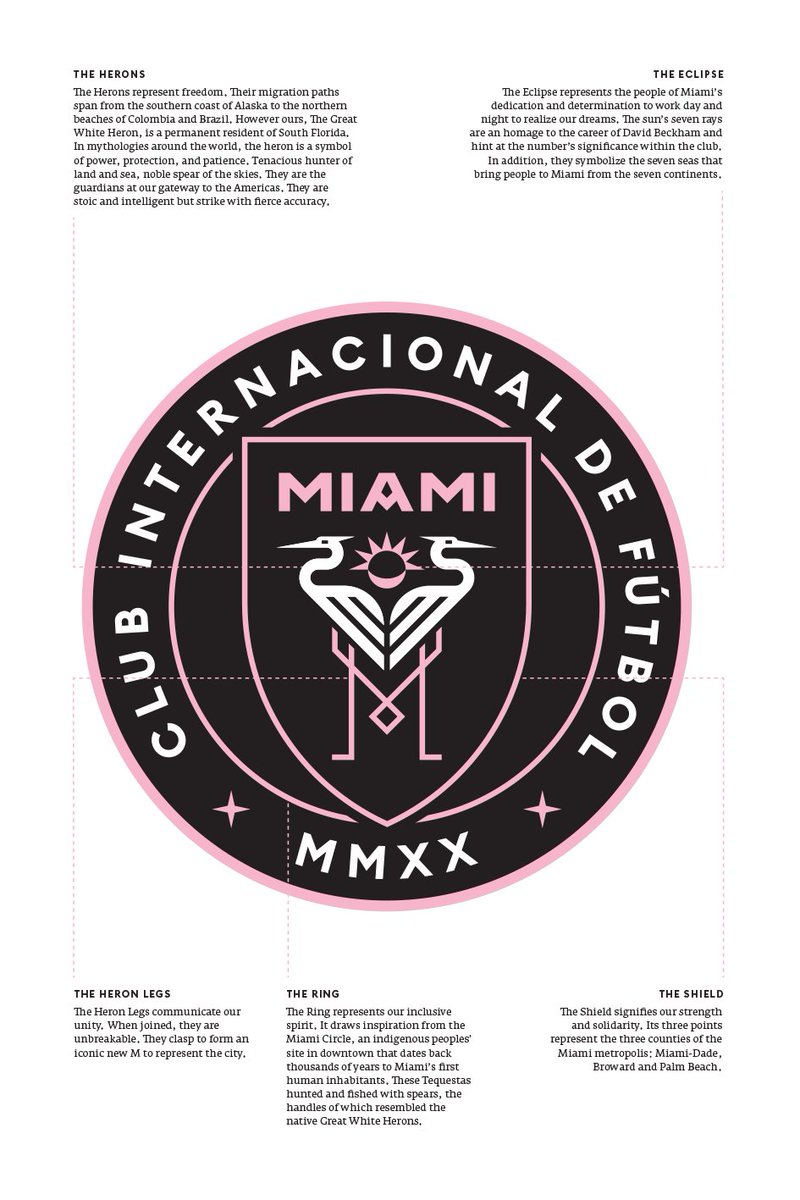 It's already being called Inter for short, ironic considering Beckham featured for AC Milan, but anglos may identify more with the Italian connotation than the Brazilian.
Even so, reactions are less enthusiastic on English media platforms. ESPN's article featured comments questioning the ethnic choice and the lack of a predesignated nickname. The club crest features two herons, hinting at a unique, locally flavoured choice for fans to adopt, but many American sports fans expect to be spoon-fed.
The choice is also being trolled by one and all, naturally. A reporter may want to ask Golden Balls to name the seven continents. On the whole, however, a team crest is meant to symbolise an organisation's values. An ambition to emulate great clubs in the hemisphere blended into a sense of history and community is not a bad effort.
Beckham doesn't mind a bit of stick, though. In a very South-Beach-casual video, he sat on a dark set on a leather sofa wearing a black tee, jeans and the usual smile, acknowledging criticism would come from rivals. He explained the attempt to blend the city's history and modernity with a "South American flavour" would "hopefully make everyone happy." Mr Spice has been around the block enough times to know that's impossible. Unspoken, however, is the challenge laid down in the current political climate. Every fan's welcome and respected at this club, not just the monied elite. If some don't like it, they can jog on.
Whether the invitation is well-received remains to be seen. Soccer in the United States boasts at least as many Spanish-speaking supporters as English, but those who run the game only pay lip service to that demographic. Although the most recent USSF chairmen represent diverse heritage, no Latino coach has ever been hired to lead the national team. Since Bruce Arena's resignation last year, the organisation's taken its time hiring a replacement. It did not actively pursue gifted Colombian tactician Juan Carlos Osorio when he announced his leave from the Mexican national side. No inquiries were reported regarding Atlanta United's Argentinian architect, Tata Martino. All indications are another American or European boss will be signed. Inter must follow through on its name to prove its commitment.
The temptation to appeal to the traditional English-speaking demographic is strong. Major League Soccer produced one distinctly Latino franchise, Chivas USA. The club failed because parent-club Chivas de Guadalajara treated their American venture like a B team in a market where fans demand a premium product. Inter Miami's the first MLS side that fully embraces cultural diversity while standing on its own.
It's a huge risk to take but every other market condition in Miami demands the new team keep all its options open.